Chloe Bennet 'S.H.I.E.L.D.' Emoji Spoilers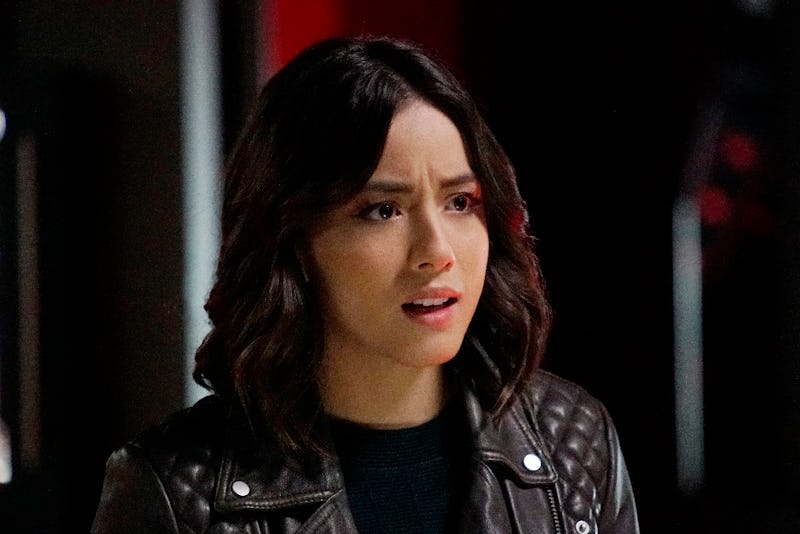 Ever since fish pills turned the Marvel Universe upside down and unleashed powered people everywhere, Agents of S.H.I.E.L.D. has become majorly unpredictable. To tide you over from cliffhanger to cliffhanger, here are Agents of S.H.I.E.L.D. spoilers from actress Chloe Bennet in the language of emoji, which somewhat fits Daisy Johnson's computer literacy even if it probably isn't an S.H.I.E.L.D. Level 7 code.
This season, Daisy's been gathering the Secret Warriors, a team of Inhumans, and we're inching closer to Captain America: Civil War with every episode. No, I don't think we're going to see Fitz and Melinda May sporting "Team Cap" and "Team Iron Man" buttons. However, since Coulson is still, in some way, fighting Steve Rogers' villains by way of Hydra, there's a good chance that the movie is going to affect the plot in the same way that Winter Soldier did. Elena "Yo-Yo" Rodriguez, who appeared in the midseason premiere, seems likely to return sooner rather than later.
Here are your official emoji spoilers for what's coming next. However, I'm not going to get your hopes up for specifics. This is Marvel, after all. They're super secretive about everything. We've already lost Bobbi and Hunter, though at least not by dying, so who knows what else could happen in the back half of Season 3.
The direct translation for the first two is "sh*t goes down," if you couldn't figure that out. That, and a whole lot of surprises. Or just two twin surprises if you really want to read into it. There was a fifth emoji that I can't make out — but it was to indicate that she can't say anything else, so maybe it's for the best that I didn't hear. Maybe the "say no evil" monkey? The zipper mouth? You get the picture, no pun intended.
Images: Kelsey McNeal/ABC; Leah Thomas