Sonia Kashuk's Latest Collection Is A Knockout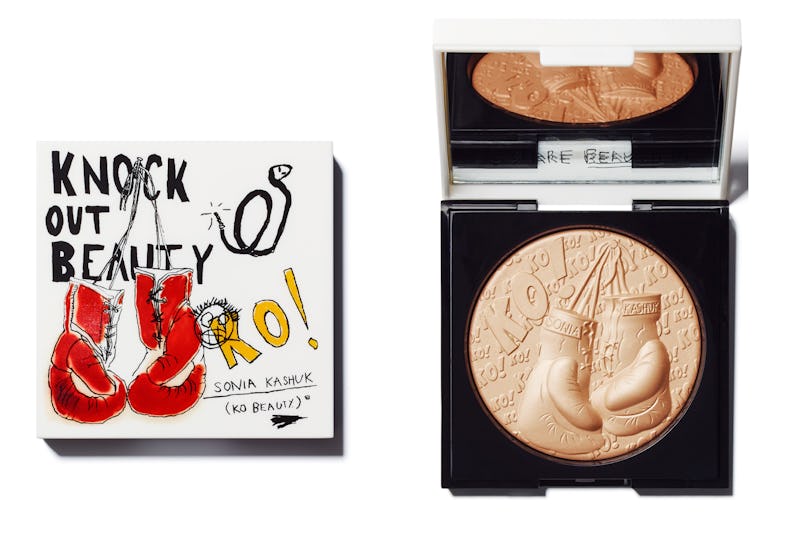 Mama may have said knock you out in an LL Cool J song. But makeup artist Sonia Kashuk knocked it out of the park, to mix sports metaphors, with her extensive, limited edition, and 16-piece Knock Out Beauty Collection for Target, which features comic book-like, boxing-themed artwork designed by Dana Louise Kirkpatrick. Yes, the products by Kashuk, who is a Target beauty brand staple, are stellar, namely the topcoat lip gloss and the boxing glove graphic-adorned makeup bag. But there is an empowering message behind these fierce products and the flashy, splashy, and beautiful design. That, my friends, is a wonderful thing.
Upon meeting, Kashuk and Kirkpatrick learned they shared a deep concern regarding the impact of social media bullying and ideals on women's confidence. They decided to work together to reverse the trend by empowering women with Knock Out Beauty by Sonia Kashuk. Be still my heart!
The collabo reminds women to block out any negative influences that surround them since they are smart, strong Knock Out Beauties. The collection is a perfection execution of tough and beautiful!
There are brushes, a vanity tray, eye, lip, and nail products, as well as bags. So the range offers something for all features, in addition to storage. That said, these are my fave, "must own" pieces. Snatch them up while they're still available at Target stores and on the retailer's site.
12 Piece Brush Set, $39.99, Target
Each handle boasts boxing glove graphics and a daily reminder to its user, such as "You Are a Knock Out Beauty" or "Keep Your Head Up." The set includes a powder/blush brush, dense buffing brush, duo fiber angled brush, contour brush, pointed foundation brush, precision concealer brush, domed shadow brush, angled fluffy shadow brush, fluffy shadow/blending brush, precision crease brush, smudge brush, lip brush, and a brow groomer. So it's basically every brush you could ever you need as well as a source of inspo.
Smoky Eye Brush Set, $19.99, Target
The smoky eye is its own entity and deserves it own set of brushes designed to create it. This set features killer, effective tools — a large eye shadow brush, angled crease brush, blending brush, angled liner brush, small eye shadow brush, and precision pencil brush. Go forth and swipe and smudge perfectly.
Smoky Eye Shadow Palette Shadow Box, $24.99, Target
The palette boasts 16 shadows in matte and shimmer textures. You can knock 'em dead with black, brown, or gray smoky eyes. This could and should be your "go to" summer palette.
Skin Glow in Golden Gloves, $19.99, Target
I mean this is almost too pretty to use! This golden bronzer will give you a divine summer glow... that is if you can bring yourself to sweep a brush over the embossed gloves! The mirror also reminds you that "you are beautiful." Like I can't with this collection! It's so amazing.
Lip Topcat in Shiner, $11.99, Target
Call it a comeback for gloss! This clear gloss is non-sticky and adds tons and tons of moisturizing, megawatt shine.
Completely Organized Bag, $15.99, Target
OMG, travel just got that much easier. You can keep all your products in their right place and carry a badass bag with a boxing glove image. Want! Need! Love!
There's plenty more to shop but get the Knock Out items before they are gone. Kashuk and Kirkpatrick hit me with their best shot. Thanks, I'll be here all week.
Images: Courtesy of Target (6)