6 Reasons Why Espadrilles Are THE Shoe of the Summer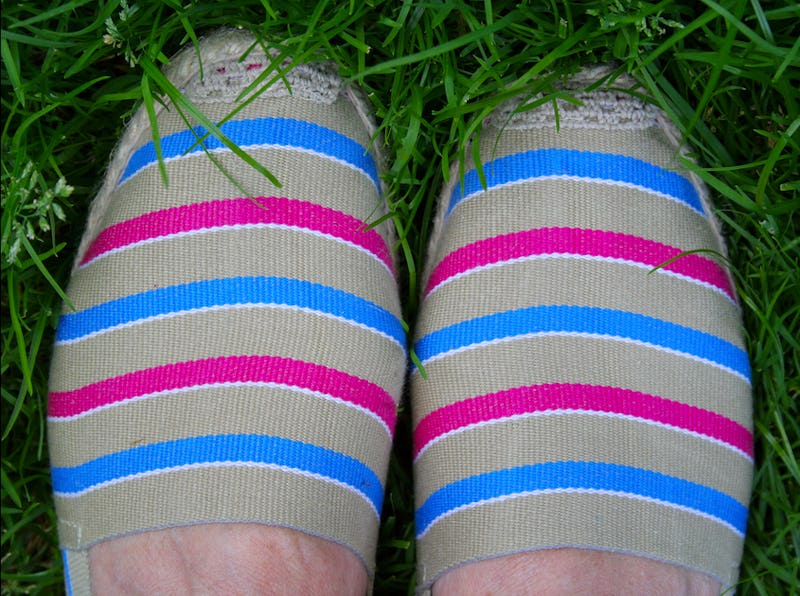 Summer, that casual, carefree season, is in full swing. With the breeze/humidity/surf in your hair, less restricting outfits and bohemian attitude that comes in these months, the espadrille is the perfect shoe to throw on and keep the pace. So, why eschew the flip flops for espadrilles?
1. Espadrilles basically go with everything. From cutoff shorts to sundresses, you really can't go wrong.
2. There are about a million options out there right now: From Chanel, who released a variety of leather options this spring, to pretty lace at Valentino (below), to Goop's collaboration with Soludos ringing in at 28 bucks (viva la Gwyneth Paltrow!)
3. The modern version of the espadrille was popularized by the ever-glamorous Lauren Bacall in Key Largo back in 1948. (Just a little piece of movie/fashion history trivia for ya!) Who wouldn't want to channel that beauty?
4. They just feel like summer. You wouldn't wear jute-soled shoes any other season, would you?
5. A great walking-the-dog shoe, espadrilles bring something to the table that a flip flop just can't. (Plus, summer in the city grime + sandals = ew.)
6. Heading to the country? Perfect! Staying in the city? Perfect! Espadrilles are a classic that's at-home anywhere.
Do yourself a favor and try a pair on. Let me know if you can manage to take them off before September.
Images: Jaydot on Flickr and @maisonvalentino on Instagram