Who's The Artist Behind Kylie's "Glosses" Ad Song?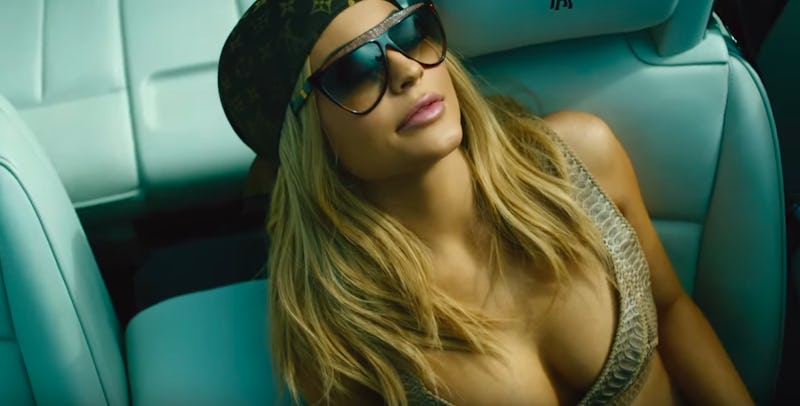 On Thursday, a brand new video from makeup mogul, reality star, and selfie queen Kylie Jenner hit the Internet, and, no surprise, it's causing quite the buzz. The video, titled Glosses, suggests that makeup mogul Kylie Jenner may be expanding her reign over the lipstick industry into glosses — but it's not the luminous pouts on the actors in the Spring Breakers-esque video that is causing so much stir. Instead, the thing that is catching the attention from the video is the song within it. The electronic track, which plays in segments during the short film, is titled "3 Strikes" and, according to SoundCloud, is from an artist known as Terror Jr. The problem? Terror Jr seemingly didn't exist before Jenner's Glosses video dropped. So who is Terror Jr, and where did this artist come from? Well, surprisingly, fans seem to be speculating on Twitter that the artist behind the track might be Jenner herself.
There are a few reasons why Terror Jr being Jenner is totally plausible. (For what it's worth, Bustle has reached out to Jenner's publicist, but has not yet heard back.) Rumors have swirled that Jenner is interested in a music career for some time now — though Jenner told ET Online in June of 2015 that music wasn't something she necessarily wanted to publicly pursue. However, Jenner could have been keeping a budding music career under wraps until she felt she had something polished enough to show off — and "3 Strikes" is definitely polished. Here are the fans on Twitter totally convinced that King Kylie is behind the track:
Personally, I think it's pretty plausible for Terror Jr to be a stage name for Jenner. Not only has Terror Jr just sprung up on social media, but Terror Jr also follows only one person across all of their platforms — Jenner herself. Terror Jr's Twitter bio also references being "Ms. Three Strikes," hinting that Terror Jr is a woman.
It should be noted that if it really is Jenner behind "3 Strikes," well, she's trying really, really hard to pretend like it's not:
Of course, considering Friday is April Fool's Day, it's also possible that this is build-up to Kylie announcing a music career that she'll then reveal to be an elaborate hoax. Hey, just tossing around theories here!
You have to hand it to Jenner: if this song really is her first venture, attaching a mysterious artist name to the track is a great way to initiate some buzz. If it's not actually her at the mic, though — then this whole Terror Jr thing is officially the biggest mystery of the week. Anyone have some answers, here?!
Image: Kylie Cosmetics/YouTube