5 Fitbit Hacks To Up Your Fitness Game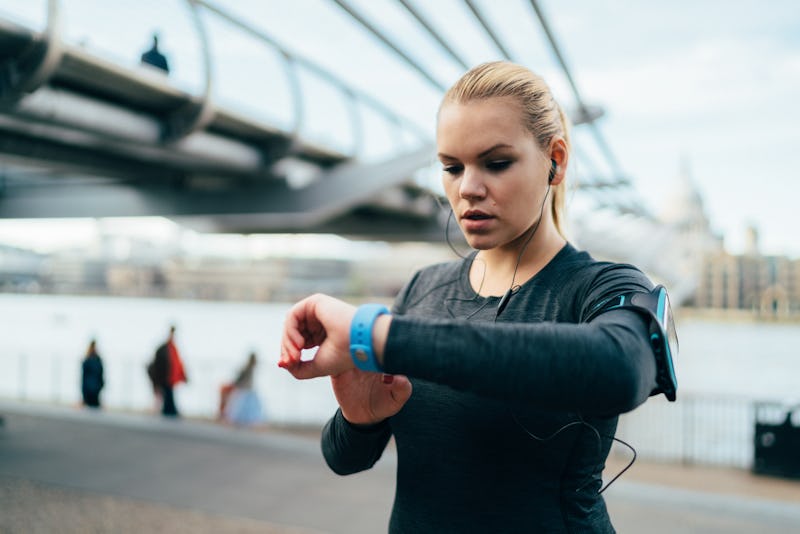 martin-dm/E+/Getty Images
Wearable tech has been steadily gaining momentum for the past several years, and in our app-driven, smartphone-fueled world, that includes devices geared towards gracking out health. After the first Fitbit debuted in 2008, high tech health and fitness trackers took the world on by storm; these days, there's no better way to keep track of your fitness goals. But whether you're a Fitbit newbie or a long-standing Fitbit fanatic, it's worth knowing some Fitbit hacks to up your fitness game — they'll help you get the most out of your workout, no matter which model or style of the device you have.
Fitbits and other activity wearables aren't just used for exercise and exercise-related health monitoring, so if you're not much of a gym-goer, it's still worth exploring some of the other features these devices offer. Each version of the Fitbit (there are currently eight different Fitbits on the market) tracks calories burned, so if you're trying to lose weight and want to keep track of how much you burn in a day, regardless of whether you're exercising or not, you can use your Fitbit. Six versions of the Fitbit, including the Flex, Charge, Alta, Charge HR, Blaze, and Surge, also have sleep trackers that can auto detect when you fall asleep and help you monitor how well you sleep. Newer versions offer caller ID and music control when the devices is synced to your phone.
But if you are a health nut like I am and use as many features of your Fitbit as possible (because you're obsessed with it), check out these five Fitbit hacks to up your fitness game and get the most out of your wearable.
Tory Burch For Fitbit Metal Hinged Bracelet, $199, Amazon
It's true that Fitbits don't always match with outfits too well, so if you're looking to have your device blend in a little bit, try Fitbit accessories from companies like Tory Burch, Target, or Etsy to either spruce up your device a little or make it look like something completely different, like a bracelet or watch. Alternatively, you could DIY your Fitbit accessories if you're more of a "personal flair" kind of person.
2. Have Fitness Competitions With Your Friends (Even If Their Trackers Are Different Brands)
Fitbit allows you to connect with friends and help motivate one another to stay active using little competitions. But what if your friends have different fitness tracking devices? Turns out, using an app called MatchUp, you can connect with your friends with other wearables from companies like Jawbone, Garmin, or Apple and make sure everyone stays on their toes — quite literally — no matter what their preferred wearable tech brand might be.
3. Get To Your 10,000 Step Goal Without Even Realizing It
Everyone with a Fitbit (myself included) is obsessed with reaching and exceeding the 10,000 steps goal and feeling that congratulatory vibration from your device. If you know you're going to have a slow day where you're mostly sitting at work or studying in the library, try to reach that goal by pacing while you take phone calls, memorize flashcards, or even watch something on your screen. It'll keep you moving and make your Fitbit happy.
4. Download Third Party Apps To Enhance Your Health Data And Up The Fun
Your Fitbit comes with its own app you can use on your phone or computer to sync your fitness data and show it to you in neat little charts, but there also exist several third party apps that can boost your data visualization experience. For Android, DashClock Fitbit Extension will show you your Fitbit stats for the day on your lock screen and for iOS, the app FitRPG will let you play all sorts of games with other Fitbit users to boost your stats and learn new ways of getting active.
5. Lengthen Battery Life
Though Fitbits already have pretty good battery life, you can boost it even more by switching off All-Day Sync so it's not interacting with your smartphone all day and only updating when you choose to do so manually.
Images: Getty Images (2); Tory Burch; Giphy (3)