11 Ponytail Hacks For Spring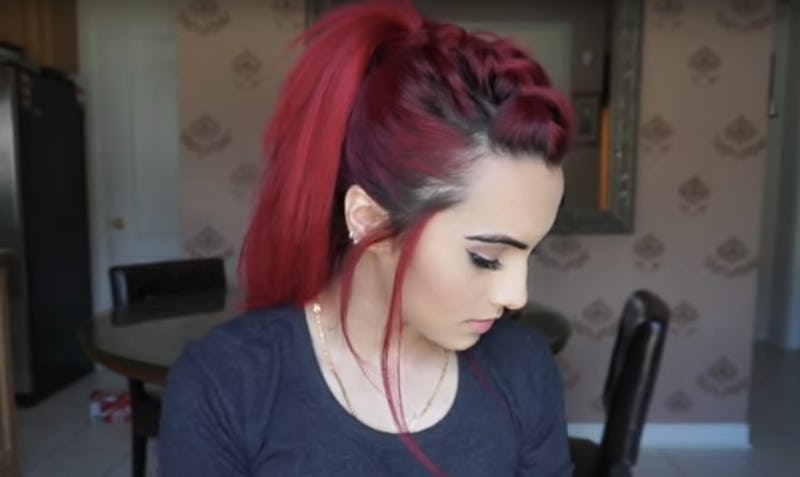 Who else out there is guilty of falling into a ponytail rut? You know what I mean — you don't want to wear your hair down, but you're too lazy for something fancy and just throw it up into a pony. If this sounds familiar, consider trying all these ponytail hacks for spring to breathe new, fabulous life into your look! There are a million ways to dress up this classic style without spending tons of money on new products and accessories.
Before you try any of the ponytail hacks below, I want to share a quick word of warning about slicking your hair back too tightly. I spoke with Dr. Hadley King, a New York-based dermatologist, who told me, "Hairstyles that pull the hair very tight can damage the follicle and cause traction alopecia," which is essentially isolated baldness caused by too much pressure on certain strands.
That should not stop you from rocking Beyonce and Ariana Grande-style slicked up ponytails completely, but just try and give your hair a break at least a few times a week by braiding it or wearing it down instead. Plus, changing up your look can be so fun!
For the days you want to rock that fierce and gorgeous ponytail, consider these hacks below to make it extra spunky and unique for spring!
1. Ariana Grande-Style
Watch this tutorial to lock down the perfect sleek and high Grande-inspired pony.
Try: Remy Clip-In Hair Extensions, $25, Amazon; Joico Flip Turn Volumizing Finishing Spray, $14, Amazon
2. Side Braid Ponytail
A little braid goes a long way with this side pony look.
Try: Gold Magic Clear Elastic Braiding Bands, $4.59, Amazon
3. Instant Volumizer
Kayley Melissa shares exactly how to boost up a lackluster ponytail with a quick and easy five minute trick.
Try: Hair Tamer Croc Hair Clips, $5.99, Amazon
4. Clip-In Brilliance
Lakia Star explains how to effectively weave in a clip-in for a completely voluminous and glamorous style.
5. Knotted Stunner
If you have time to spare and long enough hair, try your hand at this gorgeous knotted ponytail that's both boho and totally chic.
Try: Sexy Hair Play Dirty Dry Wax Spray, $10, Amazon; Breezelike No-Static Rat Tail Comb, $12, Amazon
6. Twisted Glam
For a quick way to boost the glamour in your ponytail, follow this simple tutorial for a twisted braid woven right in.
7. Masterfully Messy
With these quick tips, you'll be able to create a beautifully messy pony instead of a straight-up messy one.
Try: Kenra Volume Spray #25, $12.95, Amazon
8. Retro Rockstar
For a sweet retro pin-up vibe, follow this easy tutorial from Kayley Melissa.
Try: Phillips Teaze Bristle Comb, $6.25, Amazon; Perfectwo Studio Salon Collection Curling Iron, $23.99, Amazon
9. French Braid Pony
Can't decide between a braid and a pony? You can get both with this gorgeous French braid-embedded ponytail!
Try: Scunci No-Slip Grip Beautiful Blends Bobby Pins, $3.49, Amazon
10. Kardashian-Style Sleek
Smooth with just a touch of pouf, this Kardashian style pony is a breeze to create before you run out the door.
Try: It's a 10 Miracle Super Hold Finishing Hair Spray Plus Keratin, $11.49, Amazon
11. Elegant Criss Cross
Want to create an easy an elegant updo? This simple (but elaborate-looking) criss cross is what you need.
Try: Remington Studio Salon Curling Wand, $24.55, Amazon
Want more fashion and beauty tips? Check out the video below and subscribe to Bustle on YouTube!
Images: Bodmon Zaid/YouTube