8 Oily Skin Mistakes to Avoid & What Can Help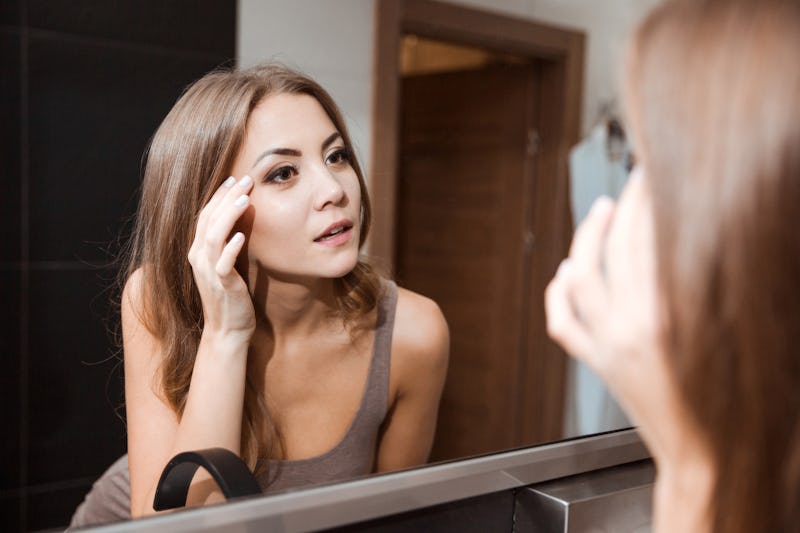 I've been blessed with a particularly touchy complexion (thanks, genes!). Anytime I'm stressed out, or the temperature rises with a humid vengeance (or drops, removing moisture from the air entirely), my skin has something to say about it. Since I'm certainly not a stranger to sporting a shiny forehead, I've learned a lot through trial and error about what I should never do to oily skin to keep things from progressively getting worse.
While there are definitely makeup solutions that offer a quick (though temporary) fix for recurring mid-afternoon shine, there are other things you can do to keep shiny foreheads from taking over. Steps you're taking as part of your nighttime skincare routine — or steps you're failing to take — can significantly improve skin appearance, as can tweaking your morning regime to better prep slick-prone skin for the day ahead. For example, if a sheen of smear makes you run for a thorough face scrub several times a day, that could be further aggravating an oily situation. Or if you're using a temporary powder fix on the reg that unintentionally blocks pores, consider other fast-acting, non-clogging options. Ready to battle oily skin? Here are eight things you might want to steer clear of, and the products that can help you break away from those bad habits.
Resist Stripping Oils With Soap — Instead, Witch Hazel Gently Cleanses
Organic Face Wash by Bee Friendly, $28, Amazon
Witch hazel is a natural skin astringent, which means it tones skin and removes excess oils much more gently than an alcohol-based wash or skin-stripping synthetic soap might. This organic face wash's witch hazel also brings down inflammation (a big plus if you're fighting blemishes in addition to oily skin), and mixes with calming aloe vera and vitamins C and E. Those ingredients protect skin from environmental stressors and keep it looking fresh, while orange and geranium essential oils condition skin. When your skin cleanser is hydrating instead of drying, your face won't think it needs to overproduce more oil to keep things balanced.
...And If Acid-Free Washes Don't Help, Ones With Salicyclic & Glycolic Acids Just Might
Retseliney Acne Face Wash & Oil Control , $20, Amazon
Face washes with acne-fighting ingredients like glycolic or salicylic acid can be the next-best-thing (after gentler cleansers) for washing oily skin, according to University of California's assistant professor of dermatology April Armstrong. This face wash has two percent salicylic acid sourced naturally from willow bark, which works on oily skin by gently exfoliating pores, making it easier for oil to be released — which, yes, is a good thing, because otherwise oil gets trapped within plugged pores. While you may not have any pimples to speak of, this anti-inflammatory acid can still reduce redness and get oil regulation and shininess back on track.
Creamy Lotion Can Plug Pores, So Try Oil-Free Gel For Moisturizing
Clinique Dramatically Different Moisturizing Gel , $20, Amazon
According to the Dermatology Review, gels and serums can be better than heavy mineral oils or creams at moisturizing oily skin — and that's because water-based solutions won't add to the oil you're already producing. This moisturizing gel is specially formulated with oily skin in mind, as it's oil-free, and its cucumber extract soothes skin while caffeine reduces redness for a brighter complexion. Users of the gel say it really keeps skin free from looking greasy, and one said, "I have oily skin and have never found a product like this that keeps me moisturized, yet clean-feeling all day and night."
Don't Give Up On Clay Masks — Just Pick the Right One
French Green Clay Facial Mask, $20, Amazon
Clay masks are extremely effective at naturally drawing out toxins and excess sebum, but it's important to choose the right kind of clay (and apply it correctly). French green clay masks, in particular, are especially adept at ridding oily skin of build-up and toxins that turn up the shine. This one works by combining sea kelp and radish root to preserve and protect delicate skin, while vitamin B5 and green tea extract improve your skin's circulation. One user, who applies this mask weekly, said, "What I love about this is that the quality is so high and so concentrated, that even a very thin layer over my skin has great results." If you're dealing with combination skin, apply this clay directly over oily areas only to make it effective where it needs to be.
If Powder Is Blocking Your Pores, Reduce Shine With Fiber Blotters
Proactiv Oil Blotters (130 Count), $14, Amazon
While it might seem harmless to add a dash of powder to a shiny T-zone a few times a day, all that powder builds up over time. By continuously clogging your pores — the same pores that oil is trying to escape from — you're contributing to a vicious, shiny cycle. These natural fiber oil blotters are crafted by the skin geniuses at Proactiv to absorb excess oil — without using powder, Talc, or other irritating fixes found in other blotting papers. They won't smudge makeup, and one fan said, "They always keep my face looking like a matte finish. It keeps me from breaking out from oil build up."
If Sunscreen Feels Super Greasy, Opt for Oil-Free
Jack Black Sunscreen SPF 45 Oil-Free, $21, Amazon
If your sunblock makes oil-prone skin feel super greasy, don't sacrifice sun protection for a shine-free finish. Switch it up to one made with shiny skin in mind. This formula provides SPF 45, and it's enriched with vitamin C and calming calendula flower, which also works to cut down on skin's inflammation. The mix is water-resistant, too, so it'll stay put if you're prepping for a day spent poolside. One user said, "There is no oil or grease feeling at all, and best of all, when you sweat, it doesn't bead and run."
Oil-Based Foundations Can Add Shine — Reach for Matte Primer, Instead
Lorac Porefection Mattifying Face Primer, $32, Amazon
When you're combatting shiny skin, every step counts. If you've used a rotation of similar products for years to no avail, see if adding a matte primer can help. This one is infused with vitamins A, C, and E to keep skin looking fresh and free of that oily sheen. It's fragrance- and paraben-free, safe for most skin types, and users say it's a serious game-changer. One fan, who had oily skin all their life, said, "I have to admit, it's my secret little luxury of the day... I'll use every drop in this bottle and I'll definitely buy again."
Don't Forget to Exfoliate, As Mechanical Exfoliation Can Benefit Oily Skin
Waterproof Electric Facial Exfoliator , $27, Amazon
Oily skin can benefit from salicylic acid exfoliation, in addition to mechanical exfoliation, according to the American Academy of Dermatology. This cord-free mechanical exfoliator smoothes away blackheads and whiteheads with soft bristles that rotate a full 360 degrees. The gadget is waterproof, so you can exfoliate your face while in the shower, and its rubberized handle makes sure you won't drop it while soaping up. One user was particularly appreciate of the gentle cleansing bristles, and said, "I've never enjoyed washing my face before, but now I look forward to it!"
Bustle may receive a portion of sales from products purchased from this article, which was created independently from Bustle's editorial and sales departments.
Images: Fotolia (1); Amazon (8)