Find Out The Inspo For Kylie's Gloss Commercial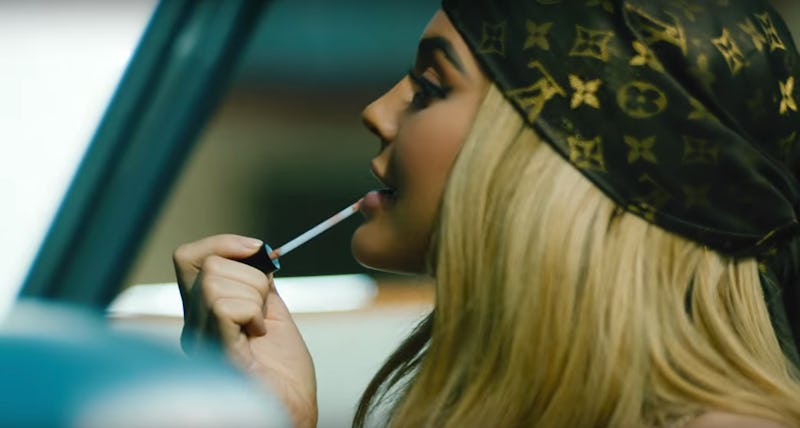 When a commercial this epic gets released, it makes sense that people would want some explanations. Kylie Jenner reveals the inspiration behind her "Glosses" commercial in a video available exclusively on her app and website to answer all of those burning questions of yours. Because you've got to admit that you're dying to know how on Earth she came up with something like this and why she even chose to create a commercial in the first place.
Because Jenner likes to deliver for her fans, she didn't keep us waiting long before releasing a behind the scenes video to give a glimpse into her commercial set. "Pretty much, I came to Colin with this idea, and I just wanted to fully be Charlie's Angels badass," Jenner explains. Director Colin Tilley took this idea and ran with it because I'd say what they've created definitely captures what Jenner was after.
"I just wanted to do something big and over the top so that people know that I'm serious about my cosmetics line and that I have big stuff coming all of the time," Jenner said. She's more than outdone herself with this one, and this commercial definitely created hype for her products, leading to another successful Kylie Cosmetics launch.
Find out even more about her commercial on her app and/or website.
And just because it's so good. Check out her incredible commercial for the 100000th time.
Since this is supposed to serve as proof for just how much she cares about her lip products and all that's to come from Kylie Cosmetics, I'd say she's taking this like, literally so seriously. And this only gets me even more excited for what's to come.
When it comes to causing a frenzy, Jenner's doing all of the right things with her lippies. When you're passionate about something, it really shows, and Jenner serves as the perfect example of that. All I can say is, way to go, Kylie. Keep up the good work!
Whatever she's got next — I'm more than ready for it. Because I can't wait to have my entire face covered in Jenner-created products.
Want more fashion and beauty tips? Check out the video below and subscribe to Bustle on YouTube!