How Whitney Port Masters Dewy Skin Every Day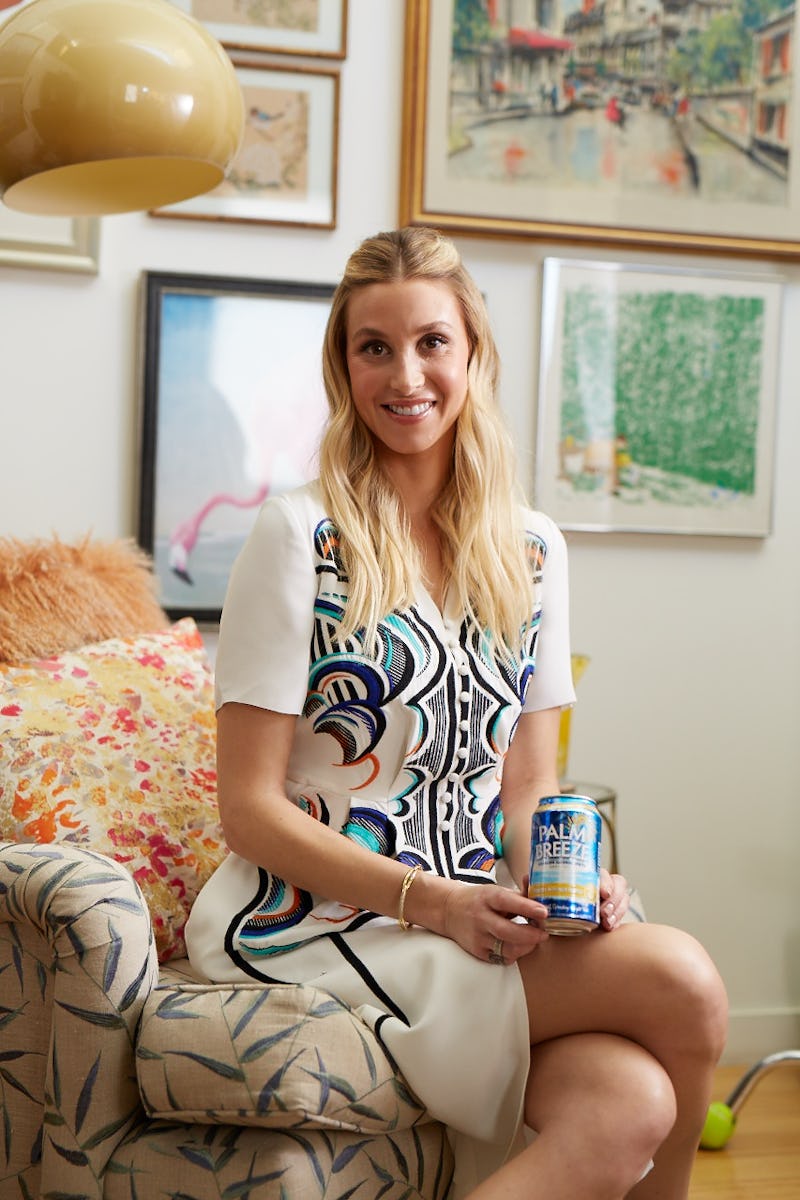 Not only does this particular style star have an eye for fashion, she's also got a makeup tip or two that she's more than willing to share. Whitney Port's one tip for achieving a dewy glow is unexpected, but super effective, and she does it pretty much daily. Because when you find a look that works this well, you stick with it, right?
So, what's her secret? Every morning she mixes three products together in the palm of her hand: one part Jouer Luminizing Moisture Tint in Pearl, one part Jouer Luminzing Moisture Tint in Bronzed and one part Embryolisse Lait-Créme Concentré.
"It's really about getting the right color and getting the right amount of moisture. I really like for my skin to feel moisturized and dewy," she tells me over the phone. "Mixing it in your hand is good. I don't think you're going to get the same kind of outcome if you just put moisturizer on first and then then the tinted moisturizer. For me, I've created my own potion, and it works best and looks best."
It seems like she's really onto something here. I've personally never tried any kind of product mixing, but maybe I've been doing this whole makeup application thing all wrong! I'm more than willing to give it a shot, especially if it means I'll be able to master Port's radiant look.
Port's clearly a pro at doling out beauty advice. That's partially because she finally feels as though she's come into her own in terms of style.
"I don't know if it's because I'm 30 or because I got married — I'm not exactly sure what it is, but I definitely feel like I'm not really caring about what anybody else thinks and really just staying true to myself," she says.
"I feel like, 'OK, if I like this, then I'm going to go with it,' and try not to be too conscious of what everyone else thinks or what's in style. I feel like that's when your personal style really suffers, when you're constantly like thinking about what everybody else is going to say."
While she may have hit the sweet spot in terms of dressing with her own personal flair, Port's definitely no newbie to the fashion game. She's got a successful line of her own, and very specific ideas about what she wants out of her wardrobe.
"I'm always a fan of anything comfortable," she tells me. "However I can make comfy-ness and coziness work in my wardrobe, I'm all about it. Whether it's furry, blanket-type jackets or sneakers or even cute socks with a dress and sneakers, I just always want to be comfortable, honestly."
Thinking of giving Port's shortcut to a radiant glow a try, too? I don't blame you! Shop the exact same products she uses below.
1. Pearly Color
Jouer Luminizing Moisture Tint in Pearl, $40, Jouer Cosmetics
Offering subtle shimmer and color, this tinted moisturizer is a great base for a bright face.
2. Shimmer & Bronzer
Jouer Luminzing Moisture Tint in Bronzed, $40, Jouer Cosmetics
If you're looking for one product that offers a shimmering and slightly bronzing effect, then I think you found it!
3. The Multitasking Moisturizer
Embryolisse Lait-Créme Concentré, $28, Sephora
This moisturizer primes for makeup as it hydrates your skin. Sign me up!
If you just can't get enough of Port's beauty advice, you might be pumped to learn that you can scan any can of Palm Breeze using the Shazam app to find out more. She's partnered with the company to promote spending time with your ladies and share some fun advice about fashion and beauty, entertaining, and recipes along the way. As always, you can also keep track of Port's website to get inside details about her favorite trends, products and so much more.
Want more fashion and beauty tips? Check out the video below and subscribe to Bustle on YouTube!
Images: Courtesy Palm Breeze (4); Courtesy Brands (3)