11 Easy Ways To Bring Spring Into Your Apartment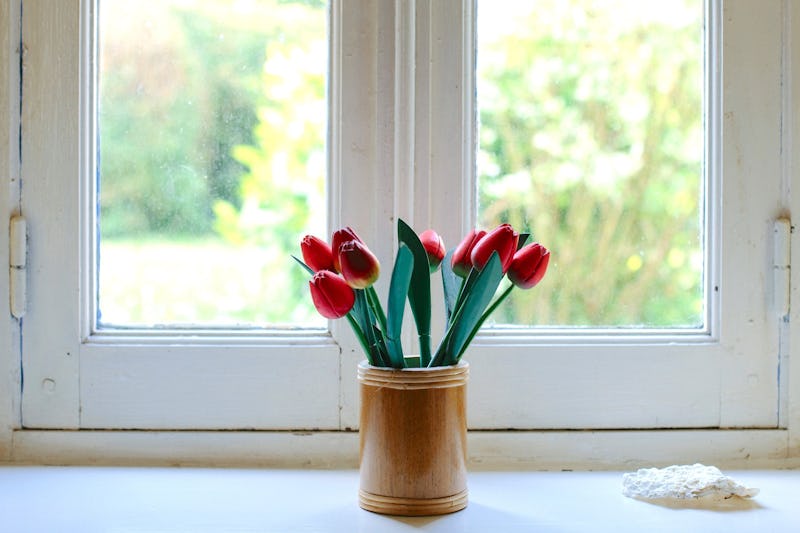 While it might be a little early to break out your breezy floral dresses and denim cut-offs, there's nothing holding you back from jumpstarting the warmer season by finding spring decorating ideas that will instantly brighten up your apartment. And don't worry — you don't need to pull a Martha Stewart and completely redecorate to springify your home. A few simple tweaks can make a big impact, and will leave your place looking — and feeling! — refreshed.
Our daily surroundings have a huge impact on the way we feel, often influencing our mood without us even realizing it. Drab winter colors have been keeping us down for months, and it's about time to add some pops of brightness and some elements of nature to the mix. I've rounded up 11 simple hacks to make your home feel like the month of May that are all easy and low commitment (because you know you'll want to make your place fall-friendly come September).
Feel free to have fun with these ideas: make a day of it and go plant shopping with your roommates, hit up a chic boutique on your lunch break to sniff out the perfect scented candle, and, best of all, enjoy all your Sunday mornings lying in your crisp linen sheets, soaking up your sunny abode.
1. Switch Out Your Throw
Turkish Towel, Etsy
Take that wool throw off the couch, and replace it with something lighter. You'll be happy you have that soft Turkish towel on a cool summer night. And take those thick blankets on your bed and put them in storage already!
2. Add Flowers
Nothing screams spring like fresh blooms. There's no need to shell out big bucks for a centerpiece bouquet here — a few stems in a small vase are pretty unfussy, and easy on the wallet.
3. Bring In Some Plants
If flowers aren't your thing, or if you're craving something a little more permanent, plants are the way to go. And if your thumb is more black than green, don't despair — there are plenty of easy-to-care-for options out there, including snake plants, jade, and aloe.
4. Bring In Those Springtime Scents
If you live somewhere that's still too cold to throw your windows wide open (or if you're just always inevitably greeted by the smell of busy city streets), you could probably use a little help in the fresh-and-springy scents department. Pick up some scented candles and essential oils, or simply cut open some fresh citrus.
5. Add Some Pops Of Color In The Room...
Watercolor Pillow, Etsy
No need to redecorate your whole place here. A bright pillow can easily do the trick.
6. ...And On The Walls
Tropical Prints, Target
Consider some bright tropical prints or some cheery pops of pastel. If your apartment is closer to the size of the closet, mirrors are your best friend, since they open up any space and make it seem larger.
7. Declutter
Bare is better come warm weather. Same goes for your floors — consider putting away any rugs for the next few months, and enjoy the feeling of walking barefoot on a bare floor.
8. Decorate With Food
Two birds, one stone. Leave out a bowl of fresh fruit to add some natural color to your home. And remember to grab a piece and bite in every so often as you walk by, too!
9. Switch Out Your Bedding
Ditch the flannel sheets and bring in the crisp cotton. Or, better yet, invest in a heavenly linen set.
10. Vamp Up Your Balcony
If you're lucky enough to have an outdoor space, make the most of it! No balcony is too tiny to enjoy.
11. Spring Clean
Granted, a thorough spring clean might not sound as fun as the other items on this list, but a good scrub really does do miracles. Looking for a few lazy spring cleaning tips? We've got you covered right here.
Images: Pexels/Pixabay; LongestThread/Etsy; The Effortless Chic; Pixabay; Motif Pillows/Etsy; Target; JordHome/Etsy; Joy the Baker; A Beautiful Mess