11 Little Ways To Save Big On Your Wedding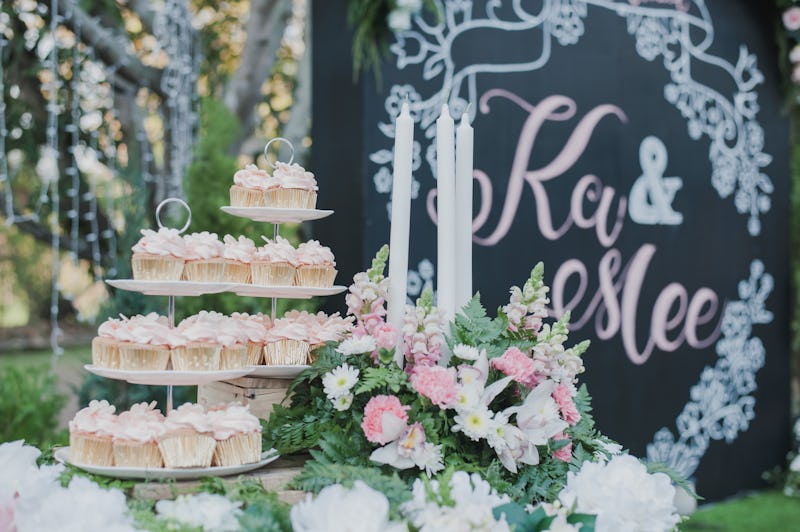 Apichet Doungchuen / EyeEm/EyeEm/Getty Images
Deciding to marry the person you are madly in love with is super exciting, but planning the actual wedding can be exhausting and stressful. However, finding ways to save money on your wedding will help ease a lot of that stress. Because the biggest source of wedding stress is, of course, the money it costs just to say, "I do." Sure, you're throwing a killer party with amazing food, free drinks, and gorgeous attire, but still. You shouldn't have to dig yourself into a deep grave of debt just to get married.
And you also don't need to sacrifice too much to get hitched on a budget, either. There's an enormous amount of middle ground between wearing an expensive designer wedding dress, and wearing a white tee. Same goes for the cake, the decor, the venue, and every other aspect of your wedding. The key is to be smart with stretching your dollars, do as much DIYing as you can, and perfect your haggling skills. This will lead to saving major moola, and maybe even preventing a few stress-induced freak-outs before you walk down the aisle. Here are a bunch of brilliant, little ways to save big on the big day.
1. Scour Craigslist
You can find more than just apartment rentals and free couches on here. Savings expert Priya Malani of Stash Wealth tells Bustle, "A lot of up and coming makeup artists are freelancers and looking for additional work. Whenever you have something to offer in exchange (i.e. willing to be a subject for their growing portfolio or offer to send them some of the professional photos taken on your big day showcasing their work, or even a tweet or Instagram post tagging them with credit for your makeup — especially if you have a sizable following) you increase your bargaining power."
2. Check your network
You know a lot of people. And some of those people might be able to help you with your wedding. See if any of your contacts have connections with wedding venues you're interested in, makeup artists you'd like to hire, or anyone that might be able to get you a discount on a wedding dress. Referrals and name dropping are just as good as money in some scenarios, and this is one of them.
3. Enlist your BFFs
My maid of honor was super crafty and artistic, and she helped me with over half of my wedding decorations, including the centerpieces. Another friend of mine is a freelance makeup artist, and did makeup and hair for my bridesmaids and I. Utilizing the unique skills of your friends will not only save you serious dough, but it'll also make the overall experience so much more special, knowing the people you love helped your big day go off without a hitch.
4. Follow the vendor rule of threes
Meet with at least three vendors for each aspect of your wedding. You're bound to find the best deals on a cake, venue, DJ, and more if you give yourself options. And casually hinting that you're close to hiring a competitor won't hurt either.
5. Forget the flowers
Flowers are great, but they don't last long. Alternative bouquets are so in right now (I went with book page bouquets and boutonnieres, and I'm so happy I did), and it's another way to really personalize your wedding decor to reflect the interests of you and your new spouse.
6. Borrow as much as you can
Most of the stuff you'll use at your wedding are things you'll likely never use again. So for details as small as the cake stand, the ring box, or the veil, or even more central items, instead of buying — borrow. And, save a TON in the process. Don't be afraid to at least explore the hand-me-down route when it comes to your dress, too. "People are always skeptical to go this route, but using reputable sites like Tradesy.com you can find new/nearly new dresses at up to 60 percent off," Malani says. "And if you decide to resell it after you wear it you could probably splurge on something even more decadent with the expectation of recovering most of the cost post-nuptials."
7. Be your own DJ
Unless you have several scheduled dances or need an emcee to make multiple announcements throughout the ceremony and reception, you can easily manage your music selection on your own. Make a few different playlists for the ceremony, cocktail hour, dinner, and the reception, and have a friend cue up the scheduled dance songs, and you're good to go.
8. Scrap the cake
You go into a bakery and order a three-tiered cake, and you can expect to spend, what, maybe $50 to $100? Ordering that same cake and use the word "wedding," and that price shoots way the heck up. The markup on wedding cakes is insane. So instead of cake, offer several different pies to your guests. Or a huge selection of cupcakes or cheesecakes, or even a pile of cookies. No matter what it is, your guests will love it.
9. Waver on white
It's 2016, so there's no need to wear white on your wedding day if you don't want to. You could do a subtle color shift and go with a pale yellow, soft peach, or light pink. Or go drastic (and rad), and rock a black dress while your bridesmaids all wear white. Dresses (of any color) that are not labeled as "wedding dresses" will be significantly less than the ones in the wedding section, and you'll look like a goddess in any of them.
10. Skip the wedding planner
Wedding planners are so expensive. And while they're super helpful, they also take control of a lot of wedding aspects that are actually fun to plan on your own. So instead of having a wedding planner, Malani suggests you go for a day-of coordinator. "The day-of coordinator will be there to make sure your day and all the hard work you put into planning it goes off without a hitch. They can also help manage vendors, timelines, payments, etc. Brides say this is their best investment!" says Malani.
11. Limit the guests
This isn't always easy, especially if you have a big family, but the bigger the guest list, the higher the price tag. Who do you really want in attendance on the big day? That girl you used to be friends with in high school, but haven't spoken to outside of social media in 10 years? Nope. Cross that name off and you'll save between $75 and $150 on the food and drinks. This is your day. Invite only who you want, and who will make it perfect.
For more ideas, check out Bustle on YouTube.
Image: Apichet Doungchuen / EyeEm/EyeEm/Getty Images; Giphy (11)