'The Boss' Soundtrack Is As Badass As The Movie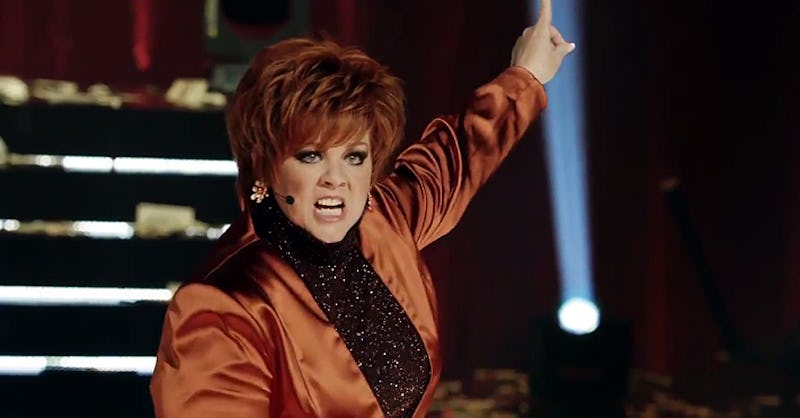 On Apr. 8, the highly anticipated comedy The Boss, starring Melissa McCarthy and Kristen Bell, will be released in theaters. The film follows McCarthy's character, Michelle Darnell, who, after getting sent to prison for insider trading, finds that getting her life back in order post-jail is harder than she anticipated. A lot of the promotion for this film has revolved around the theme of "being a boss," with #LikeABoss being a major form of promotion on social media. So it's a safe bet that The Boss soundtrack will feature a lot of motivational songs to encourage you to unleash your inner boss.
By the looks of the trailers that have been released so far, there is no telling what lengths this film will go to for a laugh, but with McCarthy and Bell on board, it's got to be comedy gold — especially considering the fact that McCarthy and her husband Ben Falcone were two of the screenwriters for the film. As it goes with any movie, the soundtrack will add to the overall ambiance of the film, so this one has to be full of gems that embody what it means to be a boss. While not much information about the exact soundtrack has been released (not even where to get it, at this point), based on clues from the trailer, here's my prediction for what it'll include.
A major song featured in several of the film's trailers has been DJ Khaled's 2010 hit "All I Do Is Win," featuring T-Pain, Ludacris, Snoop Dogg, and Rick Ross. There really is no better song to encapsulate everything Michelle Darnell's character seems to stand for, so it's clearly a great choice. Hopefully, the song will be on the official soundtrack, along with LL Cool J's classic "Mama Said Knock You Out," which can also be heard in various trailers for the film as well. Both tunes add to the hilarity of what's going on in the movie's clips, and I'm sure they'll become major anthems for the film.
No date has been confirmed just yet for when you will be able to buy the soundtrack online, but after the movie's Apr. 8 debut, there's a strong chance it'll be available to the public shortly after. No doubt it will be the most motivational soundtrack to be released this year, one that will definitely leave you feeling like a boss.
Images: Universal Pictures (1); Giphy (1)