Shadowhunters' Season 2 Can Pull From The Books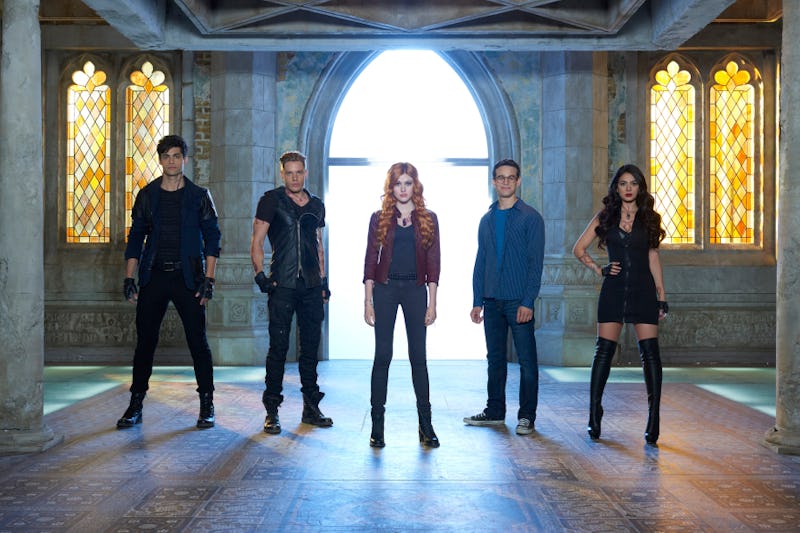 Those of us who are fans of Cassandra Clare's The Mortal Instruments young adult novel series are arguably a bit spoiled. Not only did we get a six-book series, we also got a film adaptation of the first novel (sure, to be fair, the movie wasn't super great), and Freeform also turned the story of Clary Fray into a television series: Shadowhunters. Plus even though Season 1 is wrapping up, Mortal Instruments fans can revel in the fact that Shadowhunters has been renewed for a second season. So, you might be asking: When is Season 2 of Shadowhunters ?
Unfortunately, there's no hint from Freeform about when Shadowhunters will return. I did some research and ran some calculations based on the schedules of other Freeform shows like Pretty Little Liars and Stitchers, and the best I can tell you is that Shadowhunters will probably take a couple months off and return in the late fall, or early in 2017 at the latest — but that's just my best guess. Still, until Season 2 premieres, we can spend some time speculating about what will be included from the second novel in Clare's Mortal Instruments series, City of Ashes, and if the show will adapt any aspects of the third novel, City of Glass. [Book spoilers ahead!]
Well, as fans of The Mortal Instruments know, Shadowhunters Season 1 has adapted certain storylines that weren't fully introduced until City of Ashes — I'm talking specifically about Simon becoming a vampire, which is a major turning point for the character in Clare's second novel. Instead, Shadowhunters moved up that huge character moment for Simon and included it in Season 1, which worked out great since it gave the character much more to do than be the third wheel to Clary's romance with Jace.
So, with Shadowhunters already adapting that aspect of City of Ashes, I think Season 2 may cover other parts of the book. For instance, the second season could focus on Luke's werewolf pack — including introducing Maia, the young werewolf who takes a liking to Simon — as well as the twisted paternal relationship between Valentine and Jace. Plus, City of Ashes also features a trip to the Seelie Court, which would be fun to see after Season 1 introduced Meliorn. But if that isn't enough, Season 2 could adapt some storylines from City of Glass, such as the main characters' trip to the Shadowhunter homeland of Idris. I say, the sooner Shadowhunters embraces The Mortal Instruments' entire fantasy world, Downworlders and all, the better.
Of course, there's no telling when Shadowhunters Season 2 will arrive, or what will happen when it continues the story of Clary and her friends, especially since Season 1 of Shadowhunters did differ from the books — even if it was only a little bit. But, if Shadowhunters Season 2 is looking to draw inspiration from The Mortal Instruments novels, the show could pull from both City of Ashes and City of Glass while also throwing some curveballs into the mix to throw off book fans.
Images: Bob D'Amico/Freeform; Giphy (2)