How To Extend The Life Of Your Hair Color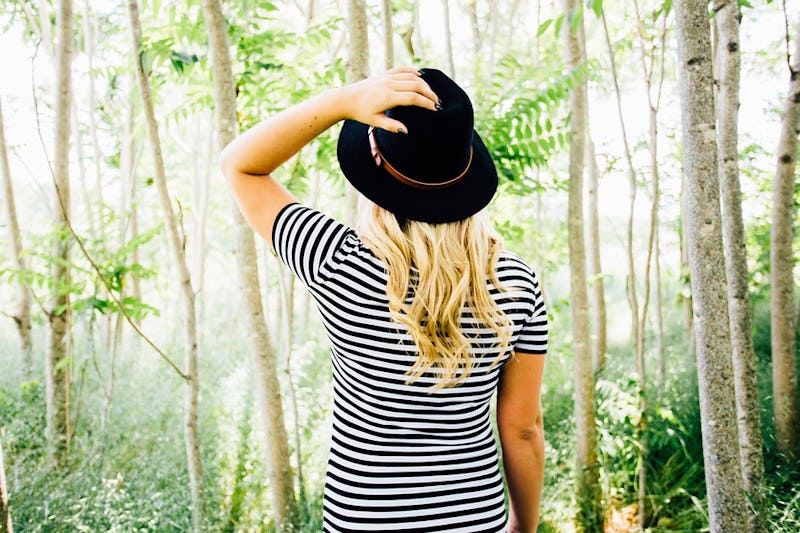 As any bleach blonde or colored-melted princess can tell you, maintaining vibrant hair color is definitely a challenge. It seems as if almost anything is ready and willing to strip away that expensive color. However, for those who dye our hair, there is hope yet. According to the top celebrity hair stylists and colorists I spoke with, the key to having gorgeously colored strands is all about proper hair care and maintenance. So, despite what you may have heard, it isn't about how often you recolor your hair, but rather how you maintain your hair in-between salon visits that really matters when it comes to the life of your color.
The best thing that I discovered after chatting with these experts is that preserving your hair color doesn't have to be a major to-do. There's no giant tasks or laundry list of steps that you have to do in order to keep your color looking fresh. In fact, many of their recommendations were small lifestyle changes that anyone could do. So, if you're looking for new ways to amp up your locks, you're in luck. Here are 11 ways that you can extend the life of your hair color, according to the pros.
1. Avoid Washing Daily
Aveda Color Conserve Shampoo, $22, Aveda
When it comes to maintaining your hair color, Rita Hazan Salon colorist Nicole Tresch warns against using shampoo every single day. "Not only does it strip your hair of color, but it also strips the natural oils that help keep the hair healthy. These natural oils are what help the strands take color better." So, keep your hair color looking fresh by shampooing your strands only a few times per week.
2. Use Hot Tools With Caution
Hot Tools CeramicTI Tourmaline Curling Iron, $27, Ulta
While you may want to turn up the heat to get a flawless hairstyle, that same heat could be the reason that your hair color is looking a bit dull. According to ESalon Color Director, Estelle Baumhauer, the heat from hot tools can open the hair cuticle, which causes our hair color to fall out and fade. So, when it comes to using hot tools, Baumhauer likes to keep her tools around 360 degrees in order to achieve optimal styling with little color fallout. She also suggests only making one pass through the hair when heat styling in order to avoid breakage or burning.
3. Take Advantage Of At-Home Treatments
Rita Hazan True Color Ultimate Shine Gloss, $26, S ephora
Spruce up your hair color between salon visits by taking advantage of at-home gloss treatments. These glosses work to maintain your hair's appropriate color and tone, while adding shine to the strands. Tresch recommends using the Rita Hazan True Color Ultimate Shine Gloss as there are several tones that can match any hair color.
4. Turn To No-Heat Hairstyles
As previously stated, excessive use of hot tools can fade your hair color. In order to avoid excess fading, Tresch suggests playing around with no-heat hairstyles to change up your look.
5. Look For "Color-Treated" Hair Products
Ultimate Color Repair Triple Rescue, $20, Paul Mitchell
Avoid tarnishing your new hair color by choosing products meant for color-treated hair. Since regular styling products can contain harsh detergents or alcohols, Editorial Director for Paul Mitchell, Lucie Doughty, suggests reaching for products that will lock in your hair color, as well as add shine.
6. Use Sunscreen On Your Strands
Sun Care Protective Hair Veil, $28, Aveda
The sun is actually a huge culprit when it comes to faded hair color. Ian Michael Black, Aveda's Global Artistic Director for Hair Color, recommends using a sunscreen in order to prevent lackluster strands. However, before you reach for a standard SPF, be sure that the product you're using is meant for your hair, and not for your body.
7. Try Cleansing Conditioners
New Wash, $40, Hair Story
For those with thicker hair, you may want to turn to cleaning conditioners in order to maintain your color. Erika Nyström, stylist at Headdress Salon in New York City, states that she loves cleansing conditioners as they allow you to wash your hair less often, and won't strip your color over time.
8. Make Pigmented Conditioners A Must
Platinum Blonde Colour Intensifying Conditioner, $40, Evo Hair
Standard conditioners are so overrated. For those of us with colored hair, Nyström recommends using a pigmented conditioner weekly or bi-weekly to refresh the tone.
9. Go Cold
Even the temperature of your shower can affect your hair color, according to Baumhauer. "After shampooing and conditioning, rinse your hair with a blast of cold water. The cool temperature will shut the hair's cuticle and give it a glossy finish."
10. Use Deep Conditioning Masks
Deeply Invested Nourishing Hair Mask, $19, eSalon
Besides being incredibly moisturizing, hydrating hair masks are amazing at locking in your hair color. Baumhauer even recommends using these masks a few days prior to new color application as it will smooth the cuticle, and allow the color to give off a better deposit.
11. Pigmented Dry Shampoo
Batiste Dry Shampoo, $9, Ulta
There's no doubt that dry shampoos are basically miracle workers for color-treated hair. However, many can give off a dingy white-cast that cause your strands to look dull and lifeless. Instead, choose a pigmented dry shampoo that matches the color and tone of your hair. This way you can soak up excess oils without dulling your strands.
Later, faded strands. Hello, gorgeously colored hair!
Images: Pixabay (2); Tonglé Dakum/Unsplash; Courtesy of Brands