The 'Powerpuff Girls' Will Always Be Relevant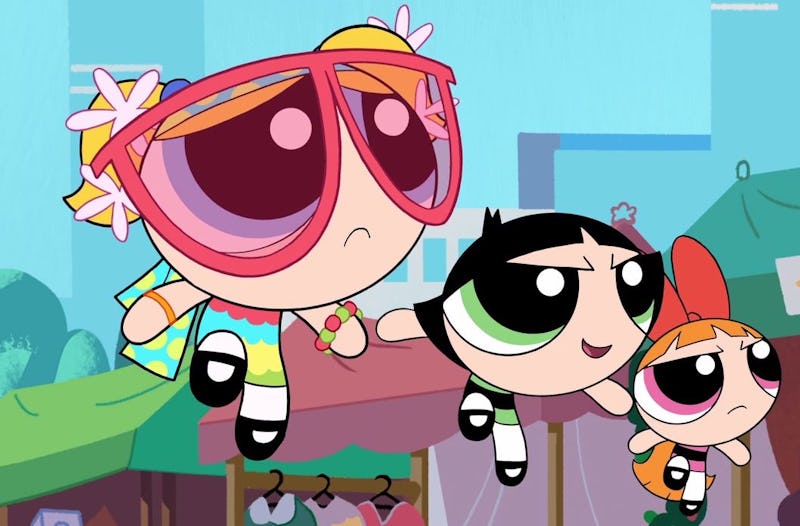 It has been 11 years since the original Powerpuff Girls went off of the air, but girl, am I happy to see them again. As a child of the '90s, I was used to seeing Blossom, Buttercup, and Bubbles light villains up on my TV screen on Saturday mornings. Though I am no longer a "girl" (scary), it's still important for the kids of this generation to experience the likes of these ass-kicking young ladies. For those of you wondering how to stream Powerpuff Girls, the answer is multidimensional.
The reboot of the Powerpuff Girls premieres on Monday, April 4, on Cartoon Network. But beyond their TV debut, Powerpuff Girls will appear on the Cartoon Network Anything app, a network that features videos, games, and other activities for fans.
Although there is no word yet on whether Powerpuff Girls will be available on streaming sites such as Netflix or Hulu, it seems even more important that it be available on platforms that are easily accessible for the younger generation. In a time where superhero franchises that focus on morose male protagonists are the norm, the sunny optimism of the Powerpuff Girls should not be taken lightly. The show is essentially a primer on feminist thought, the underlying premise daring you to treat a squadron of young females as heroes.
Though Blossom, Buttercup, and Bubbles are only in kindergarten, they are often responsible for saving Townsville from the likes of evil monkeys, demons, and other villains that the town's incompetent mayor could never stave off. While, in the real world, women are still being paid less than their male counterparts, it is especially important to show children that girls can do anything that boys can do (and sometimes more than boys can do). The depiction of young women (and in Powerpuff's case, girls) in positions of power is encouraging and yet another step towards diminishing the "damsel in distress" trope and driving us towards true gender equality.
The new reboot is likely aimed at those who grew up as digital natives, who have never known life without the presence of the Internet, so increasing the accessibility to the show through other tactics is integral to the promotion of the series. And with series like The Powerpuff Girls promoting such progressive thoughts while making themselves so available, young viewers will be just as well equipped to fight social injustice as the dynamic trio in The Powerpuff Girls.
Images: Cartoon Network (2)