'The Powerpuff Girls' Revival Is Almost Here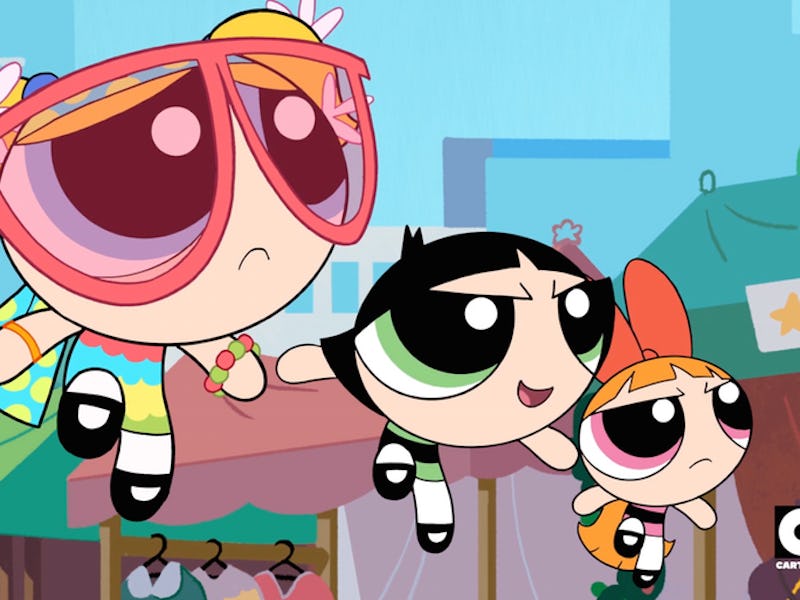 Great news, fans of The Powerpuff Girls. The reboot of everyone's favorite Cartoon Network show finally has a premiere date. We'll all be able to watch brand new episodes of The Powerpuff Girls very soon, and this makes me super happy for many reasons. The Powerpuff Girls is a masterclass in feminism, and it's also hilarious. Blossom, Bubbles, and Buttercup are everlasting icons, who can teach us so much about being strong women (I'm serious!). So when does The Powerpuff Girls revival premiere? Lucky for you, me, and everyone we know, the first brand new episode will premiere on April 4, 2016. Cue excited screams.
The first look at The Powerpuff Girls reboot showed our three heroines taking on a mansplainer. Buttercup was understandably furious with the hipster in the lumberjack shirt when he said, "Why don't you go play with your dollies, princess?" In the briefest clip, the show set about redefining outdated gender stereotypes that are still perpetuated by society. The short clip gave me so much hope for the revival, as Blossom, Bubbles, and Buttercup are consistently fierce, and this will be a central theme of the new episodes going forward. And now, in a new clip released to celebrate the revival's release date, "Bubbles is everyone's BFF... until someone messes with her sisters - RHINO KABOB!" Now I'm excited, and I'm sure you are too.
TVLine reports that "Following a double-episode premiere, new installments will air daily through April 15. The crime-fighting trio will then settle into their regular Thursdays-at-6/5c time slot on April 21." So we're in for a massive treat, with multiple episodes of The Powerpuff Girls hitting us at once. Time to book some time off now to prepare for this Cartoon Network extravaganza. In the age of Netflix, it's a smart idea to release some of the new The Powerpuff Girls episodes in quick succession, as we are more than ready to see this revival. The show originally ran from 1998-2005, so a reboot is long overdue.
To prepare yourself for this major premiere date news which you must pencil into your diaries immediately, watch the newest The Powerpuff Girls clip below and get as excited as I am.
Images: Cartoon Network; Giphy