Over 60 Pro-Choice Activists Arrested In North Carolina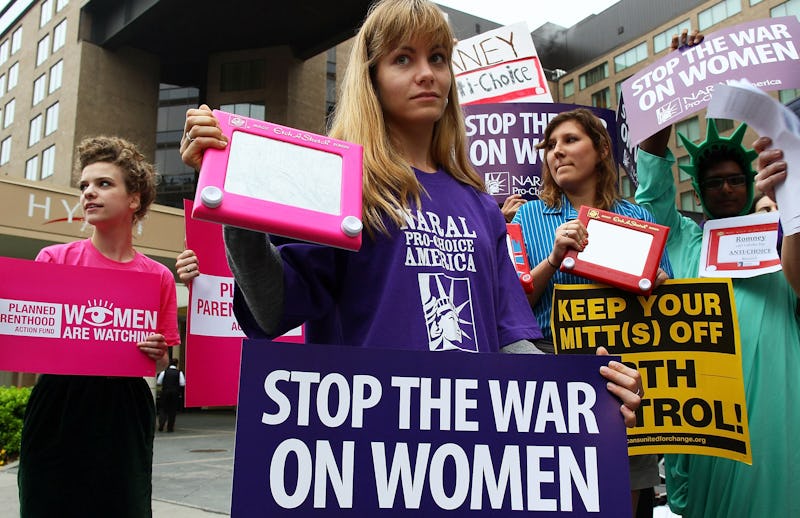 The war on women's reproductive rights currently being waged in Wisconsin, Texas, Ohio, and a handful of other states (as well as in Congress) continued Monday night in North Carolina. More than 2,000 people protested against a Republican attempt to sneak harsh abortion restrictions into a bill right before the Fourth of July holiday.
It's so weird how people notice when you try to take their rights away!
Activists in the state have already been gathering at weekly "Moral Monday" rallies in response to North Carolina lawmakers' increasingly far-right agenda. Yesterday was the largest Moral Monday gathering thus far. The protestors included 63 women's health activists, clad in pink, who refused to leave the legislative chamber in an act of civil disobedience, and subsequently got arrested.
The proposed legislation would limit insurance coverage of abortion services, ban sex-selective abortions, and establish unnecessary restrictions on medication abortions. It would also create new regulations on the state's abortion clinics that would likely force most to shut down.
"I want these politicians to see that with every attack, they are creating a fierce and ever stronger opposition," Janet Colm, the president of Planned Parenthood of Central North Carolina and one of the arrested activists said. "We're making it impossible for politicians to ignore us, no matter how hard they try."
The 63 activists who were handcuffed bring the total number of activists arrested for protesting the conservative legislature up to more than 700. Nearly all have been charged with "disorderly conduct, trespassing and violating building rules."