16 Things Book Lovers Should Have At Their Wedding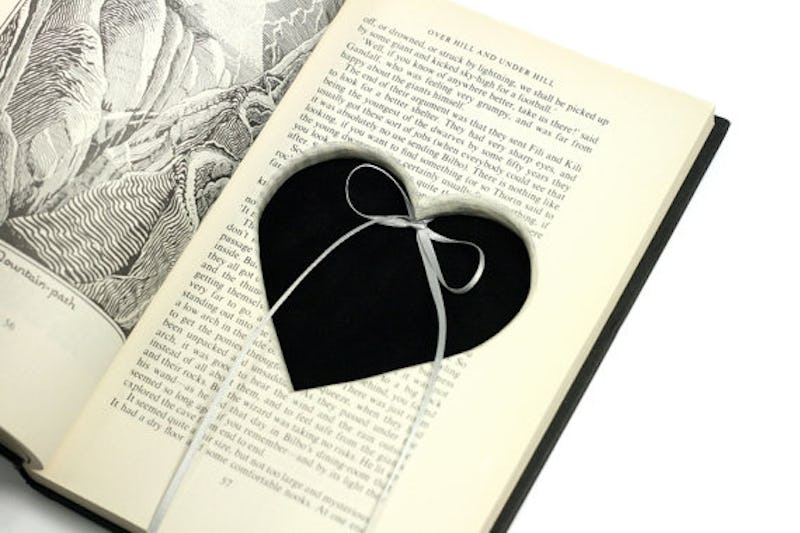 Whenever I picture my wedding, the same basic ingredients always come to mind: me and the love of my life exchanging vows in an outdoor space, live music playing in the background, and a full-blown literary theme. If you're dreaming of a bookish wedding, too, then you'll appreciate this list of things every book lover should have at their wedding.
If you're a total book nerd (guilty as charged), your wedding page on Pinterest is filled with more than just beautiful dresses and dream engagement rings. There are library-themed place cards, literary-inspired cake designs, and bookish center pieces. Your Etsy page has a wishlist loaded with garlands made of recycled book pages, custom bookmark favors, and bookish wedding bands. When you imagine your special day, you don't picture a fancy reception hall, but you do fantasize about exchanging vows in your city's library. From the decorations to the food, there's no part of your dream wedding that doesn't include a literary touch. Trust me, I get it. Books and reading are a huge part of any book-lover's life, so it only makes sense they'd be a big part of that special day, too.
If you want a bookish wedding, there are endless options for creating a literary love... but here are 16 basic things every book-loving bride should have when they decide to say "I do."
A classic element in bookish weddings, library cards can be worked into just about every aspect of the big day. From save the dates to sign in cards, they're simple additions that help set the tone for the whole theme.
Library Card Save the Date, $85+, Etsy
2. Paper Flowers
Fresh flowers are beautiful and all, but for the bookish bride, nothing beats a bouquet made out of pages from her favorite novels. Elegant and unique, paper flowers (like these ones The Kitchn shared) can be part of the bridal party's bouquets and boutonniere, the decorations, or even the favors.
Whether it's earrings, cuff links, or a necklace, typewriters and their keys are the perfect touch to any wedding day attire.
Typewriter Cufflinks, $38.11, Etsy
4. Book-Inspired Food
If you can't decide on a menu, turn to the pages of your favorite novels to find drool-worthy meals. You'd be amazed what delicious meals you can find in books.
Wedding favors are a great way to thank your guests for coming while showing your couple's personality off, which is why a literary themed gift is ideal for book-loving couples. You can go with something simple, like a bookmark, something more personal, like your favorite love story, or something for the kids, like this personalized activity book.
Personalized Childrens Activity Pack, $3.59. Etsy
6. Love Quotes
Work them into your vows, incorporate them into your decor, or inscribe them on your wedding band — just make sure you have a literary love quote somewhere in your wedding, or it's like you're not a true book nerd.
7. Bookshelves
Bookshelves make great backdrops for ceremonies, photo back drops, and just about everything else at weddings. You're life is full of them, and so should be the day you say "I do."
8. Book Themed Bar Menu
If anyone can appreciate a good cocktails, it's you and your future spouse's favorite authors. Choose one of their signature drinks, or pick one from a book on your shelf, and work it into your wedding day menu.
Forget the balloons and the bubbles and the sparklers, because confetti made out of the pages of books is the thing to throw at your literary-themed wedding — just make sure someone is there to sweep up after!
Wedding Petals, $75, Etsy
10. A Literary Wedding Reading
If you're writing your own vows or working book passages into your ceremony, there are more than enough moving literary wedding readings to choose from. Who can capture love better than your favorite authors, anyways?
From Elizabeth and Darcy to Buttercup and Wesley, there are inspirational lovers in the pages of literature that deserve a spot in your wedding. Use them as table names or create wedding toppers out of them, no matter what you decide, they'll be a lovely addition to your theme.
Mr. and Mrs. Wedding Quote, $4.69, Etsy
12. Table Of Contents
Instead of a standard program, give guests a table of contents that include the events of the day. It's the little details that make the difference.
Whether you use them as programs, table numbers, or favors, bookmarks can be easily worked into a wedding ceremony. It wouldn't be a bookish wedding without them.
Custom Bookmarks, $100, Etsy
15. Recycled Pages
Wrap them around vases and candle holders, turn them into dresses or bow ties, but no matter what you do, be sure to use recycled book pages somewhere in your wedding. Cheap and beautiful, they're the simple touch that turn your special day from blah to bookish.
Who needs a ring pillow when you can have your wedding bands carried down the aisle in a book?
The Hobbit Book Holder, $65, Etsy
16. Actual Books
True book lovers couldn't go a day without real books, including their wedding day. They can be used as center pieces, place markers, photo booth props — you name it, they can be incorporated into part of any part of the wedding.
Images: Etsy; Patrick Tomasso/Unsplash