Jax & James Get Into It On 'Pump Rules' Reunion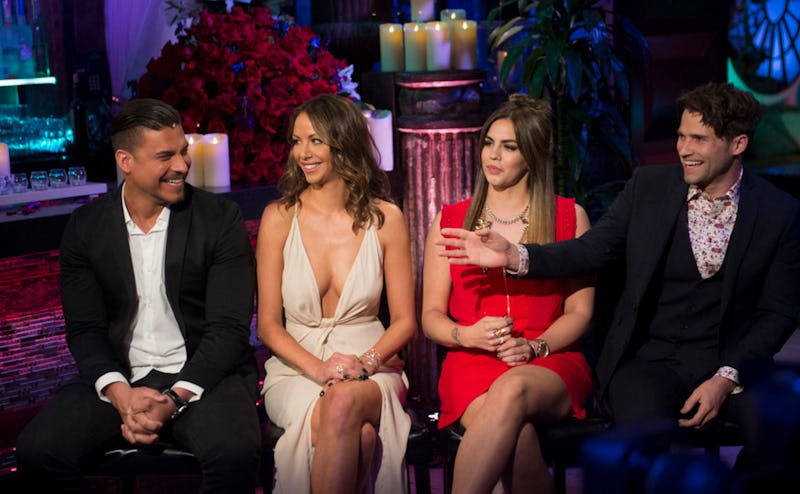 If you fired up the third installment of the Vanderpump Rules Season 4 reunion on Monday night with a wish in your heart that sworn enemies Jax and James would resolve their issues once and for all, I am sorry. I am sorry your heart's wish was not granted. Better luck next season (assuming there is a next season, of course). (And no, my heart won't stop wishing for a Pump Rules Season 5.)
Toward the end of the final reunion episode, host Andy Cohen asked Jax to explain exactly why he hates James with the firey passion of a thousand flaming bacon "A" tattoos. "How much time do you have?" Jax replied. And then, before anyone could say "Giggy in a velour jumpsuit," the sworn enemies were off to the races. Jax and James threw off the proverbial gloves and verbally sparred for several minutes, and neither of Lisa Vanderpump's employees showed any sign of relenting.
Throughout the heated spat, I gasped and cackled and accidentally knocked over my water glass and teared up. What will I do without this show?
What will my Monday night's be without James hissing things like this?
"When your veins start coming out of your neck, I get freaked out."
Or this?
"I'll punch you in your fat throat, mate."
And what will my Monday nights be without dialogue that cuts me to my core like this?
JAMES: "I just think I've got 10 times talent in the bag than this guy could ever dream of."JAX: "I thought you were the white Kanye West."JAMES: "F*ck yeah, I am"JAX: "You're not the white Kanye West."
Or this?
JAMES: "Jax, you're jealous, mate."JAX: "Jealous? Of you? Are you kidding? What am I jealous of?"JAMES: "Opportunity, mate."JAX: "I don't want to be a DJ! I don't want to push a button on a computer."
And what will my Monday nights be without moments like this?
"I'm trying to do Coachella and big things, OK? What, I can't dream?"
I know I've said it at least 75,000 times since the premiere aired back in November, but my goodness, the fourth season of Vanderpump Rules has been a thing of beauty. A bonafide reality television masterpiece. I miss it so much.
Image: Nicole Weingart/Bravo