Joel Kinnaman's On Love Scene With Cara Delevingne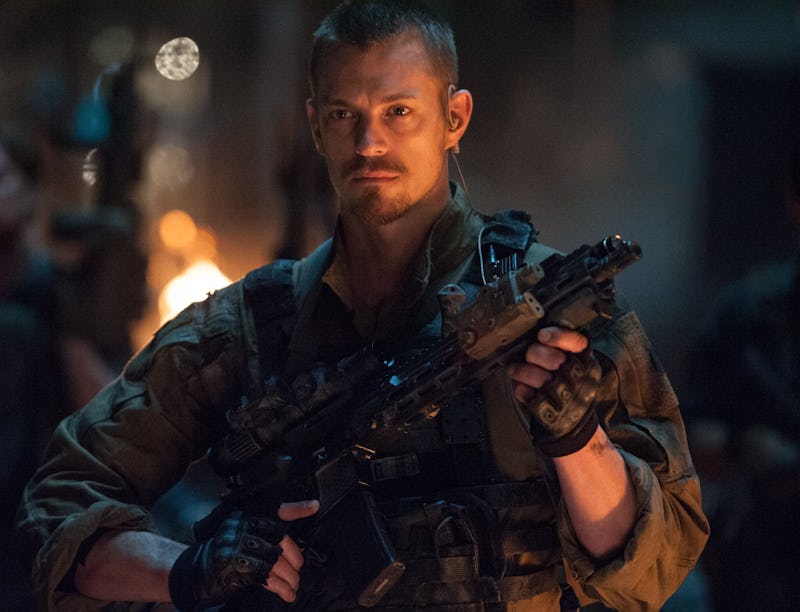 When I was on set of David Ayer's superhero film Suicide Squad in June of 2015, the cast was very tight-lipped. And understandably so: One of the film's biggest secrets — the inclusion Batman — had been previously revealed when fans surrounded the Toronto set and caught a glimpse of the Batmobile. So it came as a surprise when Joel Kinnaman, who plays special operations agent Rick Flag, confessed one of his character's romantic storylines.
According to the actor, Flag, who is seen surrounded by the film's three female characters in the official Squad photo, is quite the ladies man. We know that he has a "special" (whatever that means) relationship with young widow Katana. Their relationship has yet to be defined, but thanks to confirmation from the actor himself, we know Rick Flag and June Moon, also known as her superhero persona Enchantress, are — or were — lovers in some shape or form. Cara Delevinge plays the archeologist turned witchy woman, and according to Kinnaman: "There's a love story between us."
Kinnaman recalls filming a love scene with Delevinge that was supposed to be minimal, but it turned into something much steamier. "There was this one scene with Cara, I thought it was just a flashback, it turned into this beautiful love scene. I was like 'Wow!'" he admits. "I thought it was like [kissing noise], then we move onto the next, but it was [much longer kissing noise]."
Not so fast — while they locked lips for longer than expected on screen, those who are familiar with the comic books know that Enchantress has manipulative mind powers, and their love scene might not have been as real as it seems. Perhaps Enchantress uses her mind-bending abilities to insert the sultry scene into Flag's consciousness as a way to disarm him.
Unfortunately, the 36-year-old actor won't tell. "You have to see the movie," he says.
Oh c'mon, Kinnaman! I guess we'll have to wait until the film hits theaters on August 5 to find out the true nature of his relationship with June Moon — or is it Enchantress?
Images: Clay Enos/  & © DC Comics Courtesy Warner Bros. Pictures; Giphy [2]