How To Fake Freckles With Makeup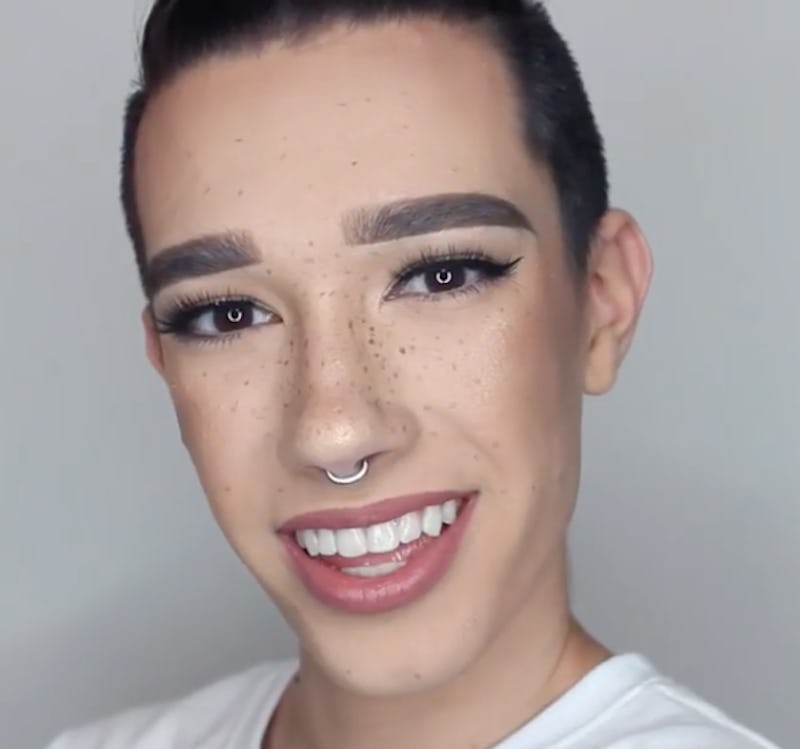 Take a seat, brows. Freckles are the latest beauty obsession, inspiring everyone to play up their natural speckles or create them with a little creative makeup sparkle. Here's how to fake freckles with makeup, and look totally adorable.
If you got teased in school for having freckles, welcome to the last laugh, my friend. There is something youthful yet edgy about freckles, and maybe that's why everyone is trying to recreate them in their makeup. The freckle trend may sound ridiculous, but it's a modern take on something women have been doing for decades — faking signature features, like the beauty mark trend that was inspired by icons like Marilyn Monroe and big lips like Kylie Jenner.
A spontaneous splatter of freckles on your face is a fun way to mix up your foundation routine, and is surprisingly simple. It only takes a couple brow products and a teeny tiny brush or beauty blender to create natural-looking marks. If you already have a few freckles but love the "fake it" look, that's easy to do as well! The trick is to layer the products onto your skin and pat or paint the freckles on, never swiping or dragging the products.
Below are some of my favorite tutorials for faking freckles.
1. If You Already Have Freckles
Create freckles that are more defined and shine through your foundation with this simple foundation routine tutorial.
2. If You Don't Have Freckles
A gel dip brow is a great way to paint on tiny freckles that stay all day. Concentrate them on the high points of the face, where they would occur naturally.
Morphe M170-2 Oval Taklon Lip Brush, $1.99, morphebrushes.com
3. If You're Light Skinned
If you're very pale, you want to take a light hand with these and use a medium to ash blonde brow product.
Anastasia Beverly Hill Dipbrow Pomade, $18.00, anastasiabeverlyhills.com
4. If You're Medium-Dark Skinned
Yes, this is adorable on all skin tones! You can mix up the freckles by making them reddish tinted, which naturally occurs in everyone from light-dark skin tones.
Beauty Blender, $20.00, beautyblender.com
5. If You Want All-Over Freckles
Ready to go all-in with your freckles? Here's how to turn up the heat on this trend.
IT Cosmetics Brow Power Universal Eyebrow Pencil, $24.00, itcosmetics.com
Want more fashion and beauty tips? Check out the video below and subscribe to Bustle on YouTube!
Image: James Charles/Instagram