19 Beautifully Written Final Lines In YA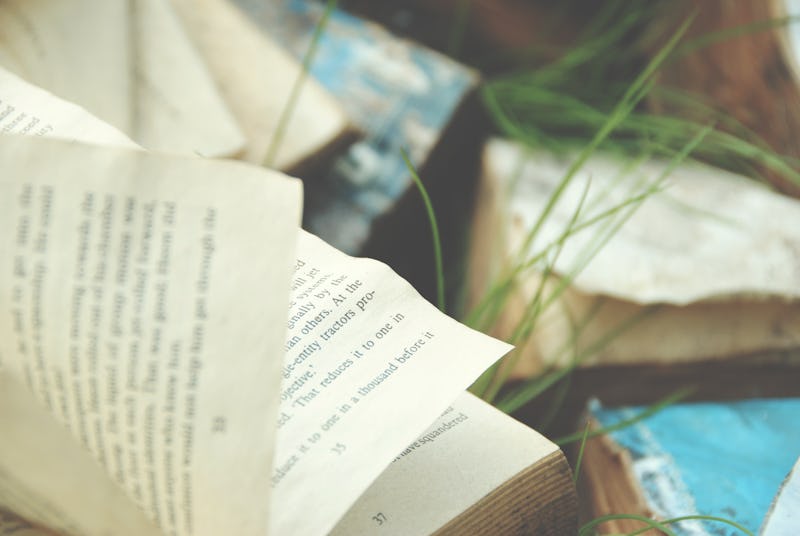 When it comes to famous literary quotes, opening lines in books get all the credit. We all can recite Pride and Prejudice's "It is a truth universally acknowledged...," Anna Karenina's "Happy families are all alike; every unhappy family is unhappy in its own way," and "It was the best of times; it was the worst of times," from A Tale of Two Cities, of course. But final lines in books should get more attention, because as we all know from high school essays, writing the conclusion can be the hardest part. And, moreover, let's give the spotlight to beautifully written final lines in YA.
When you think about The Great Gatsby, you think about champagne and parties and "So we beat on, boats against the current, borne back ceaselessly into the past. And if you're like me, the final sentence in Margaret Atwood's dystopian The Handmaid's Tale — "Are there any questions?" — has haunted you since you turned the final page. But what about young adult novels? There are so many beautifully written YA novels, and of course they have beautifully written final lines.
Whether you like contemporary novels or classic YA, fantasy or realism, or anything else, these 19 closing lines from YA books are so beautiful.
1. "But mostly, I think to think that Jack Griffith, my father, smiled as I let go of the railing behind me and , stretching my wings to that star-studded sky, soared into the night"
— Leslye Walton, The Strange and Beautiful Sorrows of Ava Lavender
2. "I am haunted by humans."
— Markus Zusak, The Book Thief
3. "I don't know if he's right, but I do know that I spent a long time existing, and now, I intend to live."
— Robyn Schneider, The Beginning of Everything
4. "They will not know I have gone away to come back. For the ones I left behind. For the ones who cannot out."
— Sandra Cisneros, The House on Mango Street
5. "Thomas Edison's last words were: 'It's very beautiful over there.' I don't know where there is, but I believe it's somewhere, and I hope it's beautiful."
— John Green, Looking for Alaska
6. The last leaf fallsBut look close and you seeThe hidden buds of spring
— Sarah Benwell, The Last Leaves Falling
7. "Petey dove into the vast sea of green, and Finn after her, the voices of the people of Bone Gap swelling like a chorus behind them, the moon winking above them, the corn laughing with them, because it would have known them anywhere."
— Laura Ruby, Bone Gap
8. "Quick, make a wish. Take a (second or third or fourth) chance. Remake the world."
— Jandy Nelson, I'll Give You the Sun
9. "I love you. Remember. They cannot take it."
— Lauren Oliver, Delirium
10. "We lie there together, watching the lightning and listening to the thunder, and waiting for the beginning of a rainy dawn."
— Marie Lu, Legend
11. "Lastly, she pictured to herself how this same little sister of hers would, in the after-time, be herself a grown woman; and how she would keep, through all her riper years, the simple and loving heart of her childhood; and how she would gather about her other little children, and make their eyes bright and eager with many a strange tale, perhaps even with the dream of Wonderland of long ago; and how she would feel with all their simple sorrows, and find a pleasure in all their simple joys, remembering her own child-life, and the happy summer days."
— Lewis Carroll, Alice's Adventures in Wonderland
12. "We were dancers and drummers and standers and jugglers, and there was nothing anyone needed to accept or tolerate. We celebrated."
— Bill Konigsberg, Openly Straight
13. "I feel a thousand capacities spring up in me."
— Jennifer Niven, All the Bright Places
14. Time comes with us softly, slowly. It sits beside us for a while.Then, long before we are ready, it moves on.
— Jacqueline Woodson, If You Come Softly
15. "The scar had not pained Harry for nineteen years. All was well."
— J.K. Rowling, Harry Potter and the Deathly Hallows
16. "Heroic weeds rise up from the cracks in the sidewalk, and the colored lights of the Hawaiian Breeze ignite the broken glass in the gutter. Goodbye, I say, goodbye, as I disappear little by little into the middle of the middle of my own spectacular now."
— Tim Tharp, The S pectacular Now
17. "We are part of every living thing around us, and we are a whole world unto ourselves"
— Jamie Kain, Instructions for the End of the World
18. "The stars folded themselves away as the sun peeked above the horizon and cracked open the sky and I kissed him and we laughed and it was good."
— Laurie Halse Anderson, The Impossible Knife of Memory
19. "And there, in the place where possibility lived, I shone."
— Sarah Ockler, The Summer of Chasing Mermaids
Image: Unsplash