New Snapchat Update Features You Missed Last Week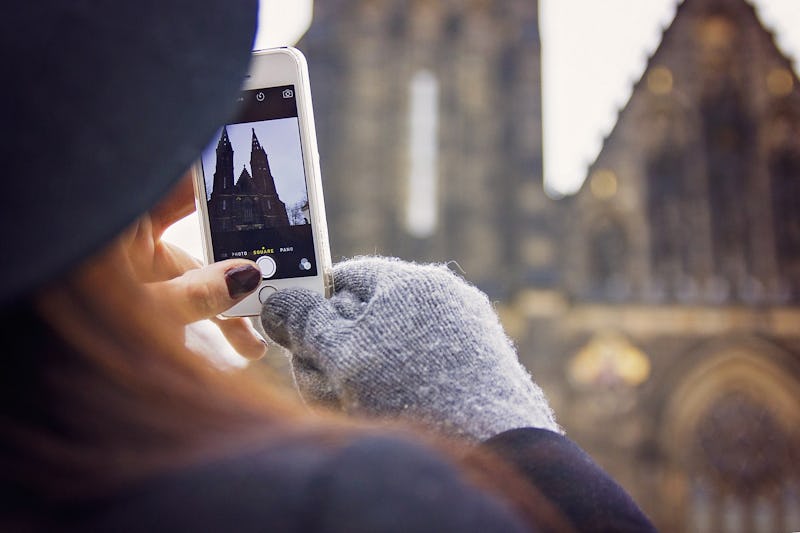 If you are feeling the need to catch up to modern levels of technology, I would suggest starting by updating your snapchat Snapchat app. This app is growing to be more and more of a daily necessity, especially with all of the new Snapchat update features that rolled out last week. And since moving to Los Angeles and hanging out with people in the ~tech circles~, I've learned that they keep up with the trends as passionately as anyone else. Snapchat is taking their game to the next level with their newest update, so make sure you're keeping up in case you missed it.
In order to experience all of the new features that Snapchat 2.0 has in store, you should first go into your app store and make sure you're updated to the newest version. Once you have done so, you will have access to features such as video calling, voice calling, and my personal favorite — stickers. With video calling you will be able to call your friend privately, leave them messages, or just watch them do stuff. Voice calling works the same way. Leave your best friend a note about your relatively new need for more toilet paper, or just sing them a happy birthday song. Lastly, make sure that they always know what you are talking about with stickers that depict the entire rainbow of emotions and items to go along with written text.
Armed with tools like Face-Swapping and voice notes, I am so excited to see what Snapchat brings to the table next! Hopefully it has something to do with live broadcasting. Until we know the details straight from the source, I'm going to show you exactly how to use the brand new features.
Where Everything Exists
Once you have updated to the newest version of Snapchat, you will have access to the awesome new features. Open up your app, swipe right to get the to your contact list. Pick any person and swipe right again to open a private chat between you two. This is what that screen will look like.
Now comes the really fun part where you get to try out all the features!
1. Pictures
By pressing the picture frame icon, you will be taken to your photo library. Mine has a lot of GIFs, embracing selfie outtakes, and pictures of my food.
Now you can send your friends pictures you took outside of the app and edit them with Snapchat staples such as text. You can also draw on them! I usually use this feature to show my friends where they need to go using google maps. It's a skill, people.
2. Calls
You can directly call your friends and have a conversation within the app. I only use this to leave them funny notes or grocery lists. The best part is if they don't want to talk to you, they can just ignore your call or put themselves on mute. That way, they can hear you but don't have to talk.
To open the feature, just click on the phone icon and watch it go!
3. Video Calling
Finally! A way to video call and leave little video clips for your friends to see. I imagine that this feature will be used by celebrities with large followings in order to connect with their fans. You want to ease of use from having it be a phone interaction, but protect your privacy by not giving away your actual phone number. It's videochatting without the security leaks. As with the calls, you can ignore, mute, or leave notes.
4. Stickers
Finally, my favorite feature. By clicking the smiling face you get access to hundreds of stickers that you can send to your friends in the middle of the text conversation.
All you have to do is type the word you are looking to send (my example is lunch) and watch the options appear.
Suddenly you have access to sloths, bacon, and mice fighting over pizza. Welcome to the future, now take your seat.
Hope this helped explain the brand new update features and made it easier for you to keep up with the tech crowd!
Images: Pixabay; Dasha Fayvinova/Snapchat