The Stars Of 'Togetherness' Have Not Gone Far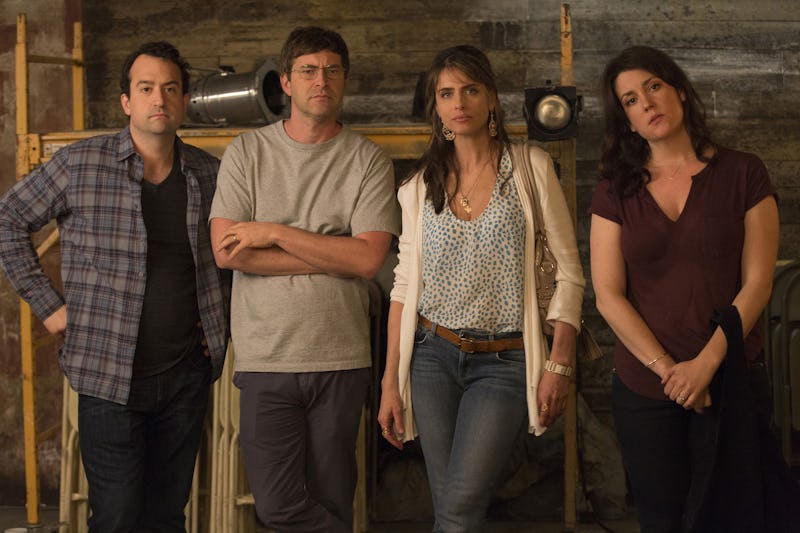 The Season 2 finale of Togetherness airs Sunday. While the suburban comedy isn't likely to leave any cliffhangers, the audience is sure to be left wanting more — especially with the characters' venture to open their own charter school. Will Togetherness be renewed for Season 3?
The answer, in short, is no. Togetherness has been canceled and will end with Season 2. In an official statement to Deadline, HBO assured fans that "although we have decided not to proceed with another season of Togetherness, we look forward to continuing our strong creative collaboration with the talented Jay and Mark Duplass." So that's a major bummer, but hopefully the show will at least be able to go out on its own terms and tell a complete story.
That said, this is clearly not the last that we've seen from the cast and crew. Even Peter Gallagher has popped up recently on New Girl and Law & Order: Special Victims Unit. The only person who doesn't seem to have anything on the docket is Amanda Peet — so we'll have to stay on the lookout for her. The small group that made up the HBO series has got plenty to look forward to on the horizon.
Table 19
Mark and Jay Duplass also wrote this screenplay, about the "singles table" at a wedding reception that was directed by Jeffrey Blitz and whose cast includes Anna Kendrick, Craig Robinson, Lisa Kudrow, and Stephen Merchant.
The House
Steve Zissis can be seen this year in the upcoming Amy Poehler and Will Ferrell comedy.
Folk Hero & Funny Guy
Melanie Lynskey has a slew of films coming up this year, including Little Boxes, Life At These Speeds and The Great & The Small. This comedy also stars Hannah Simone, Heather Morris, and Alex Karpovsky.
Animals.
Finally, HBO has stayed true to its promise. Jay and Mark Duplass have not strayed far. While Togetherness is over, their new animated series has already started airing on the same network. I guarantee that the cast includes one or fifteen of your comedy favorites. Also, Mark Duplass, Melanie Lynskey, and Steve Zissis voice characters in episodes of Animals — so really, it's like Togetherness has never left us.
Images: John P. Johnson/HBO; Giphy (2)