You Probably Didn't Watch These Shows In 2015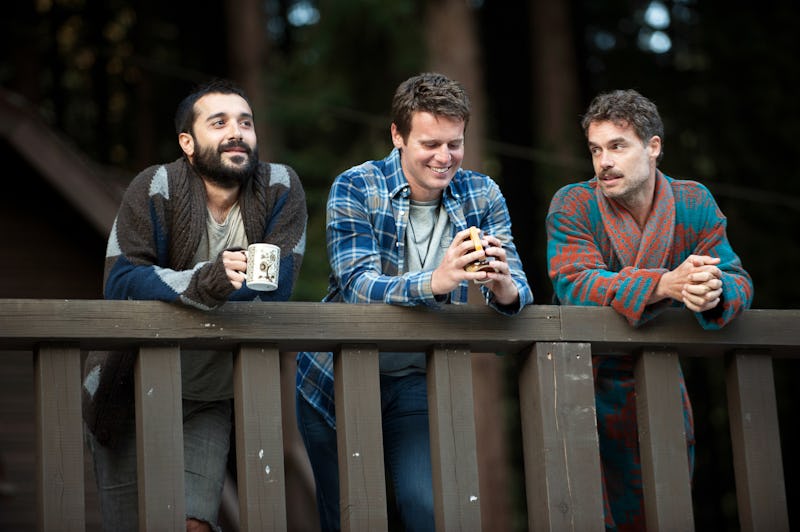 The year 2015 offered 409 original scripted series across broadcast, basic cable, pay cable, and online services. That's up a staggering 194 percent from the 211 series that were offered across all platforms just six years ago. Living in the midst of this phenomenon, referred to as "Peak TV," is both a blessing and a curse. The fact that networks and streaming services are producing more content than ever means that there's more quality content than ever — by sheer law of averages. But it also means that it's impossible to watch everything, so a lot of the quality programming is slipping through the cracks. And so we're here to pay tribute to the most underrated TV shows of 2015.
For every bonafide success story like Empire, Game Of Thrones, or The Walking Dead, there are a dozen failures. Some of those failures aren't exactly losses. But others leave their loyal — if minuscule — fan bases gnashing their teeth in despair. Of the 18 shows on this list, five of them have already left us forever; many more are on the brink of cancellation as we speak... and that's a crying shame, because each of them has something amazing to offer.
Here are 18 underrated shows from 2015 that deserve a second look:
18. Galavant (ABC)
Galavant, which aired as a placeholder during Once Upon A Time's midseason hiatus, deserves a second look. Featuring delightful cameos from the likes of John Stamos, Weird Al, and Downton Abbey's Hugh Bonneville — as well as catchy tunes like "Jackass In A Can" — the show was also a toe-tapping good time. Fortunately, Galavant is returning for a second season this January, so there's still time to check this show out.
17. American Crime (ABC)
Not to be confused with FX's own upcoming anthology series American Crime Story, ABC's anthology from Oscar-winning screenwriter John Ridley (12 Years A Slave) got off to an acclaimed, if low-rated, start with a first season starring Felicity Huffman, Timothy Hutton, and Regina King. It's not too late to get on board, either; Season 2 starts in January with a whole new case... but with the same terrific cast playing new characters.
16. Togetherness (HBO)
HBO has two loudly trumpeted, award-winning series in Veep and Silicon Valley — but in their shadow resides a bevy of underrated gems... like this brand new series created by the Duplass brothers Mark (The Mindy Project) and Jay (Transparent). The first season featured scene-stealing supporting turns from the likes of Mary Steenburgen and Peter Gallagher, a breakout role for star Melanie Lynskey, and a career-best performance from Amanda Peet.
15. Bloodline (Netflix)
Although not as flashy as some of Netflix's other recent offerings (Daredevil, Jessica Jones, Sense8), this slow-burner of a family thriller boasted one of the greatest ensembles casts on TV this year, with Kyle Chandler, Sissy Spacek, Sam Shepard, Linda Cardellini, and Norbert Leo Butz all doing some of their best work. But it was Ben Mendelsohn who stole the show as black sheep Danny Rayburn, delivering a performance that always kept viewers (and the other characters) on their toes.
14. Please Like Me (Pivot)
In this era of "Peak TV," not just shows, but whole networks, can sometimes slip through the cracks. Chances are you've probably never heard of Pivot — much less this criminally underrated Australian sitcom that airs on it. Created by and starring young Aussie comedian Josh Thomas, Please Like Me is an intensely personal show about a young gay man and his friends and family — and is often as dramatic as it is riotously funny.
13. Penny Dreadful (Showtime)
There's literally nothing else on television quite like this gothic horror series from creator John Logan (Skyfall) that combines the legends of Frankenstein, Dracula, Dorian Gray, the Wolfman, and more into one sumptuously macabre stew. Season 2 was a marked step forward for the show, trading in its tedious vampires for some truly terrifying witches, a spotlight on compelling supporting characters like the reanimated Lily and transgender prostitute Angelique, and a scenery-chewing guest turn by Patti LuPone (who has been promoted to a series regular for Season 3).
12. You're The Worst (FXX)
Do yourself a favor and check this show out now: You're The Worst is hot off a critically acclaimed second season that transformed the show from an amusing relationship sitcom into a surprisingly in-depth study of depression — and it's somehow remained hilarious at the same time.
11. Getting On (HBO)
Another of HBO's under-the-radar comedic treasures is this cringe-inducing comedy about a trio of women working in an extended care unit. Laurie Metcalf is hilarious as the self-important Dr. Jenna James, and Alex Borstein shines as the hard-working — but naïve — head nurse Dawn Forchette. But it's Niecy Nash who gives the series its soul as nurse Didi Ortley, who often feels like the only person more committed to the elderly patients than her own messy personal life. Sadly, it's too late to save this one; Getting On just finished airing its third and final season earlier this month.
10. Crazy Ex-Girlfriend (The CW)
Will a Golden Globe nomination for its star Rachel Bloom be enough to save this mystifyingly low-rated show from cancellation? It worked for Jane The Virgin, so fans can keep their fingers crossed. Perhaps people are gun-shy about small screen musicals; that's the only thing that can explain Crazy's basement ratings, since everything about this show just works. And Bloom is undoubtedly a revelation as the delusional but relatable Rebecca Bunch.
9. The Comeback (HBO)
This scathing Hollywood satire starring Lisa Kudrow at her best was canceled after one low-rated season in 2005. Then, it made its own comeback nine years later for a second season that was arguably even better than the first. And still, nobody watched! Like Kudrow's perennial punching bag Valerie Cherish, perhaps The Comeback is simply destined to be underestimated and ignored. Oh well... at least there's a chance we'll see a third season in another nine years, right?
8. Bates Motel (A&E)
Trust me, Bates Motel is truly gripping stuff: Finding Neverland's Freddie Highmore gets better every year as the increasingly unhinged Norman Bates, and Vera Farmiga (The Conjuring) steals the show as his equally disturbed mother, Norma. Her captivating performance is literally the stuff that Emmy reels are made of.
7. Looking (HBO)
Like Getting On, it's too late to save this canceled comedy. (At least it's returning for a TV movie to wrap things up.) That makes Looking one of the biggest missed opportunities in recent memory; divisive in its first season, the show blossomed in its second into a sublime portrait of queer life second on TV only to Amazon's Transparent. Complex, funny, sad, and always beautiful to look at, HBO is a sadder place without this gem in its lineup.
6. Parks And Recreation (NBC)
This dearly departed NBC sitcom was underrated in a different sense of the word than any other show on this list: not by television audiences, but by pretty much every awards show in existence. The fact that it never once took home an Emmy and only one Golden Globe for star Amy Poehler — and no nominations from either organization for any of the show's terrific supporting cast (especially Nick Offerman as Ron Swanson) — is a travesty of international proportions.
5. The Americans (FX)
How does one of the best dramas on television go unrecognized for so long? Its tense and near-perfect third season was watched by only about one million viewers per episode, and its only Emmy recognition has been in Writing and Guest Performing categories. (The Golden Globes, you'd think, don't even know it exists.) I would challenge anyone to watch young Paige confronting her spy parents about the truth and not agree that The Americans deserves all of the awards. But hey — The Wire never won any awards either, and it's considered one of the greatest shows in TV history.
4. UnREAL (Lifetime)
Perhaps the two buzziest new shows of 2015 were Lifetime's UnREAL and USA's Mr. Robot. However, "buzz" doesn't always translate into widespread recognition. While Mr. Robot earned solid ratings and earned a Golden Globe nomination for Best Drama Series, UnREAL never cracked one million viewers (and at its lowest was barely scraping half that) and didn't even register on the HFPA's radar. Trust me: the buzz is real. So long, Walter White, hello, Rachel Goldberg. A new antihero is on TV, and she's on Lifetime.
3. Fargo (FX)
In its first season, this crime anthology series was a terrific send-up of the acclaimed 1996 black comedy by the Coen Brothers. In its second, Fargo rewound to the 1970s, and in doing so, transcended its source material to become very much its own beast. Kirsten Dunst turned in perhaps the best performance of her career as delusional beautician Peggy Blumquist; Patrick Wilson, Ted Danson, Jean Smart, Jesse Plemons, Bokeem Woodbine, Nick Offerman, Jeffrey Donovan, Cristin Milioti, and Zahn McClarnon made this the single best cast to grace a television screen in the entire calendar year. So, how is it that ratings, nominations, and buzz somehow all went down? I guess one consequence of "Peak TV" is that no one can watch everything; but if Fargo isn't one of the show's you're watching, you're really missing out, dontcha know.
2. Hannibal (NBC)
Bryan Fuller's adaptation of the Dr. Lecter mythos, always a sumptuous feast for both the eyes and the mind, deserved to run for years and years and years. Season 3 elevated the already-terrific show to high art and the finale, a veritable orgy of blood and unrequited lust, was one of the most memorable hours of television this year. I can't believe the final course has already been served...
1. The Leftovers (HBO)
After transforming one of 2014's most divisive shows into 2015's best show, period, it's baffling that The Leftovers only just avoided cancellation to earn a third (and final) season renewal on the back of nothing more than critical acclaim. (It certainly wasn't the 698,000 viewers on average that tuned in to each episode.) With Season 2, creator Damon Lindelof crafted one of the most consistently solid seasons of television in recent memory. Every episode had its standout moments, from the premiere's cavewoman sequence to Matt Jamison's Job-like trials; from Nora Durst and Erika Murphy's tense confrontation to Kevin Garvey's trip to the afterlife. No show currently airing is as ambitious as The Leftovers... making it all the more impressive when it hits its mark week after week.
Although it's too late to save many of these criminally underrated shows, we can only hope that the rest start attracting the attention they deserve in 2016.
Image: Richard Foreman/HBO