7 'Adult' Books That Every YA Reader Will Love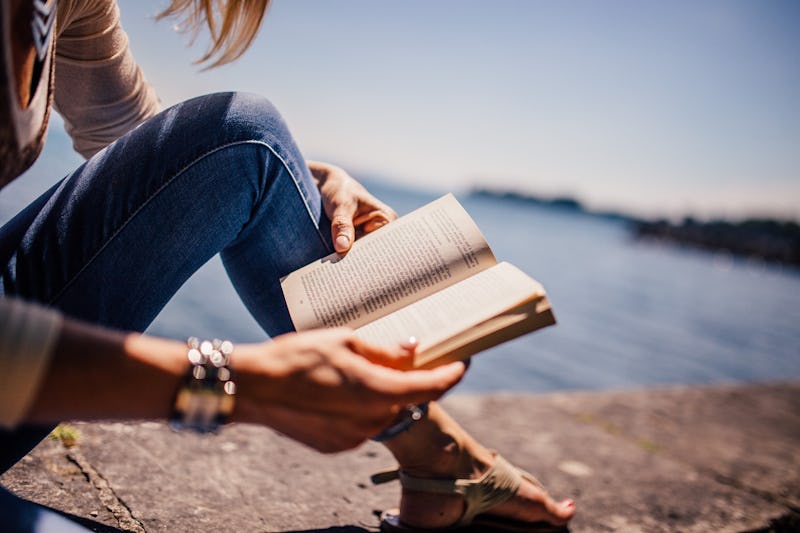 There's a lot of talk these days about adults reading young adult novels. And why wouldn't you want to read a YA novel? Engrossing and creative, YA books are a great time. So many innovative ideas are popping up in the YA world, and there's so much to be excited about. But, let's switch things up a bit, and talk about how YA readers can get into adult fiction.
Sometimes it's easy to get stuck in one arena. I know this because I used to be a YA-only reader. There was a large period of time in my life when, outside of assignments from school, I wouldn't read anything else. (And if you want to do that, that's a-okay by me. Read what excites you!) But I eventually discovered a whole other world outside of YA; that there were amazing authors out there that I was missing.
I went to a panel a few months ago, featuring some publishing higher-ups, about "Genre v. Literary Fiction," and in the discussion, the subject of "YA v. A" got brought up as well. From the panel, I learned that so much of these decisions about how books are classified is simply marketing. One of the panelists, a literary agent, talked about how for many manuscripts, he pitches them as adult, YA, genre, and literary fiction, because often a manuscript can fit anywhere. If you ask me, some of the best books fall into that gray area. Labels only take you so far.
So, if you're a YA enthusiast, give these "adult" novels a spin. They might have the action you're craving, the romance you go nuts for, or they might just take you by complete surprise.
1. The Regional Office is Under Attack! by Manuel Gonzales
Kickass female assassins pitted against each other! A company that protects the universe from evil! The end of the world! This book is a pure romp and completely worthy of the exclamation point in its title. Gonzales is a creative mastermind, and this world will have you ferociously turning the pages.
2. Anansi Boys by Neil Gaiman
This book is pure gold, the kind of adventure every reader longs for. I triple-checked if it was actually YA, because it has so many aspects that will appeal to YA-lovers. When Charlie Nancy's father dies, he's surprised to find out that he was actually Anansi, the trickster god. And to make matters more complicated, Charlie's mysterious estranged brother, Shadow, has shown up to stir up trouble. (Pro-tip: Even though it's technically a companion book to American Gods , you don't have to read American Gods first, and a lot of people actually like Anansi Boys better.)
3. Gold Fame Citrus by Claire Vaye Watkins
This list would be incomplete without a dystopian, post-apocalyptic novel on it, and Gold Fame Citrus is a must-read. Set in the near-future, California has become a water-less wasteland, and Ray and Luz are some of the only inhabitants left. But when they discover a mysterious child, seeds of hope for a new future are planted. This book is so eery at times that your skin will be crawling.
4. The Queen of the Night by Alexander Chee
Historical fiction buffs, this one's for you. Set in 19th century Paris, this is the story of a famous opera singer, Lilliet Berne. When Lilliet finds out she's been betrayed by someone close to her, she tells you the story of her wild beginnings, trying to suss out which one of her confidants has been spilling her secrets. Don't let the length of this one scare you off — you'll get sucked in and fly right through it.
5. Sleeping Giants by Sylvain Neuvel
As a girl, Rose accidentally discovers a gigantic, metal hand in the earth. Now, grown up and a leading physicist, she's close to unraveling the mystery of the hand, and what it could mean for all of humanity. This is an adventure that will pull you along all kinds of twisting paths.
6. The Time Traveler's Wife by Audrey Niffenegger
If you're a fan of Rainbow Rowell, try this romance on for size. Henry uncontrollably travels through time, often pulled to his wife's childhood. As a result, Claire has known Henry since she was six years old, even though he doesn't meet her until his 30s. This is the story of their strange romance. It's powerful, it's engrossing, and it will make you feel every emotion.
7. The Assistants by Camille Perri
The equivalent of a high school dramedy for the young professional world. When an executive assistant to a media mogul accidentally steals enough money from her boss to pay off her student loans, the situation snowballs until her life becomes amazingly tangled. Budding romance and new friendship weave throughout this book, drawing you in completely. A scoop of pure, vindictive fun — especially if you've ever had an assistant job.
Images: StockSnap/Pixabay