A Spin-Off Comic About Negan From TWD Is Coming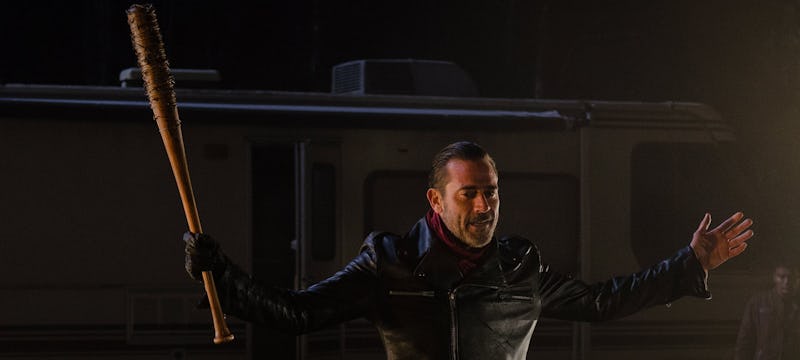 If you're in The Walking Dead withdrawal after the close of Season 6, no worries. There's a The Walking Dead spin-off comic about Negan coming later this month. Here's Negan will tell the big, bad bat man's backstory, including how he made his now iconic weapon, Lucille.
After a season full of teasing, Negan finally appeared on AMC's The Walking Dead TV series in the Season 6 finale. Jeffrey Dean Morgan was cast in the role of the series' most reviled villain. Morgan previously appeared on Grey's Anatomy as heart patient Denny Duquette, Jr., and on Supernatural as Sam and Dean's father, John Winchester.
The Walking Dead Season 6 closed with Negan killing one of Rick's group of survivors, but fans still aren't sure which one. The screen showed Lucille close in from the murdered character's perspective, then faded to black with some unclear audio. Some fans believe that Glenn was Negan's victim, a move that would go along with the comics. However, showrunners previously stated that the series would diverge from The Walking Dead comic, leading many to believe that Glenn would survive Negan's initial attack.
For Season 7, The Walking Dead has promised that several episodes will be told from Negan's perspective, similar to what happened a few seasons ago with the Governor. Robert Kirkman and Charlie Adlard's comic book series hasn't told Negan's backstory until now, which makes this fan wonder whether the two The Walking Dead series will agree on what happened to make the batter so damn bad.
Here's Negan will be serialized, four pages at a time, in Image+, a comic book preview publication. The first issue comes to a comic book store near you on April 27.
Image: AMC