I Tested Makeup At All Different Price Points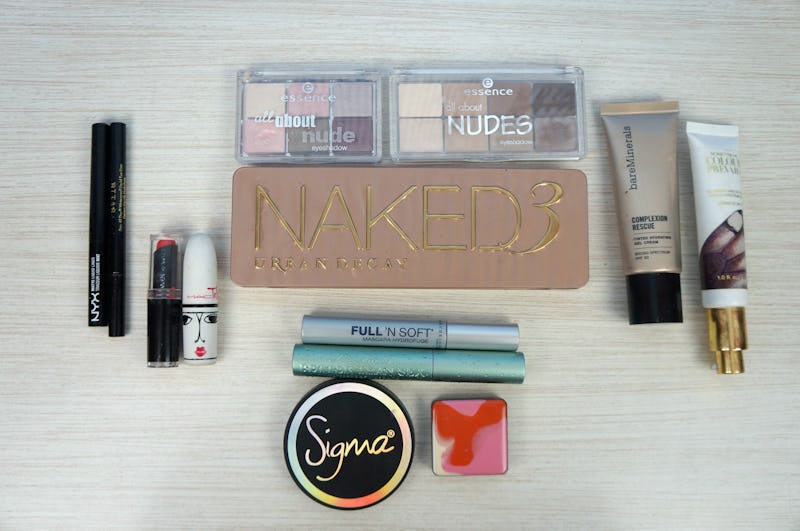 Whether you're obsessed with beauty or you're just a casual makeup lover, you'll eventually have to make a choice: Do you buy the budget-friendly product or do you splurge on the pricier stuff? Is there really that big a difference between $10 mascara and $20 mascara? Pretty much every makeup-wearer has had this dilemma at least once in their life. If you're always on a really tight budget, or if makeup just isn't a big priority for you, then it probably makes sense to stick to affordable drugstore brands. But suppose you have the disposable income to upgrade to the more expensive version of a product that you want: How do you know if it's really worth the extra money? Many people make the mistake of assuming that just because a product is more expensive it's automatically better. That's not always true, since many prestige brands also own drugstore brands that put out very similar products. Sometimes they spend extra money on the packaging and marketing, not the product itself. Then again, I have tried some expensive makeup products that blew my mind and made me willing to fork over the big bucks time and again whenever I ran out.
In the end, it mostly comes down to personal preferences and priorities. Still, I thought it would be fun (and possibly helpful) to go through my makeup stash and compare expensive makeup products to their very similar but much cheaper dupes. I created an entire face of makeup (BB cream, blush, mascara, eyeliner, eye shadow, and lipstick), with the inexpensive products on one side of my face and the expensive products on the other side. Let's see how it went down!
Mascara
I compared two of my all-time favorite mascaras: Too Faced Better Than Sex Waterproof Mascara ($23, toofaced.com), vs. Maybelline Full 'n Soft Waterproof Mascara ($8, ulta.com). Let's see if the $15 price difference is visible — other than the fact that the Too Faced mascara obviously has much cuter packaging.
I'm wearing Too Faced mascara on the left side of this photo and Maybelline mascara on the right side. These are both very wet formulas with similar brushes. They're made more for length than volume, which I personally prefer because I don't like my lashes to get too clumpy. They're also both waterproof, and I like that neither of them smears on my oily, hooded lids.
Honestly, I use these interchangeably but if I had to choose I would say the Too Faced is slightly better — you can see in the photo that my left eye is a bit more defined. If you're on a budget, however, the Maybelline mascara is a great option.
Eyeliner
I compared my two go-to liquid liners: NYX Matte Liquid Liner ($7, nyxcosmetics.com) vs. Stila Stay All Day Waterproof Liquid Liner ($22, sephora.com). Let's see if their $15 price difference is noticeable.
I'm wearing the Stila liner on the left of this photo and the NYX liner on the right side. The two main differences between these is that the Stila is a foam-tip pen and is glossy, while the NYX liner is a brush and dries matte. I personally love the matte look of NYX liner but I find it much easier to control the line with the Stila pen than the NYX brush. They both stay on the lids all day without smudging though.
So if you want a very precise line I recommend the Stila, and if you prefer a matte look I recommend the NYX.
Eye Shadow
I compared the Urban Decay Naked 3 Palette ($54, sephora.com) vs. Essence All About Nude Palette ($5, ulta.com) and Essence All About Nudes Palette ($5, essencemakeup.com). Since I actually used two very similar Essence palettes for this, the total price difference after combining the cost of both Essence palettes is $44.
Above, the Urban Decay shades (left to right: Darkside, Factory, Dust, and Strange) are pictured on top and the most similar Essence shades (unnamed) are on bottom.
I used the Essence palette on this eye:
And the Urban Decay palette on this eye:
In the end, I got more color payoff from the Urban Decay palette, although the lightest two shades from both palettes were pretty useless on my skintone.
If you want a really impactful, pigmented look you may want to go with the Urban Decay palette. Whichever one you choose, however, just make sure you use a good eyelid primer first because that makes a huge difference no matter how expensive your eye shadow is. (I use this Urban Decay primer with great results.)
BB Cream
For face makeup I compared Nonie Creme Colour Prevails Blurred Lines CC Creme ($16, drugstore.com) vs. bareMinerals Complexion Rescue Tinted Hydrating Gel Cream ($30, sephora.com), a $14 price difference.
Above, the Colour Prevails CC Creme is on the left and the bareMinerals Complexion Rescue is on the right. As you can see, there's a huge color difference. The CC Creme comes in only 3 shades (light, medium, and dark) whereas the Complexion Rescue comes in a whopping 16 shades, making it much easier for me to find the right match.
Below, I'm wearing the Colour Prevails CC Creme:
And this is the bareMinerals Complexion Rescue:
Below, the Complexion Rescue is on the left side and the CC Creme is on the right, so you can compare:
Although I'm very pale, the darker Colour Prevails CC Creme does blend in surprisingly well and it offers really good coverage — it's not as heavy as foundation but more than the bareMinerals Complexion Rescue. However the Complexion Rescue is more hydrating and imparts a dewy glow that I really like.
In the end I usually reach for the Complexion Rescue because it has SPF 30 over the CC Creme's SPF 20, and although it has slightly less coverage I do like how luminous it makes my dry skin look. If you have oily skin you'll probably prefer the CC Creme instead.
Blush
I compared Sigma Aura Powder in Nymphaea ($19, sigmabeauty.com) versus Japonesque Velvet Touch Blush in shade 03 ($22, ulta.com). As you can see I only have a travel size of the Japonesque blush, but for our purposes we'll compare prices of the full-size products. This price difference is only $3 but you do get a little more product with the cheaper Sigma blush.
This is the Sigma blush:
And this is the Japonesque blush:
It's a tough call but I prefer the Japonesque blush. It has just a tiny bit of shimmer and the color payoff is great, plus it's very easy to blend. This is my favorite blush. If you can't get your hands on it though, the Sigma blush is a really good substitute.
Lipstick
I compared two orange-red lipsticks: MAC Toledo Lipstick in Barbecue (sold out but basically the same as MAC Lady Danger, $17, maccosmetics.com) vs. Wet 'n' Wild Megalast Lip Color in Purty Persimmon ($2, walgreens.com). Let's see if the $15 price difference is worth it:
I'm wearing the MAC lipstick on the left side of the picture above and the Wet 'n' Wild on the right side. You probably can't tell the difference because I couldn't even see it. They both feel similar too: a semi-matte finish that's creamy, not drying. So I waited to see how they wore off. This is a few hours later:
And this is my lips at the end of the day:
(Remember, MAC on the left and Wet 'n' Wild on the right.) In the end I was surprised to find that the Wet 'n' Wild lipstick wore off more evenly and lasted as a stain for much longer. Not bad for a $2 lipstick! Its packaging is horrible though (it gets so messy), and I admit that I mostly bought the MAC lipstick for its cute packaging.
If you don't care about the packaging though, go ahead and skip MAC and buy the $2 Wet 'n' Wild lipstick instead.
The Final Results
Let's look at the full face of makeup that I created with these products. This side of my face is all budget beauty products:
And this side of my face is prestige brands:
Here they are side by side for your comparison (expensive on the left of the photo, inexpensive on the right side):
In the end, there's really not that much of a visible difference!
So if you're on a budget or just unsure if you want to spend extra for a product, try out the budget-friendly version first to see if you like it. Also consider your priorities. For me, I spend extra on products that go on my (very finicky) skin but prefer to save money on drugstore lipstick and mascara. I have found some expensive products that are completely worth it, as well as some very cheap products that blew my mind. It's all about trial and error, so get out there and experiment!
Images: Kelly Dougher