Michelle Obama Wore Carolina Herrara to the Official State Dinner, and It Was GORGEOUS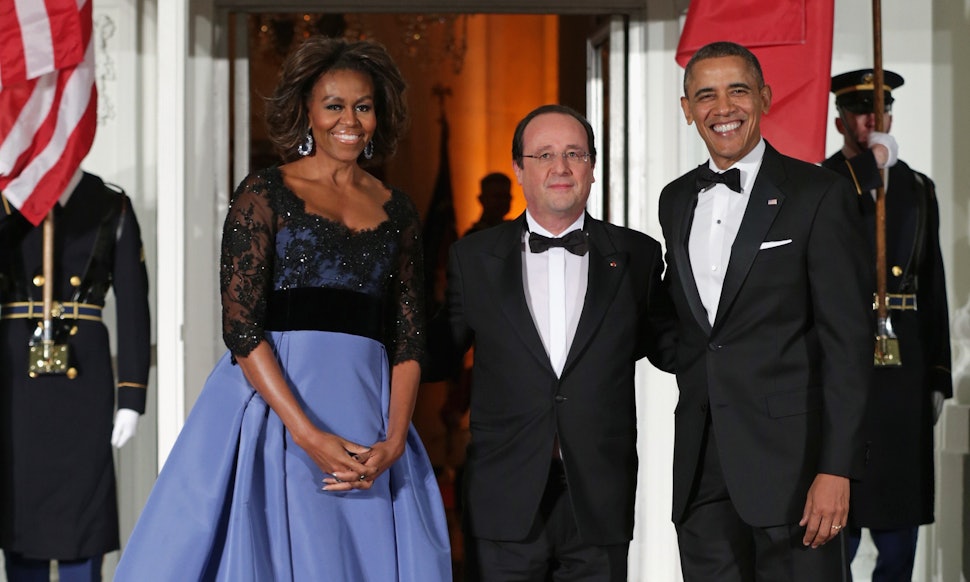 Chip Somodevilla/Getty Images News/Getty Images
It's official, we can forgive the First Lady for daring to wear Alaia to last month's State of the Union address. She rocked a patriotic Carolina Herrera gown for Tuesday night's Official State Dinner in Washington D.C., where she and Obama welcomed French President Francois Hollande to the States.
Michelle Obama looked stunning, as always, in Herrera's design. The gown featured a black beaded top with long sleeves laid over a liberty blue silk faille corset that flared out to an inverted pleat skirt and dramatic train. A wide velvet belt added interest and cinched in Mrs. Obama's waist.
This was a wonderful selection from Herrera, an American designer who's Fall 2014 RTW collection was inspired by former First Lady Jackie O. The patriotic look, accessorized with oversized blue earrings from Sutra and tastefully elegant First Lady cleavage, was a strong choice following the Alaia controversy.
MObama got flack in the media for wearing a dress by the French designer to the State of the Union address in January. We think she looks beautiful in everything, but some thought the decision unpatriotic. Following up with an American design in liberty blue should keep her critics quiet for now.
Images: Getty Images