Nikki Takes A Trip To A Very Special Health Class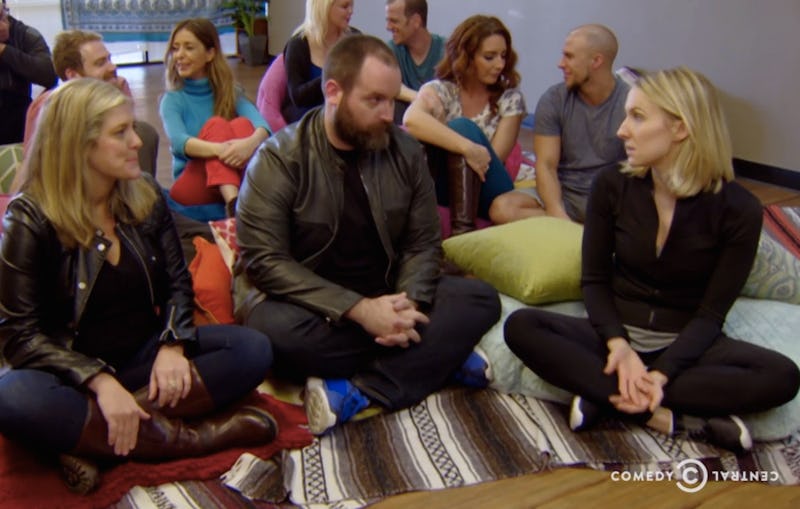 I have good news and bad news for everyone out there who loves the Comedy Central show Not Safe With Nikki Glaser as much as I do: the show is about to go on hiatus. I know, I know, I need a pile of tissues at the ready, too. I'm not sure if my tears are from sorrow or laughter, however, and you won't be sure either after you check out this exclusive Not Safe With Nikki Glaser from Tuesday night's episode. In it, Glaser tackles a subject that is very close to all of our hearts, and that you may have heard her mention in promos for the show before: pegging. And, like everything that Glaser does on the raunchy comedy sketch/talk show, she does it with style, no judgment, and a lot of humor.
In the clip, aptly titled "Pegging 101," Glaser gives you the kind of sex education that you were never going to get from your average high school Heath Class by taking an unsuspecting couple to Ruby Ryder's Pegging 101. There, Glaser, and the couple in question, get a verbal and visual demonstration that none of us will ever forget. And isn't that the whole point? Glaser goes where no Health Class has gone before, gets real about things that most people would shy away from, and, in doing so, creates a space in which we're all invited to laugh while we learn, learn while we laugh, and get frank about our sexuality. We may be losing Glaser for a little while during this hiatus, but with clips like this to carry us through, I know we'll be fine until Not Safe returns in June.
Check out the clip below.
Image: Comedy Central