'90s Toys You Only Wish You Could Still Buy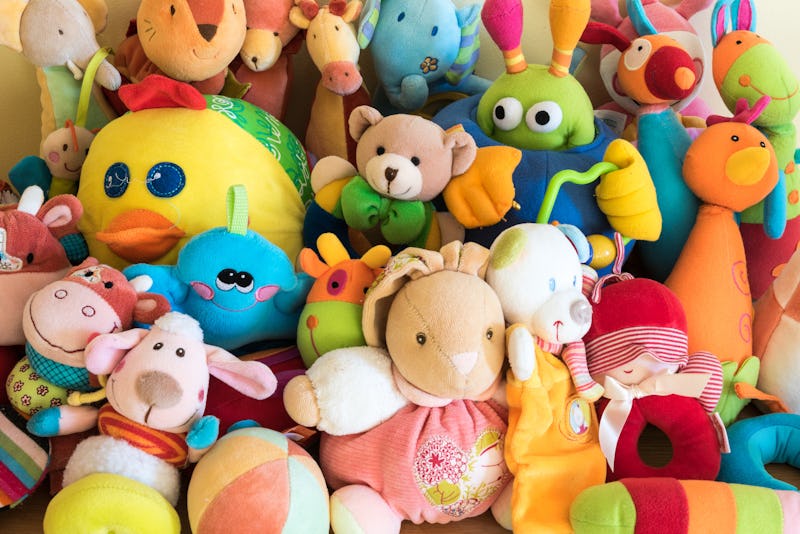 While there are so very many reasons growing up in the '90s was — as we so often said back then — all that and a bag of chips, one of the absolutely best has to have been the toys. Especially, and sadly in light of their production status, the '90s toys that don't exist anymore. Were some of them slightly dangerous? Maybe. Did a few send potentially problematic messages? Perhaps. But, real talk, they were super fun to play with and, hey, we all turned out OK.
Of course, it's worth noting that anytime we talk about something "extinct," it has to be taken with a grain of salt. Thanks to online consignment sites like eBay and even Amazon, you can buy nearly anything nowadays... including blasts from the past. But the key factor is that some fantastic '90s toys are no longer made. They've been out of production for quite some time, in fact. So while you may only have shilled out a couple weeks' allowance for these gems back in the day, you'd probably pay an arm and a leg for one online now.
Le sigh. But look at the bright side — we can always revisit these extinct '90s toys with a walk down memory lane. Let's stroll.
1. Happy Family Midge
Given that Midge was like the perpetual little buddy of the Barbie world, it took a hot minute to adjust when she married Alan in 1991 and — shocker — started showing up on store shelves pregnant. As in, you could pull the baby from her tiny magnetic uterus. So, yeah, in hindsight,it's perhaps not too surprising that this version of Midge isn't sold in stores anymore. However, you have to admit playing with it growing up made you feel like an oddly appealing combo of an OB-GYN and a mad scientist.
2. Splash Off Water Rockets
What was better during a hot summer day than watching the Splash Off Water Rocket zoom into the air with a spray of cool agua? Well, staying safe, apparently. In 1997, the Splash Off Water Rockets were recalled and taken off the assembly line. It was fun while it lasted?
3. Snacktime Cabbage Patch Kid
If you're of the camp who believes Cabbage Patch Kid dolls are creepy AF to being with, you probably weren't a fan of this snack-happy variety. I, on the other hand, adored my Snacktime Cabbage Patch doll, even when she went straight-up bath salts and tried to chew off my little fingers. In her defense, they probably did look like French fries. I guess it's not surprising this line of the popular brand's classic, cuddly toys was sent to pasture. The dolls were recalled and ceased production in 1997.
4. Pocket Locker, Dear Diary, Etc.
Looking back, the "high-tech" Pocket Locker wasn't so hip after all. I mean, it was basically a glorified address book. In 1995, though, it seemed like the coolest thing to come along since Doc Martens and I dug it. Hard. The advent of actual PDAs and smart phones rendered the Pocket Locker, Dear Diary, and other similar gadgets obsolete, but I'll always have a special place in my heart for this technological anachronism.
5. Sally Secrets
For the bargain price of around $15 bucks, you can still score a circa 1992 Sally Secrets doll online — which, c'mon, is a pretty great score. Just think of everything this Inspector Gadget of the girly doll world had to offer: stickers, roller stamp and inkpad feet, super trendy clothes. You could entertain yourself for at least a solid hour getting reacquainted with her clever craftiness.
6. Fashion Faces
Fashion Plates are still available today, but their cousin, Fashion Faces? Not as far as I can see. I couldn't track down much information on this fabulous '90s toy, so I'm guessing it went straight from endangered to extinct without my noticing — which is a shame, really, considering how much I loved creating "fashion-forward" faces with blue eyeshadow and red lips to live out my adolescent dreams of wearing "real" makeup.
7. Hit Clips
What do you mean your mom hated listening to 60 seconds of the same Backstreet Boys song over and over? I don't care what anyone says; this digital audio player was the bomb-dot-com. Before I could actually spring for an MP3 player, these guys kept me up to my eyeballs in good (albeit abbreviated) music.
For Bustle conversations on everything from '90s nostalgia to being a woman online, check out our podcast, The Chat Room. You can find more on our Soundcloud page.
Image: Fotolia