6 Things To Never Do in the Shower For Great Hair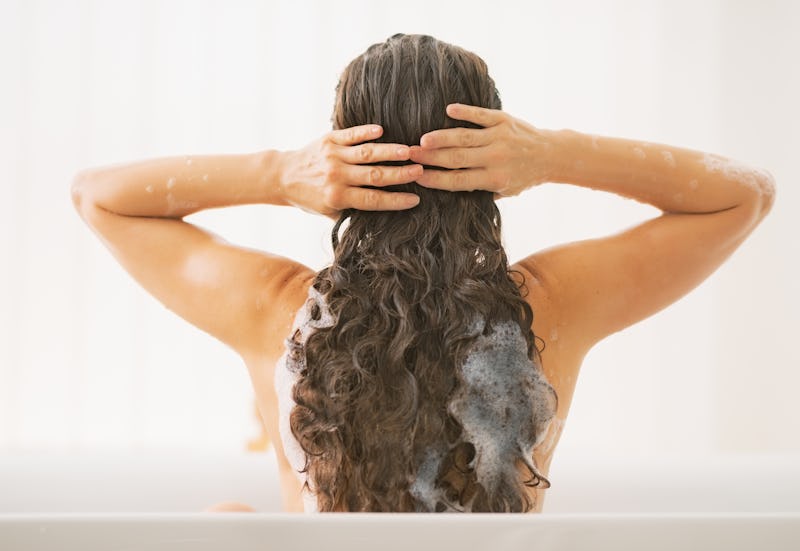 When you're jumping into the shower, the last thing you're thinking about is all the ways you could be hurting your hair once you step under that steam. After all, there are so many amazing products and things you can do to boost your hair's shine, smoothness, and overall health while you lather up. But there are also things to never do in the shower if you want great hair.
The simple mistakes that everyone makes happen to even the most diligent shower-takers — in fact, especially them. Showering too often can actually strip your hair of essential moisture that keeps it looking fresh. But if you go the opposite route and skip steps, using a 2-in-1 product for example, you might not be offering your hair the specific nourishment and care it needs to stay shiny and healthy.
Just combing through your hair with a special shower-friendly brush to detangle it can significantly decrease hair breakage levels. Plus, figuring out what formulas cater specifically to your hair needs might just lead you to the deeply moisturizing conditioner of your dreams — finally helping you step out of the shower with an envy-worthy 'do. Read on for simple hair tips that will take your post-shower hair from 0-to-100 real quick.
Mistake #1: Showering Too Often
Solution: Refresh Dark Hair Between Washes With Vegan Dry Shampoo
This all-natural dry shampoo for brunettes deodorizes with bamboo charcoal and refreshes hair with peppermint and eucalyptus. Apply this to your roots throughout the week, and keep your hair washing to three times a week, max. This will help your hair retain the moisture it needs to look and feel its healthiest. Bonus: The kaolin clay in this formula absorbs any oil or grease that creeps into your roots throughout the week.
...Or Keep Light Hair Fresh With A Brush-On Dry Shampoo For Blondes
For lighter hair, this dry shampoo eliminates excess oils and lifts roots with rice starch for added volume, keeping your style fresh, even on no-shower days. The hint of color in the light spray complements your hair's light tones, in addition to leaving it feeling clean and vibrant. One user calls this a "must buy" for blondes — while another uses it as her go-to for in between coloring session with the stylist.
Mistake #2: Not Using Specialized Products For Specific Hair Needs
Solution: Wash Fine, Chemically Treated Hair With Amino Acid-Rich Formula
If you're grabbing just any product for the shower that promises 2-in-1 results for your hair, you're missing out on the chance to treat your hair's specific needs as you lather up. For chemically treated hair, this shampoo and conditioner duo contains protective herbs and botanicals that keeps your scalp free from irritation from common chemical services, in addition to pore-clogging sebum. Bonus: If your hair has thinned from your last bleach or perm, these products will also use fortifying amino acids to help you grow thicker, healthier hair.
...Or Improve Fading Vibrancy With Color-Safe Shampoo & Conditioner
If you're in love with your latest dye job, you don't want it to fade after a few washes. To keep your color looking new and vibrant, a color-preserving shampoo and conditioner is an absolute must. This specific formula works to balance out the hair's surface, which results in saturated, vibrant hair. Users rave about these this duo, saying that they give them "just stepped out of the salon" results.
Mistake #3: Turning Water Temperatures Too High
Solution: Restore Moisture With A Hydrating Mask
Hot showers are everything. If you're not willing to turn temperatures down to eliminate the harsh effects of hot water on your hair, you'll want to start using an effective hydrating mask to keep your hair healthy and strong. This treatment gently nourishes dry hair and will leave it strong and silky smooth. Users give this product top ratings for being "the best mask they've ever used" and making their hair "truly feel like silk." Bonus: This formula is color-safe and can be used on any hair type.
Mistake #4: Not Scrubbing Product Away Properly
Solution: Use A Massage Brush For A Clean Scalp
Removing every trace of your mousse, hair spray, or gel from your scalp is important to keep hair healthy and flake-free. Using a gentle and soft stimulating scalp massager with thick bristles will help scrub away product build-up for a better clean. Plus, according to the hair professionals at Schwarzkopf, "scalp massages stimulate the blood circulation," which results in hair growth. Bonus: This brush has a finger ring for an easy grip.
Mistake #5: Overdoing It On Products
Solution: Use Lightweight Conditioning Creme On Ends For Better Results
Philip B. Light-Weight Deep Conditioning Creme Rinse, $26, Amazon
Using more of a product to see better results can become counterproductive, causing greasy roots and hair that is weighed down and unmanageable. To see better results, run a lightweight deep conditioning creme from the middle of your hair to the ends. This product has a blend of African shea butter, wheat germ, and soy proteins to seal split ends and a mix of California lemon, orange, lavender, and gardenia to increase hair's strength and add body. One user loves this product's natural "earthy" scent. Bonus: This conditioning creme will detangle your hair before you step out of the shower!
Mistake #6: Brushing Hair In The Shower
Solution: Work Through Hair With A Wet-Friendly Brush
Aoohe Absorbent Hairbrush , $11, Amazon
Celebrity hair colorist Michael Boychuck says brushing through sopping wet hair is dangerous because "when hair is wet, it's weakened." Wait until you've towel-dried hair, then lightly pull through the tool designed specifically to handle wet hair without causing damage. The secret to this brush's awesome results are its antimicrobial microfiber bristles, which are absorbent and flexible on you scalp and your hair.
Bustle may receive a portion of sales from products purchased from this article, which was created independently from Bustle's editorial and sales departments.
Images: Fotolia (1); Amazon (8)