Adam DeVine Doesn't Want Zac Efron In 'PP 3'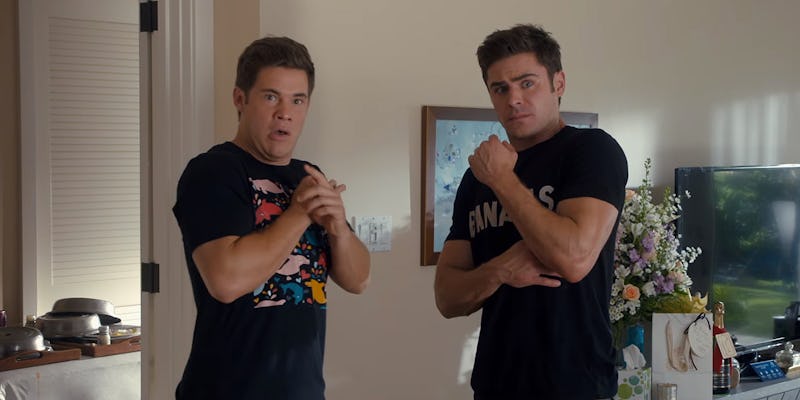 There's no denying that stars Adam DeVine and Zac Efron give partying a new meaning in the upcoming summer rager Mike and Dave Need Wedding Dates. But should the bro-tasctic duo that parties together sing together? Pitch Perfect star DeVine weighed in at the 2016 MTV Movie Awards red carpet, and honestly, his reasoning for not wanting to belt it out alongside ultimate babe Efron is totally understandable.
DeVine hasn't been confirmed to join Pitch Perfect 3 (set to drop in 2017), but I'm 99.9999 percent positive he's totally game, at least, from the conversation we had, it seems completely plausible. Before I break the devastating news about why DeVine wouldn't want a bronzed and beautiful Efron as the newest addition to the Tone Hangers, I'll fill you in on who he would like to see join the crew.
"Maybe Usher. Right?," he says. "Maybe he flunked out of college and decides to come back and has some sort of sex change and becomes part of the Barden Bellas. He wouldn't be with me, no. No, no, no, no, no, no. We expect a certain level of talent in our crew, so, not quite there, no. Almost."
Someone's got jokes. But enough of the funny business, what about Efron?!
"I mean the kid is like kind of annoying by how good he is at things," DeVine explains. "So I wouldn't want him, because that's sort of my thing. He's great at [singing]. High School Musical. Legit good. I don't want him to one-up me there. That's my thing, Zac! Stay away!"
Fair enough, friend.
While this is quite a shame for everyone with raging hormones directed at the 'Fron, luckily, there's always this:
And this:
Thank goodness.
Images: 20th Century Fox; GT Magazine; Hollyscoop