Carole Is A 'RHONY' Star Worth Some Serious Cash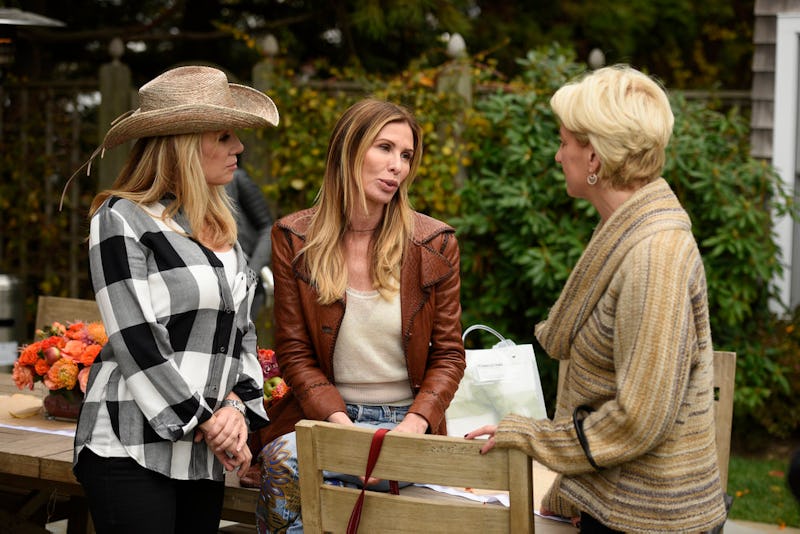 Carole Radziwill lives her life like a real Carrie Bradshaw, from her humble beginnings as a journalist to the way whenever Ramona does something particularly unbelievable, it looks like she's thinking "I couldn't help but wonder..." But, like the main character of Sex and the City, I can't help but wonder: how does Real Housewives of New York star Carole make her money when not on the show? According to Celebrity Net Worth, Carole's net worth is reportedly $50 million. I mean, it's not that surprising that she's so wealthy — Radzi is the only member of a Housewives franchise who's actually directly related to royalty (now that the Countess is divorced). But, even though I'm not sure what the going salary for "princess" is, I'm sure it seriously contributes to Carole's yearly income. That probably gives her the ability to do things like completely remodel her apartment on a whim.
Carole makes most of her income, though, through her other, non-princess work. Her work includes her solo writing work. Carole has written What Remains: A Memoir of Fate, Friendship and Love, about her struggles when her husband, Anthony, died tragically young from cancer in 2005. She also wrote The Widow's Guide to Sex & Dating in 2014, a novel that also took inspiration from Carole's attempt to date after losing her husband. According to an interview with Fish Bowl NY, What Remains made the New York Times Bestseller List in 2014 after Radzi's appearance on RHONY, Book-Gate be damned.
Carole told E! she sold 50,000 books in 2014, which probably earned her a pretty penny. And, in addition to her books, Carole also occasionally dips back into journalism. In 2006, she had a column called "Lunch Dates" and occasionally did cover story profiles for Glamour magazine, currently all archived on her website. According to job site Indeed, the average salary for a magazine columnist can be up to $50,000, as reported in The Houston Chronicle. And, there's also Carole's Real Housewives of New York salary, which, according to OK! Magazine, is probably somewhere in the $175,000 - $200,000 range for a multiple-season Real Housewife like she is. So that means, between her reality TV appearances and her writing, Carole likely makes a very healthy living.
Carole likely relies on her well-earned princess fund and sky-high net worth to live like TV's Carrie Bradshaw instead of like a normal author and magazine columnist. But, even though she's a royal, she's no damsel in distress — Carole Radziwill is one Real Housewives of New York City star who has a very healthy career.
Images: Matthew Eiseman/Bravo; Giphy