'Empire' Reveals Lucious' Traumatic Past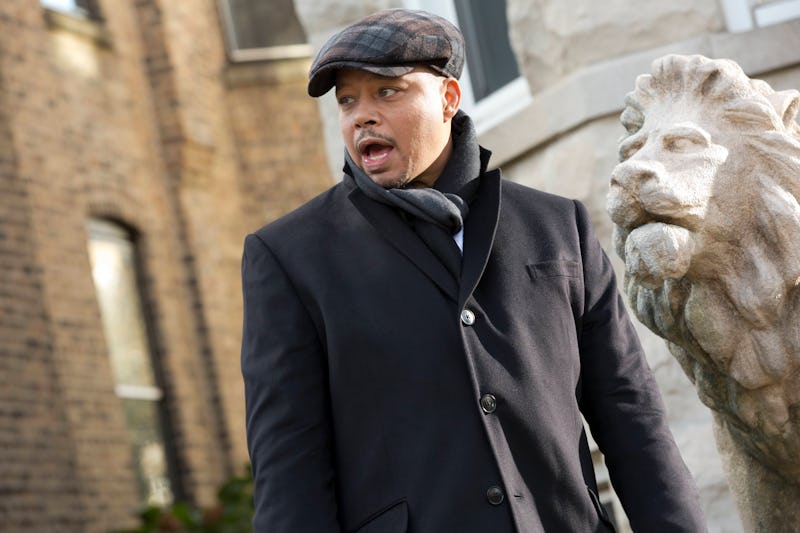 Though Empire fans already knew that before he was Lucious Lyon, he was Dwight Walker, the full extent Lucious' childhood trauma was finally revealed in the April 13 episode, "The Tameness of a Wolf." In the process of filming the autobiographical video for his song "Boom Boom Boom Boom," Lucious told Cookie for the first time about his mother's illness and suicide, as well as his resulting homelessness. Cookie mistakenly believes that knowing what their fathered endured and how he was forced to take care of himself will make his kids soften towards him. But Andre, Jamal, and Hakeem are not as sympathetic to his story as she hoped. Cookie herself makes an unpleasant connection between Lucious' days on the street and his mentoring of Freda Gatz that leaves her reeling. It's official: no matter what horrors Lucious Lyon has endured, it's almost impossible to feel more than fleeting compassion for him.
Empire has been giving fans heavily filtered glances at Dwight Walker's early years throughout this season, just stopping short of the moment that separates him from his beloved mother (played by Kelly Rowland). The rest of the story is told once Lucious decides to scrap his original concept for the "Boom Boom Boom Boom" video — a Richard II homage that's a nod to the show's strong Shakespearean influence — in favor of a deeply personal narrative. The former mogul even decides to film on location, securing the same Philadelphia house whose front yard he slept on after he first left home. He shows Cookie the lion statue that gave him a little shelter at night and also inspired his new identity. And as he watches the actors who play his mother and a young version of himself, he's almost paralyzed by experiencing again an emotional ordeal that he obviously has never truly dealt with.
But is that what Lucious really sets out to do? Does he want to rediscover some of his humanity by addressing the events that shaped him? No. He wants an ASA Award, and he figures that playing on his personal mythology and voters' emotions just might do it. So as quickly as you can develop sympathy for Lucious, you lose it.
At Cookie's surprise birthday party, she makes the executive decision (of course) to show their sons the rough cut of the video. There, the boys see their father's origin story play out with a soundtrack. In one of her worst episodes, Lucious' mother holds him underwater in their bathtub. Realizing what she's done, she puts a gun to her head and kills herself while Lucious looks on. To avoid entering the foster care system, Lucious makes a break for it and is homeless for a number of weeks. What his sons don't find out yet is that the older boy who showed Lucious how to survive on the streets by dealing was Frank Gathers, the kingpin who Cookie testified against and who Lucious ordered killed in prison. (And whose daughter — Cookie learns to her dismay — is Lucious' young protege.)
Cookie's plan to bring her family closer together backfires when Andre realizes the implication of Lucious' sad tale. His biological grandmother was probably bipolar, just like Dre. And yet Lucious never told his oldest son that, even as he was grappling with some of the darkest moments of his life. ("You made me feel like some freak you didn't even recognize. My whole life!") Lucious dismisses Andre's anger, saying that his mother's condition is irrelevant and that being aware of it would have only "weakened" Andre. "The real truth is my mother was a nut job," he continues cruelly. "I was embarrassed by her. The same way that I am embarrassed by you."
But these harsh words are not true. Lucious adored his mother; the flashbacks make that plain. However, their erratic and scary life together followed by her violent death was the beginning; it molded him into the selfish person who built the Empire. When Hakeem talks with Laura's parents backstage after one of her shows, he's struck and saddened by a comment that Laura's father makes. Beaming with pride, he hopes aloud that Laura shines "brighter than [he] ever did." And that's a completely foreign concept to Hakeem. His father has never and will never step back to watch Hakeem make his own mark. Losing his mother instilled a survival instinct in Lucious that does not allow him to stop hustling, even for a second.
Lucious can say that everything he does, he does on behalf of his family. But his sons are finally coming to understand just how deep those cracks in his soul go, and what it was that put them there.
Images: Chuck Hodes/FOX (3); Giphy