NYFW Street Style Looks for Valentine's Day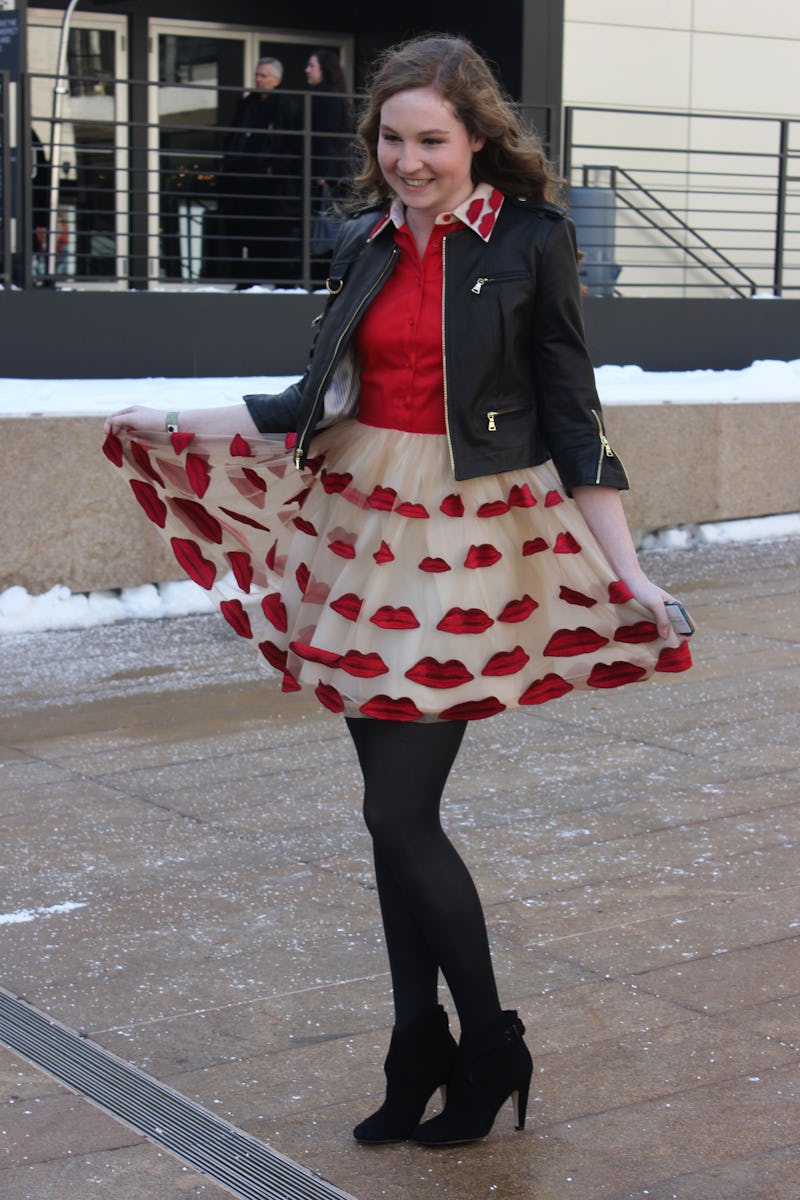 Valentine's Day doesn't overlap with New York Fashion Week this year, but that doesn't mean we can't steal some sartorial inspiration for the holiday from the fashionable foray. And, in fact, we are. Standing outside shows snapping photos during NYFW, I spotted fantastic style parading down the streets from show attendees. Their outfits will inspire dress for whatever you have planned this evening. And with that, you'll have to excuse me — I'm off to get dressed.
Go the Literal Route
If you're excited for Valentine's Day and can't wait to spend it with someone special, you'll definitely want a dress as festive as your mood. Choose a print with a classic symbol like hearts, lips, or arrows for your date night. For more of an edge, add black tights and a moto jacket like Vivian.
Get the look: Alice + Olivia Pout Fitted Dress, $698
Save it for the Accessories
If you're festive, but don't want to go all out, opt for a V-Day-inspired accessory such as this lip clutch. Depending on whether your plans include a first date or hanging out with your best friends, you can wear a bright red accessory with dark or vibrant colors. Other options include red statement necklaces, heart-printed shoes, and lip earrings.
Get the look: Lulu Guinness Red Perspex Lip Clutch, $390
Opt for a Valentine's Day-Colored Coat
If you aren't feeling the Valentine's Day attire, choose a red or pink coat or sweater to wear over your typical outfit like Chiara. You'll have just enough of spirit to convince your peers that you're actually stoked for the holiday.
Get the look: American Apparel California Fleece Cape, $65
Choose Dark Hearts
Feeling more in the anti-Valentine's Day mood? You'll definitely want to ditch the pinks and reds, no matter your reason. But instead of avoiding the holiday around you, get in on the fun (at least a little bit) with a black heart-printed outfit. The embellishment on these pants are subtle but still acknowledge that is it, in fact, February 14.
Get the look: Stella McCartney Heart Printed Cotton Denim Jeans, $430
Images: Rebecca Shinners