These Actors May Return for Season 2 Of 'Shannara'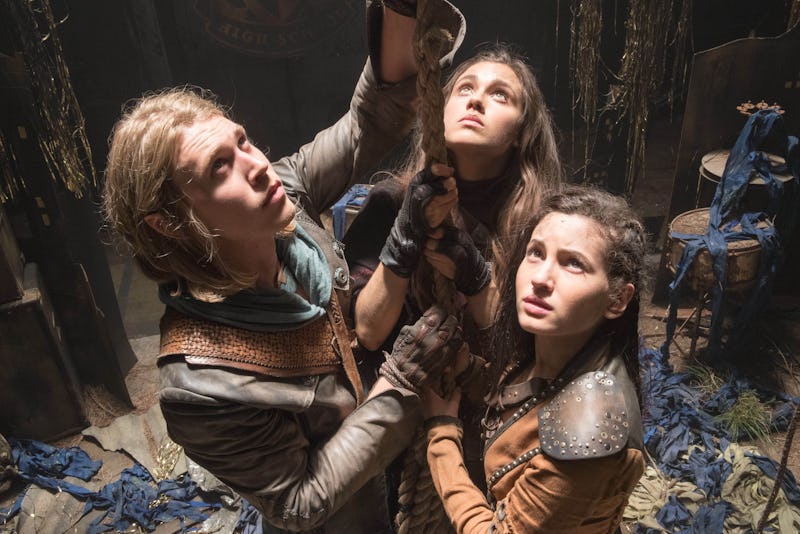 There have been a number of television series based on books to hit the small screen so far in 2016. Included in that number is MTV's futuristic fantasy show The Shannara Chronicles, based on the Terry Brooks book series. So far, the show has only run for one season consisting of 10 episodes, but fans are hoping MTV will grant The Shannara Chronicles a second season. If that happens, though, the question becomes: Which cast members could return to The Shannara Chronicles for Season 2? Spoilers for Season 1 ahead!
Of course, if we're going to talk about which cast members could reprise their roles on The Shannara Chronicles, we have to discuss which of their characters are left alive. Season 1 saw a number of deaths — most of which were utterly heartbreaking — which means not all the cast members have characters to come back to. So, before I get into who could come back, let's take a moment to honor those who fell in Season 1: the elven king Eventine Elessedil, elven Prince Arion Elessedil, Rover leader Cephelo, elven Commander diana Tilton, and Lorin (we hardly knew you) the elf.
OK, now that that's out of the way, let's look at the remaining cast members.
Austin Butler as Wil Ohmsford
As far as I could tell through my social media sleuthing, Butler hasn't mentioned returning for Season 2. But, Wil is arguably the main character of the series so it would be weird if Butler didn't return as the half-human half-elf hero.
Ivana Baquero as Eretria
Since Season 1 ended with Wil going off to find Eretria, it would be strange if Baquero didn't return either. The actress also seems enthusiastic about getting a second season of Shannara, and has even tweeted for MTV to #RenewShannara.
Poppy Drayton as Amberle Elessedil
Technically Amberle did sort of die at the end of Season 1 since she turned into the Ellcrys tree, but I personally think the show left the door open so she could return if she wanted. However, according to The Wrap, Drayton was cast in A Little Mermaid , a film adaptation of the Hans Christian Anderson fairytale. So, depending on her schedule, Drayton may be unavailable to return to Shannara.
Manu Bennett as Allanon
Allanon played an important mentorship role to many characters throughout Season 1 of Shannara, and the show just wouldn't be the same without Bennett in Season 2. Although the actor posted an incredibly nice message about the show on Instagram, he hasn't given any hint if he'll return if the show is renewed.
Marcus Vanco as Bandon
After restoring the Ellcrys tree vanquished the Dagda Mor at the end of Season 1, the finale seemed to set up Bandon as the big bad of Season 2. Thankfully, Vanco seems eager to return for a second season of Shannara and tweeted that he hoped to catch up with fellow cast members soon.
So, it seems most of the cast whose characters were left alive at the end of Season 1 are excited at the prospect of another season. But, I'll wait for official confirmation from MTV about Season 2, and further news about casting decisions, before I get my hopes up too high.
Images: MTV