Ranking 'The Bachelor' Books By Secret-Spilling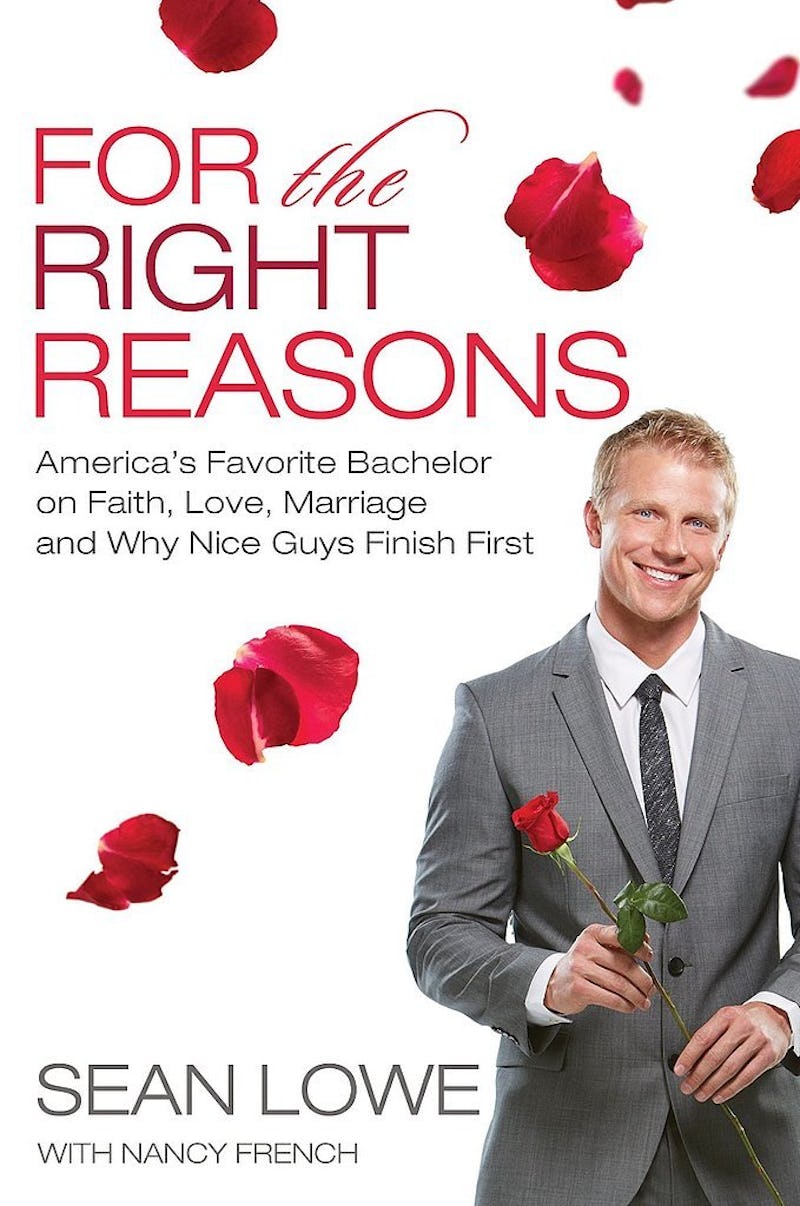 Bachelor Nation is known for being chock full of people who have less than traditional livelihoods (Twins, Free Spirit, Chicken Enthusiast, I'm looking at you), so it may comes as a surprise to realize that there are over a dozen authors in the mix. While it's true that many of these writers did not discover their passion for the pen until after the final rose, it still doesn't discount the fact that their books are out there and ready for reading. Many of them are of the juicy memoir persuasion, so I decided to rank the books written by Bachelor stars by how full of secrets they are.
Without the confessional scrawl of its former contestants, we would have forever known that Ben Flajnik and Courtney Robertson did have sex in that ocean (which sounds, like, really horrible, by the way) or that Sean and Catherine Lowe almost broke up while he was filming Dancing With The Stars. While there are a surprising number of books that don't reveal the intricacies behind the show, I can't say I don't appreciate the ones that aren't afraid to dish a little dirt. Without further ado, I present to you a comprehensive guide to the books of Bachelor Nation, from least juicy to most.
Betcha didn't know that there was gonna be a novel on this list, didja? Prince Lorenzo Borghese based this historical novel on one of his ancestors, Pauline Borghese, who was the sister of Napoleon Bonaparte. Casual.
No romantic or show secrets here.
The former boo of Bob Guiney wrote a "romantic" cookbook, which is interesting if you like eating food, but not so stocked with delicious secrets. Drat.
While beautifully and artistically rendered, Chris Siegfried's book of poetry is not exactly a juicy tell-all. Bonus points for the inclusion of his Bachelorette star wife Desiree Hartsock's original poems, which were written on postcards from all over the world. Aw.
You've gotta hand it to Jen Schefft. She went on to be the Bachelorette and didn't end up choosing — gasp — anyone! This independent woman penned a how-to for single gals, and while it's inspiring, it isn't so much a tell-all as a tell-how.
While Trista and Ryan are still my #RelationshipGoals, at least through the very limited scope of Bachelor couple success, their adorable marriage does not a dramatic memoir make.
After being booted off of Jillian Harris' season of The Bachelorette, Good went on to win Bachelor Pad and write this guide "to cracking the tough guy." Mmkay.
8. Final Rose By Shawntel Newton
After trying to find love on The Bachelor twice (first with Brad Womack and then with Ben Flajnik), Shawntel wrote about her experiences on the show. What would have been more interesting? Writing about her time as a funeral director. Hello, sequel to Six Feet Under on our hands.
7. My Reality By Melissa Rycroft
After Melissa was dumped for second-runner-up Molly Malaney by Jason Mesnick, she wrote a book about being the almost-winner. With that kind of set up, the book is bound to reveal some secrets.
Guiney still holds the honor of most sexually prolific Bachelor, a fact that he may have alluded to in his memoir.
Dorfman calls her memoir "a diary of [her] break-up," so you just know there's bound to be some dirt in there.
4. Nobody's Perfect By Helene Eksterowicz & Gwen Gioia
The ultimate girl power guide. Helene and Gwen competed against each other for Aaron Buerge's affections in 2002, but when their relationships didn't work out, the women still leaned on each other. Get it, girls.
After being on Brad Womack's season and starring on her own, Emily saw some sh*t in Bachelor Nation. In this book, she divulges the answers to some questions that consistently nag viewers, like what time group dates start (9 in the morning!), and that none of the contestants could approach her off-camera without producer approval.
Sean gave us the "Lowe-"down (sorry, I had to) on why you never see anyone eating, what role the producers play, and what really happens in the Fantasy Suite.
Holy toledo. Courtney Robertson delivered unto us all of the sex shockers we could have ever asked for about The Bachelor, including but not limited to: Her claims that she and Ben did it — on camera — in the ocean and that she and Ben had sex not once, not twice, but thrice in the Fantasy Suite. Book readers everywhere are so glad you were not there to make friends, Courtney.
Images: William Morrow Paperbacks (2); Rodale Books; Terrace Publishing; Amazon Digital Services; Da Capo Lifelong Books; Imagine Media, LLC; Memoir Books; Tarcher; Gallery Books; CDS Books; Thomas Nelson (2); It Books