How Many Women Do 'Bachelor's Usually Sleep With?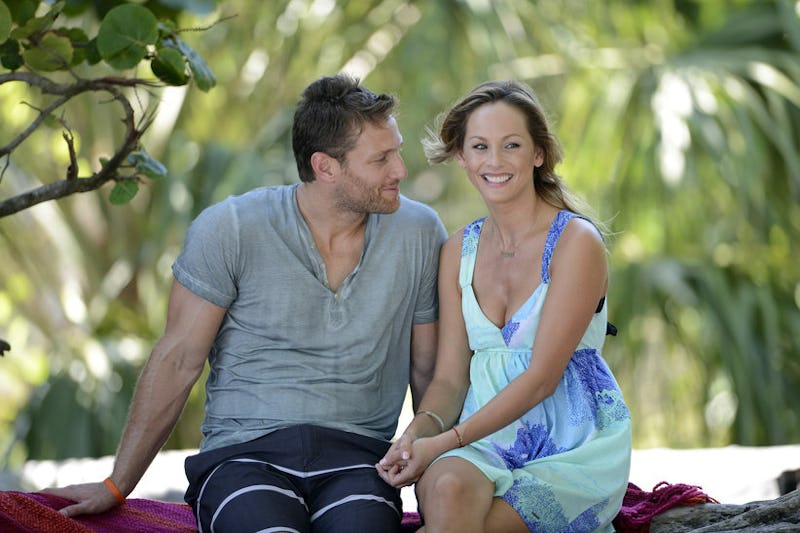 The weirdest part of The Bachelor and Bachelorette are the fantasy suite dates. First of all they're called fantasy suite dates. What's the fantasy? The hot tub? The bed? It just looks like an average expensive suite which brings us to the next point — "fantasy" isn't describing the suite, "fantasy" means getting it on. The invitation to the fantasy suite is always awkward to watch because the invitation seems like an agreement to have sex and if it isn't, it is definitely produced to appear that way. So what really happens in the fantasy suite? Who has had sex in the fantasy suite? Do most people just stay up all night talking?
On next week's Bachelor, something is going to go down in the fantasy suite that will "shock America." If it's that Juan Pablo has sex with one of the ladies, that's not shocking, but if the show is actually open about it, that will be. Some former contestants have talked about what happened in the fantasy suite during their seasons, so maybe they can clue us in.
Trista Sutter, a contestant on season one of The Bachelor and the first ever bachelorette, wrote on Twitter during an episode from another season, "Fantasy Suite isn't all about sexual fantasies as it may imply. In my mind, it was more about getting 1 on 1 time without cameras. Sooo impt!"
Other contestants have made similar claims that it's important to have some times with your lucky ladies or gents in a rare camera-free situation. Brad Womack from season 15 of The Bachelor wrote on his People.com blog at the time, "I'd like to explain why overnight dates are so important and what I used those nights away from the cameras for. I wanted to take the opportunity with all three of the women to talk, off camera, so we could all feel even more comfortable."
Emily Maynard didn't have any fantasy suite dates at all on her season and said she wanted to set a good example for her daughter. (Juan Pablo could sure take a lesson from her.) One of her contestants, Jef Holm agreed saying, "There's a time and a place for everything. And right now, it's time for us to bridle these passions." The phrase "bridle these passions" sounds very romance novel, so it may have been even more difficult for them to avoid the suite after that.
Then there are the people who did use the fantasy suite for its strongly hinted at purpose. When asked about how risque the fantasy suites get, Ali Fedotowsky from season six of The Bachelorette responded, "I will say this much, I only got physical with one person... Are you going to get engaged with someone not knowing what they are like in bed? No!" Bachelor creator and executive producer Mike Fleiss said on the 20/20 special Inside The Bachelor, "The average guy will end up having sex with three women during the course of the show," and added that Bob Guiney (Bachelor season four) slept with "five and a half women" whatever that means.
With the average guy having sex with three women, it either means that they have sex with every woman that goes to the fantasy suite, or they have sex at other moments during the show. Juan Pablo has already possibly had ocean sex with Clare and last week maybe even had some more aquatic sex with Sharleen who was seen saying she "didn't regret yesterday" after she decided to leave the show.
We'll have to wait and see what happens on Juan Pablo's fantasy suite dates. Keep in mind, this guy has never been much of a talker.
For more videos, subscribe to Bustle on YouTube. And, want more Bachelorette? Bustle's app provides 24/7 coverage on ALL of the rose-colored ABC franchises. So download the app from iTunes for more articles, GIFs, and memes about this season and beyond. You'll enjoy it for all the right reasons.
Images: ABC