Why Will Iron Man Be In 'Spider-Man: Homecoming'?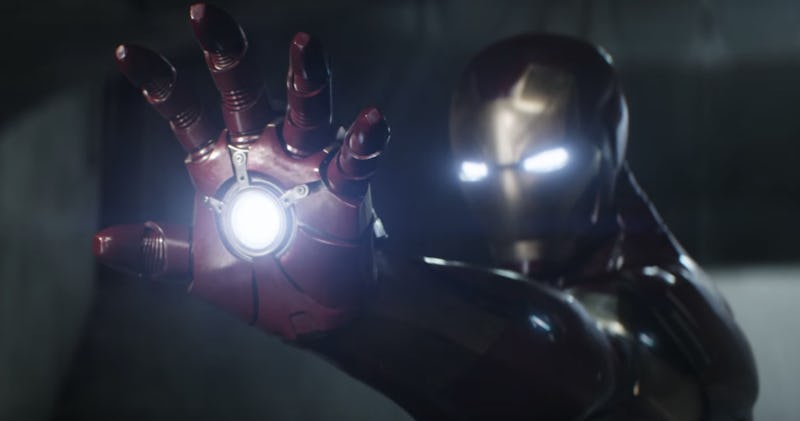 On Wednesday night's episode of Jimmy Kimmel Live, Robert Downey Jr. not only shared his undying love for a certain web-swinging superhero, but he also confirmed that Iron Man will be appearing in Spider-Man: Homecoming — the latest solo superhero film announced from the Marvel Cinematic Universe. But now this is where the confusion sets in. While Iron Man does have a prominent place in the Avengers and in the Marvel Universe that Spider-Man is already fitting into, he's also a whole lot older than the Tom Holland-portrayed Peter Parker. And, well, hasn't he had enough of his own movies at this point? Basically, all I'm saying is that Iron Man being in Spider-Man: Homecoming is drawing up a whole bunch of questions. More specifically, why is Iron Man showing up in Spider-Man's solo film at all?
With the lines between RDJ and Tony Stark slowly continuing to mesh — as Downey Jr confidently joked, "there's no Marvel Cinematic Universe without me" — it seems like fans can already expect a close bond between Iron Man and Spider-Man. Unlike their other Avengers superhero counterparts, those two heroes are known for having a cocky, comedic edge on them, so it does seem perfectly likely that those two may end up being the best of friends. Plus, Spider-Man will be fighting alongside Iron Man in the superhero feud taking place May 6 with Captain America: Civil War. In fact, as we have already seen in the second trailer for the film, their teamwork is already pretty on point.
I'm thinking it could mean one of two things for Homecoming. Tony Stark is taking Peter Parker under his wing in order to teach him how to properly be a superhero, or — based on the comments RDJ expressed during his Jimmy Kimmel interview — Stark could also be there for the ladies. More specifically, if Pepper Potts somehow disappears from Stark's life in Captain America: Civil War, Iron Man could easily be all over the newly widowed Aunt May. RDJ wasn't exactly holding back when discussing her character on the late-night television show either. "She seemed ancient before. Now she's Marisa Tomei. He's got a hot aunt," joked Downey Jr., "My God, just think of the possibilities."
However, if you care to assume that Pepper Potts is still in the picture, does Iron Man's presence really add anything to the film? That's where the lines seem to get a little bit blurred. In spite of RDJ being a huge fan himself, personally, I'm hoping that Tony Stark's appearances in Homecoming are rare and few. And, for some reason, I'm thinking that even Downey Jr. himself might agree. "To me, Spider-Man was my whole deal," explains Downey of his personal relationship with the character, "He was funny, he was cool, he was young like us." Basically, how could you not love Spider-Man? It's no wonder that Jimmy Kimmel Live quickly turned into a Spider-Man love fest.
But, for now, we'll just have to wait for Tom Holland's latest version of Peter Parker to make his debut in the first place. Captain America: Civil War hits theaters May 6, 2016 while Spider-Man: Homecoming isn't set to come swinging into theaters until July 7, 2017. Until then, I'll just have to keep my spidey senses tingling.
Images: Marvel Entertainment/YouTube