The Claims Against Anita Hill Were Harsh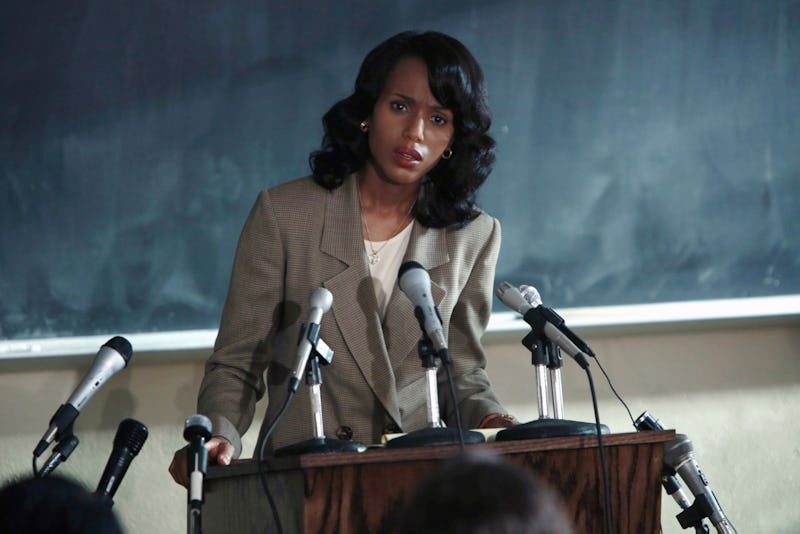 Twenty-five years ago, Anita Hill sat before the Senate Judiciary Committee and testified on allegations that Clarence Thomas had sexually harassed her. She claimed that he pressured her for dates; she alleged that he bragged about the size of his member and talked about a well-endowed porn film character named "Long Dong Silver"; Hill also claimed that Thomas joked about a soda can with a pubic hair on it. Thomas repeatedly denied Hill's accusations. On Sunday, the HBO film, Confirmation, starring Kerry Washington, will re-hash this landmark case and subsequent media coverage, which not only included the allegations by Hill, but also the claims made against her.
In fact, many of the "allegations" against Hill weren't legal, but were personal. Her character was placed under intense scrutiny, many believe, to weaken her credibility and help Thomas get confirmed for the court. Many claims against her spoke to the accusations that she was delusional. However, Hill was resolute. During the hearings, Hill famously said, "I am not given to fantasy. This is not something I would have come forward with if I was not absolutely sure of what I was saying."
To understand what Hill was up against, here is a list of five claims that were brought against her during the hearing.
She Was Working With "Slick Lawyers"
Thomas alleged to Joe Biden during the case that Hill was working with "slick lawyers" who wanted to destroy any chances he had of joining the Supreme Court. "Some interest groups came up with this story, and this story was developed specifically to destroy me," he claimed during the hearing. As The New York Times reported in 2007, Thomas also wrote about Hill in his autobiography, My Grandfather's Son. He again insinuated there was a larger reason why Hill came after him, claiming that pro-life supporters were allegedly using Hill to keep him from earning a spot on the Supreme Court and reversing Roe v. Wade. Hill denied Thomas' claims against her in a New York Times op-ed, saying, "Regrettably, since 1991, I have repeatedly seen this kind of character attack on women and men who complain of harassment and discrimination in the workplace."
She Suffered From Erotomania
Erotomania is a form of delusional disorder in which a person suffers from romantic or sexual delusions, though many critics of the term believe that erotomania is a misogynist invention.
According to the New York Times, Hill was accused of suffering from erotomania based on testimony given by John Doggett, who was a Yale classmate of Thomas' and an acquaintance of Hill's. Doggett claimed in his sworn testimony that Hill had fantasized about his romantic interest in her and that said fantasy was "an example of her ability to fabricate the idea that someone was interested in her when in fact no such interest existed."
In response Hill claimed to the committee that she barely knew Doggett and stated, "I did not at any time have any fantasy about romance with him." David L. Rosenhan, a professor of psychiatry and law at Stanford University, who spoke to The New York Times about the case, agreed that it was unlikely that Hill was suffering from the disorder. "Erotomania just doesn't work that way," he told the paper. "The evidence is totally inconsistent."
She Was Confusing Real Life With The Exorcist
The Republican senator from Utah, Orrin Hatch, questioned the validity of Hill's story that Thomas talked about a pubic hair on a soda can, explaining that it was a bit too similar to a line in the novel, The Exorcist. In the 1971 novel by William Peter Blatty a character says, "There appear[s] to be an alien pubic hair floating around in my gin." Hatch did, however, say that Thomas could have also read the book and used the line, a suggestion that Thomas would later deny.
She Was A "Lesbian Acting Out"
In a 1992 article that journalist David Brock wrote for the conservative magazine The American Spectator, he accused Hill of being "a lesbian acting out." Why would Hill's sexual orientation even matter when it comes to claims of sexual harassment? Well, in that same article Brock alleged that Thomas would have never asked Hill out because of the claimed about her sexual orientation, and also because she supposedly had bad breath. Very mature.
She Was "A Little Bit Nutty And A Little Bit Slutty"
This was another manner in which Brock described Hill in his 1992 article, and later in his 1993 book, The Real Anita Hill, which went after her reputation. Hill told The Boston Globe in 2003 that Brock's comment "hinged on sexual mythology about black women and society's willingness to believe it." Brock would later apologize to Hill for the comment in his next book, Blinded By The Right, admitting that he published "virtually every derogatory and often contradictory allegation" to take her down, and claiming that he'd allegedly worked with Thomas to spread the claims about Hill. (A spokeswoman for the Supreme Court said at the time that Thomas had no comment regarding Brock's allegation.)
In the end, Hill lost her case. One can only hope though, that no one used the "evidence" on this list to help make make their decision.
Image: Frank Masi/HBO (5)