8 South-Asian YA Authors You Should Be Reading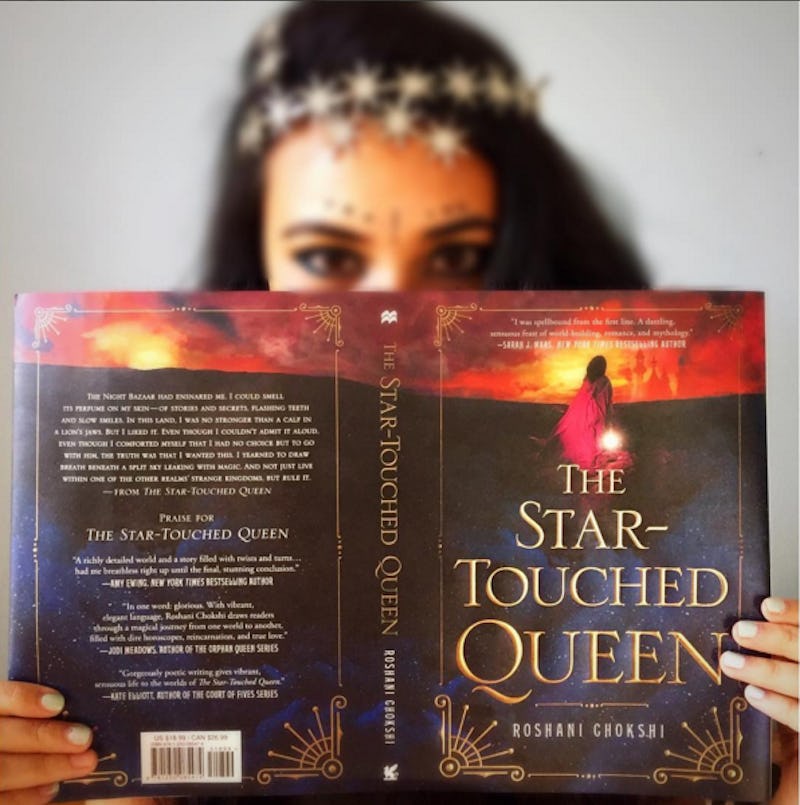 Far more than one-fifth of the entire world's population resides in South Asia, so why aren't more YA novels set there? The best way to get a true peek inside a part of the world that may be foreign to you is to find books by authors tied to that place. These eight South-Asian YA authors won't only help you diversify your bookshelves (a worthy goal), but they will often open up heritage, cultures, and traditions you may be unfamiliar with.
South Asia is made up of India, Pakistan, Bangladesh, Sri Lanka, Nepal, and Bhutan of the Indian subcontinent, as well as Afghanistan and the Maldives. It's not only the most populous area of the world, it's the most densely populated. That means there are so many different cultures, groups, and stories to be told from one place. Reading books set in South Asia, particularly written by authors of South-Asian heritage, can help put these deserving stories in the mainstream.
Whether you're of South-Asian descent yourself, you're interested in the various cultures and settings, or you have a larger goal of reading more voices different from your own, these eight young adult novels can be a great place to start. And by buying, borrowing, and talking about these, hopefully we can get even more South-Asian voices published and read.
1. A Time to Dance by Padma Venkatraman
Dancers and artists of all kinds, this one is for you. Padma Venkatrama's A Time to Dance tells the story of Veda, who was born to be a dancer, but her entire life changes when an accident leaves her a below-knee amputee. Struggling with her prosthetic leg, Veda starts again from the beginning, re-learning the ancient Indian bharatanatyam dance form with young, newbie dancers and works her way back up. It's an inspiring story that captures not only the beauty of the dance style, but the beauty of the human spirit.
2. Skunk Girl by Sheba Karim
Nina Khan tries to balance her American high school experience and her Muslim and Pakistani heritage, which comes with two major obstacles: Her aunts and uncles seems to be tracking her point by point on her potential for marriage and she has inherited the "Pakistani hairy gene," giving her a thick, dark stripe down her back. You'll fall in love with Nina, laughing and cringing along as she tries to navigate her teenage life.
3. Swimming in the Monsoon Sea by Shyam Selvadurai
It's monsoon season in Sri Lanka, 1980, and the tumultuous weather mimics 14-year-old's Amrith De Alwis life. After his parents' deaths, Amrith moved in with their wealthy best friends, but now his real-life uncle and cousins have traveled from Canada to Sri Lanka, and Amrith has to deal with these new emotions he feels. He develops a crush on his male cousin Niresh, and Shyam Selvadurai's moving story follows a story arc reminiscent of Othello as he explores a culture often unvoiced in YA.
4. The Star-Touched Queen by Roshani Chokshi
Princess Mayavati of Bharata's destiny is written in the stars; her horoscope promises that her marriage will bring death and destruction. Due to the kingdom's fear, Maya was left alone for most of her life, until her father, the Raja, must marry her to Amar to bring peace to feuding lands. But Indian- and Filipina-American author Roshani Chokshi's magical, mystical story just begins when Maya travels with Amar to Akaran, passing through the enchanting Night Bazaar.
5. Enter Title Here by Rahul Kanakia
I'm cheating because you have to wait until August 2 for Rahul Kanakia's Enter Title Here to be released, but it's worth the wait. Rahul Kanakia's Reshma Kapoor is a perfect student. And now not only does she have the grades, the long list of extracurriculars, and the class rank to get into an Ivy, she's landed herself a literary agent after the agent spots one of her pieces in The Huffington Post. There's one problem, though, in Reshma's mind: She doesn't have the real-world teenage high school experience she needs to actually write this book. So the hyper-achiever turns her focus from grades and clubs to boyfriends and female friendships, and plans the perfect bow-tied ending, where her character learns that there's more to life than your grades. But, can Reshma herself learn that when her valedictorian role starts to slip away?
6. The Secret Sky by Atia Abawi
Two modern-day teenagers in Afghanistan have to fight against all the obstacles set up against their love and relationship. One of them is Pashtun and one Hazara, two feuding ethnic groups, and so their romance is banned by the Taliban. Atia Abawi tells her story from three alternating perspectives: both of the lovers and the young boy who sells them out to the Taliban.
7. Written in the Stars by Aisha Saeed
When teenage Naila is caught with her secret boyfriend by her traditional Pakistan immigrant parents, she is forced to take a trip back to their home country. Soon, Naila's trip is revealed as having a hidden motive: her parents hope to set her up in a respected arranged marriage, and they don't plan on allowing her to return to the U.S. Aisha Saeed juxtaposes the lush, beautiful setting in Pakistan with the horror of Nalia's marriage against her will. Saeed herself is in a happy arranged marriage, and so her perspective is truly compelling.
8. Born Confused by Tanuja Desai Hidier
Tanuja Desai Hidier's Born Confused is an incredible twist on a culture-clash novel. Indian-American teen Dimple Lala rebels against her parents' cultural traditions, favoring to "fit in" at her U.S. school. But the story is turned on its head when Dimple's peers suddenly see Indian culture — fashion, style, everything — as super trendy. Now, fitting in means also finding agreement with her parents. What's a rebellious teen to do? Like teenagers across the world, you romance a boy you're certain your parents will find unacceptable.