9 Books Matched To Your Fave Music Genre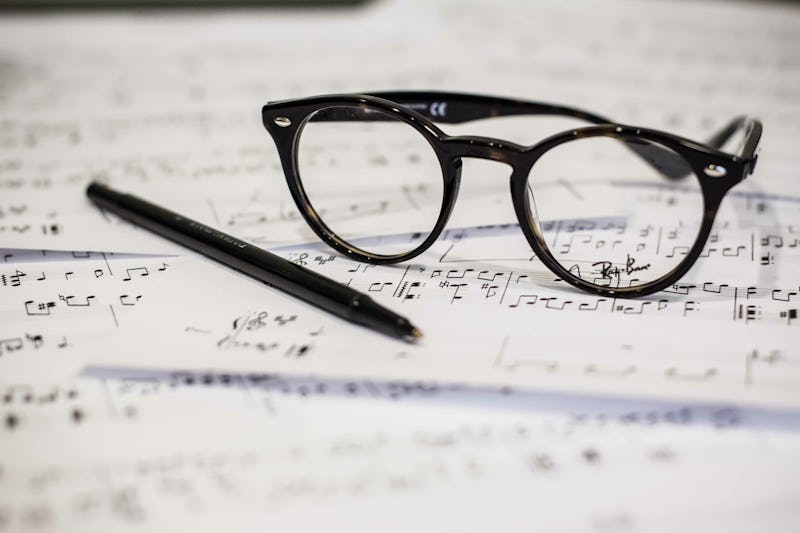 Music and books are the two great loves of my life. Music and books go together so perfectly, each seeking to explore life in its own special way. Indeed, we often talk about music and books using the same words. Storytelling, lyricism, and beauty are all celebrated in both worlds, and both are art forms that can be appreciated alone — during intimate late-nights with our own brain — or together.
I'm one of those people who listens to music while she reads. (Heck, I listen to music while I do anything.) You'll find me rocking out to AC/DC while reading a love story, or jamming to Chopin while flying through a thriller. The genres don't need to match up for me, honestly.
It's interesting to me though, that while they are so similar, the way we understand music genres and literary genres is so different. Music genres tend to describe the way a piece sounds, rather than its content, while literary genres are all about the type of story a book tells. You can have a romance rock song or a romance pop song; you can have a quick-paced, thriller-esque sci-fi novel or you can have a methodical, dense sci-fi novel.
So, I'm switching things up. I've taken some of your favorite music genres, and I've found books that match. Your favorite genre of music says so much about you, that I hope this is a good way to lock you in to your next favorite read.
If you like Sons of Anarchy, you're going to love this true story. When writer Alex Abramovich discovers that his childhood bully, Trevor Latham, had become the leader of a motorcycle club in Oakland, California, he ends up joining up with Trevor. This book is the result: a searing dive into the tumultuous world of Oakland's motorcycle culture, and all the violence, classism, and attitude that goes with it.
Okay, I know, this is about the attempted assassination of Bob Marley, who was a reggae icon. But if you're into a rap, you probably love voice and language, and this book is brimming with both. Plus, as it depicts the often-violent lives of people in Jamaica and America alike, many of the issues that are often explored in rap are brought to new light in this absolutely explosive read.
The women in this collection are all nightmares dressed like daydreams. (*Ahem*) These clever stories will have you wishing you could sing along, and this book is filled with women who have gone off the deep end in the most comical ways possible.
Set in Soho, New York City in (you guessed it) 1980, this is the story of a synesthesic art critic and an Argentine artist coming together. With brilliant writing about synesthesia, the Argentinian Dirty Wars, and the nature of art, Tuesday Nights In 1980 is a book any jazz-lover will dig.
"A Funny Book About Horrible Things" definitely describes the majority of country songs. But this book is less about dogs dying and trucks stalling, and more about the strange, daily life of living with mental illness. Lawson will make you laugh, she'll make you think, and then she'll make you laugh all over again.
This book is literally about opera, and Mozart himself would be moved by the twists and turns of this epic tale. Lilliet Berne, a famous opera singer in 19th century Paris, has just discovered that someone close to her has spilled all the sordid secrets of her past. As Lilliet tells you the story of her wild beginnings, you'll find yourself swept away by this masterpiece.
Set during Seattle's 1999 WTO protests, the characters in this amazing read are all about questioning the status quo. Centered on Victor, a runaway selling marijuana to the protesters, this story is told from the points-of-view of seven people, including Victor's estranged father, some of the protestors, the police officers, and the chief of police. This is an astounding read, and a book that will make your heart pump in new ways.
Folk is all about storytelling, and this novel is storytelling at its finest. When a crack in the universe causes a rush of djinni, good and bad, to flow into our realm, chaos erupts in Manhattan. A djinni princess sets out to save the humanity she has come to know and love. Filled with magical incidents, intricate philosophy, and snarky witticisms, this book has everything a good folk song needs and more.
9. Heavy Metal: Fight Club by Chuck Palahniuk
I guess I'm breaking the first rule of Fight Club by talking about Fight Club . In this book, Palahniuk takes you to a world where you have to get to the rock bottom of the humanity in order to rise up. Men from all walks of life meet in secret to beat each other to a pulp, and what results is a one-of-a-kind exploration of the nature of life. (Pro-tip: It's quite a different ride from the movie.)
Images: Dayne Topkin/Unsplash