Hidden Rainbow Roots Are Summer's Next Big Thing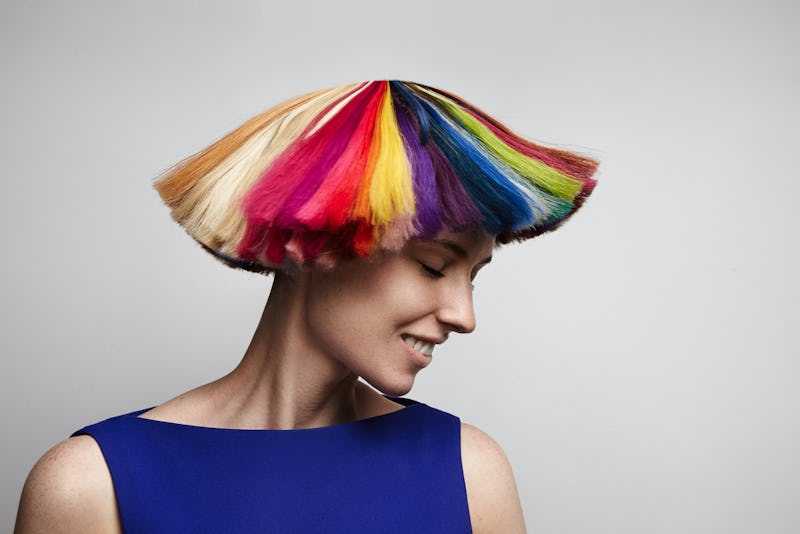 If you're obsessed with the My Little Pony-esque rainbow hair looks of this past year, then you're in luck. There's a new style that has hit salons, and that's the hidden rainbow roots trend, as reported by Popsugar. If you weren't quite brave enough to go all pastel, or if you loved the rainbow roots look but couldn't get away with rocking unconventional colors at work, then this hidden technicolor roots idea could be right up your alley. The beauty of this is that it's inconspicuous: Your roots are painted a variety of rock-candy colors, but are only visible when you shift your hair.
So if you work in an office that wouldn't appreciate you coming in on Monday with cotton candy pink hair, this would be a perfect work around: You'd have a head full of playful colors, but it'd be your secret alone. According to Popsugar, "You may remember the rainbow roots trend from several months ago. This technique differs in that instead of abruptly stopping (almost creating a colorblock effect), this style sneakily conceals the dye throughout the strands." If you keep your hair down, no one would know the difference. Popsugar confirmed, "The visibility of the rainbow portion depends on the movement of your hair and how much of it you want dyed."
Seventeen reported that the inventor of this pretty new hair trend is hairstylist Brittnie Garcia, and for those who want their color to be more noticeable, she also "dyes chunks of hair underneath, so when you move your head, the pops of color come out."
With those extra highlights, you can be as subtle or as loud as you want to be. But you now might be asking yourself, how much does this actually differ from the original rainbow roots? A lot, actually. The original rainbow roots are super noticeable and give off the appearance of grown-out roots that need a touch up. The look is pretty fun, because it gives off the impression that your natural hair color comes in psychedelic shades.
So if you have always wanted to try out the colorful hair look but weren't quite sure you could pull it off, this is like dipping a toe in the water. One day you can sweep you hair up and show off your bright purples and mermaid blues, and the next you can brush your hair down and have your natural shade. It's a win, win!
Image: Fotolia (1)