12 Drool-Worthy Dessert Ideas For Passover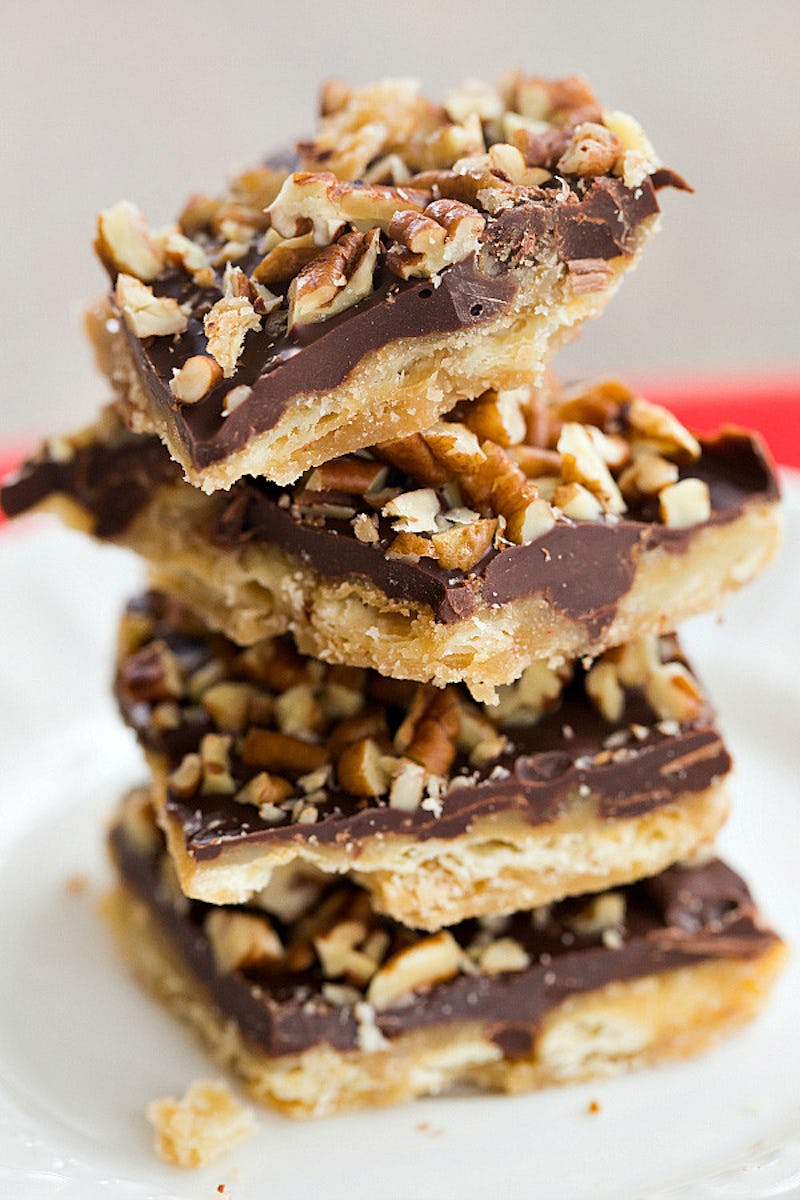 If you've ever been to a Passover Seder, you know how long it can be until you actually dig into the food — let alone get to the dessert part of the meal. To cap it off, all too often that dessert part involves something like a heavy brick of a matzah cake. The good news is, with these Passover dessert recipes, you don't have to let the old standbys hold you back! There's no reason to give up your beloved family favorites, but there's always room for a new addition to the Passover table. And since the rest of the Seder spread tends to stay the same year to year, why not have some fun with some sugary surprises?
With standard cakes and cookies off the table, it can feel tricky to come up with a truly tasty Passover dessert. But it is absolutely possible to say goodbye to leavened wheat products while still satisfying your sweet tooth. Get ready to rethink flourless and give your macaroons a new twist, because this list is sure to leave you feeling inspired. Whether you're in the mood for something light and sweet or you're craving some sugary decadence, these Passover-friendly dessert recipes are just begging to become your new favorites.
1. Dark Chocolate and Sea Salt Matzah Truffles with Manischewitz Glaze
Chocolate. Sea salt. Matzah. Glazed. Your Passover could definitely benefit from these truffles from What Jew Wanna Eat.
2. Salted Almond Flourless Chocolate Cake With Violets
This floral dessert from Adventures in Cooking is almost too gorgeous to eat. Almost, but not quite.
3. Chocolate-Dipped Coconut Macaroons
How do you take the already delicious macaroon to the next level? Dip it in chocolate, obviously. The Brown Eyed Baker has got it all figured out.
4. Dark Chocolate Bark with Pistachios, Rose Petals, & Walnuts
The best thing about this beautiful dark chocolate bark from The Kitchn? You can customize it with any toppings you'd like.
5. Coffee Granita
A refreshing recipe from Big Girls Small Kitchen, coffee granita sounds oh-so-fancy but is actually so simple to whip up. Bonus points for being able to make this the night before!
6. Raspberry Macarons with Cream Cheese Filling
If you're feeling fancy, why not try your hands at these fluffy cookies, courtesy of What Jew Wanna Eat?
7. Crackily Chocolate Cardamom Meringue Cake
The cardamom, vanilla, and salt in this recipe from A Cozy Kitchen will make you forget everything you thought you knew about flourless cakes.
8. Saltine Toffee Candy with Pecans
Swap the saltine crackers in this Brown Eyed Baker recipe for some large squares of matzah, and voila! A perfect Passover treat.
9. Whole Orange Almond Mini Cakes with Orange Syrup
Fun fact: leavening agents, like the baking powder in this recipe from Sugar et al, are not off-limits for Passover. As long as no leavened bread is involved, you're good to go. Thank goodness, because these little cakes make eating a whole orange so deliciously decadent!
10. Coconut Pavlova with Pudding and Caramel Sauce
With its crispy outside and soft inside, this pavlova (think: giant Girl Scout cookie) from Domestic Fits is as tasty as it looks.
11. Gluten-Free Lemon Bars with an Almond Crust
Everyone will be reaching for more of this sweet lemony treat with a nutty crunch. These bars from Big Girls Small Kitchen, with their cheerful yellow hue, are bound to brighten up your Passover table.
12. Cinnamon-Hazelnut Pavlova with Coconut Cream
Jazz up this piece-of-art dessert from The Kitchn with some exotic fruit — use any combination you'd like!
Images: What Jew Wanna Eat; Adventures in Cooking; The Brown Eyed Baker; The Kitchn; Big Girls Small Kitchen; What Jew Wanna Eat; A Cozy Kitchen; Brown Eyed Baker; Sugar et al; Domestic Fits; Big Girls Small Kitchen; The Kitchn