How Much Are The UD 'Alice'-Themed Lipsticks?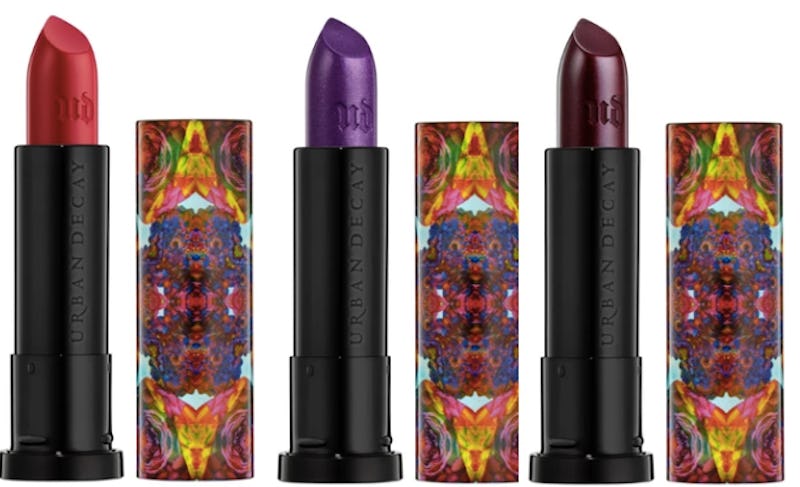 A certain cult-favorite brand has paired up with a certain Tim Burton-produced movie, and the resulting capsule collection is beyond fabulous. Along with a kickass palette, the stars of the collection might just be the gorgeous lip colors — so, how much are the Urban Decay Alice Through The Looking Glass lipsticks?
Luckily for us, they're priced comparably to UD's regular lipsticks — so they're affordable. At $18 bucks a pop, you can own all five zany shades for $90, which isn't too bad, as far as mid-range makeup prices go. Seriously, you might want to own all the colors, though, since these aren't exactly your typical lipsticks.
As opposed to just your standard shades, the UD x Alice Through The Looking Glass shades come in "Alice," a nude with a subtle pink shift, "Mad Hatter," a delightfully eccentric shimmery purple, "Mirana," a moody deep berry, "Iracebeth," a drop-dead gorgeous matte red, and last but not least, "Time" — a showstopping navy blue, imbued with silver shimmers.
It's kind of a match made in heaven — after all, who else out there could possibly do better justice to the zany and colorful world of Alice Through The Looking Glass than Urban Decay? It's quite the triumphant follow up to their first collaboration together back in 2010 — take a look at the beautiful shades yourself below.
It's tough to choose a favorite, right? Personally, I'm an especial fan of the dramatic "Mirana" shade, but they're all pretty superlatively beautiful, and there's a shade to match just about every temperament.
The five lipsticks round out the new Disney capsule collection, which also includes a psychedelic 20-shade eyeshadow palette. The UD in Wonderland Through The Looking Glass cosmetics will be available online and in store at Macy's, Sephora, and Ulta, as well as beauty.com, and urbandecay.com, starting May 1st.
Images: Courtesy Urban Decay