Kara Is No Longer An Assistant On 'Supergirl'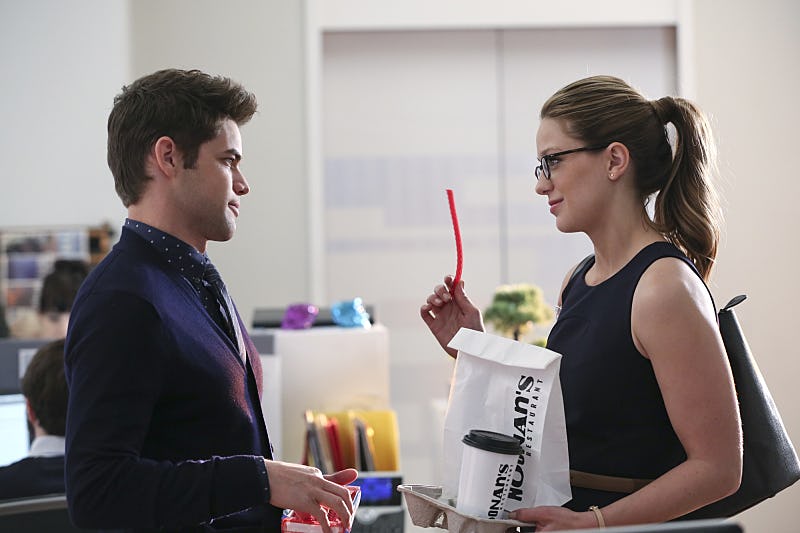 Who doesn't want to have a Working Girl moment, honestly? After the world was good and saved, Kara got a promotion on Supergirl at CatCo. She's no longer a bumbling assistant — and Ms. Grant finally stopped calling her Kira, thus proving my theory that she's known all along. We'll have to wait and see if she still believes Kara isn't Supergirl, but I feel pretty confident that she does. Good things are on the horizon for our hero, and I couldn't be more excited to see what happens next.
At the end of the episode, Cat packed up her assistant's things in her signature dramatic fashion. However, she wasn't fired, she was being moved to a (windowless) office. Not only does Kara have her own space, but she basically gets to make up her own job. Cat told her that she was promoted, and told her that all she needed to do was find a replacement assistant. Then, Kara was free to take a little time off to figure out what she wanted to do at CatCo in the future to further her career. It's basically an ideal work scenario.
I wonder what Kara will decide that she wants to do at the media company? Ironically, as a vigilante hero, she really is well-suited to being an assistant. As tasking as it is, she might miss being in that kind of role. Kara knows how to anticipate needs and help others. She hasn't exactly expressed any interest in writing or photography. I don't think she excels at social media. Here's a thought — though she was in full Supergirl mode at the time, she did do very well on-camera in the message that disrupted Myriad. I wonder if Kara will decide to go into broadcast journalism. Being in the public eye would certainly cause conflict with her secret identity. In DC comics, she works a camera operator, so I might not be that far off. Whatever she chooses, I'm glad that she and Cat ended the season on such good terms. Cat is an excellent mentor, and the two of them have a lot to learn from each other on Supergirl that can't always be achieved in an assistant/boss relationship.
Image: Cliff Lipson/CBS