Tyra Banks Made An Appearance On 'DWTS'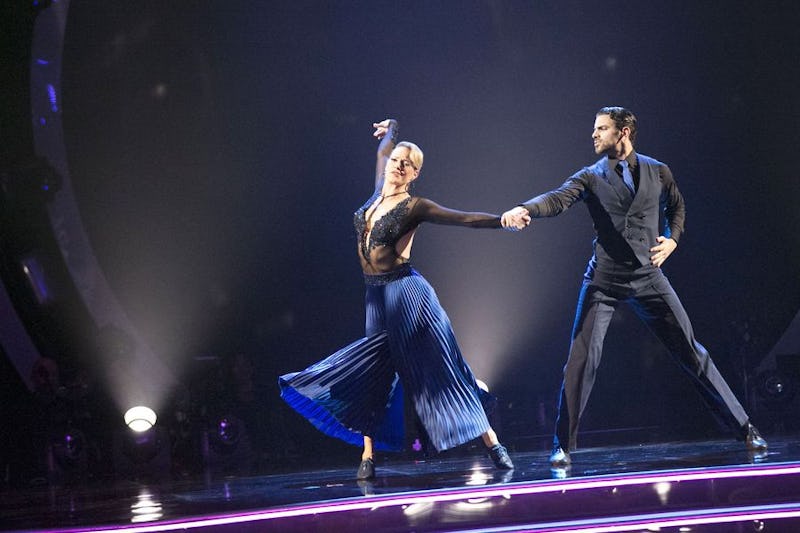 Nyle DiMarco is now among the frontrunners on Season 22 of Dancing With The Stars, but he really got his start on another very successful reality show — America's Next Top Model. The only deaf contestant to ever compete on the show, Nyle won ANTM' s 22nd cycle. For this week's partner switch-up on Dancing With The Stars, Nyle and new partner Sharna Burgess were feeling a little discombobulated with the new arrangement — Nyle's normal partner, Petra Murgatroyd has her own way of teaching him (it involves learning the lyrics and a lot of adjustments), so Sharna had to come up with something different that fit with her. Luckily for this new pair, a very famous figure from Nyle's past came in to offer some reassurance.
It was America's Next Top Model creator and host Tyra Banks! Tyra came in to remind Nyle just how extraordinary he is as not only a dancer but a person, as well, and suffice it to say that Sharna was gobsmacked to have such a legend in the same dance room as she. I guess Nyle is just used to having Tyra Banks around, but for the rest of us non-models, she's a big deal! I think Tyra had some sort of magic touch, too, because Nyle and Sharna scored the best scores of the evening. Must be Tyra's model behavior, no?
No matter his partner, Nyle is quickly becoming my favorite person on Dancing With The Stars. Besides the fact that he's, you know, absolutely smoking hot, Nyle is also caring, charismatic, kind, and ready to show the world that his deafness doesn't affect the way he looks at his life. Even if Nyle does not take home that coveted Mirrorball Trophy, he's doing one better — he and his story are inspiring plenty of Dancing With The Stars viewers.
Images: Adam Taylor/ABC