Too Faced Just Teased A Brand New Brow Product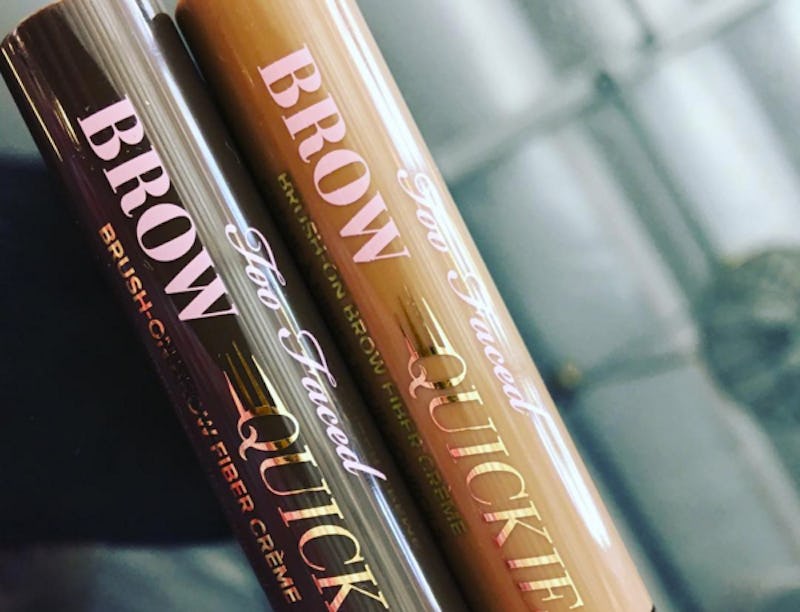 As if all the new summer makeup isn't already enough, the fall launches have already started rolling in. Although the company already has a variety of brow products on the market, Too Faced is launching Brow Quickie, a brand new brow gel, to keep that hair above your eyes tamed and looking great. When will Too Faced's Brow Quickie be available? According to the hashtags, you've got a little while to wait.
Bold brows have been a major trend for some time now, and it looks like it won't be dying anytime soon. Too Faced might already have pencil, gel, and powder brow product in its collection, but it only makes sense that the company would want to give fans as many options as possible. According to an Instagram post from Too Faced co-founder Jerrod Blandino, Too Faced created a brow gel named the Brow Quickie to add to the makeup empire. The packaging says that it's a "brush on brow fiber crème," so I'm guessing this will be a fast way to get some full brow that stay in place all day.
Besides the image of two little tubes sitting side-by-side, there isn't much info yet. The caption did have #fall2016 at the end of it though, so at least Blandino made it known that this product is on the way. How soon, no one knows, but the picture alone is enough to get excited about. So far it looks like the product comes in one darker and one lighter shade, which is true for all of the other brow products in Too Faced's range. It's possible that they could surprise everyone with a few more shades as time goes on, but for now you can count on these two being available sometime in the fall.
Fall might seem like forever away, but I assure you that time will fly by — especially with Too Faced's new Melted Matte Lipsticks and Sweet Peach Palette (if you managed to get your hands one!) to hold everyone over. If you can't quite wait until fall for the launch to get your brows on fleek, here are the other Too Faced brow products that you can test out in the meantime.
1. Brow Envy
Too Faced Brow Envy, $39, TooFaced.com
Complete with a wax, highlight, a brunette and blonde shade, and tools, this kit has everything you could ever need for on-the-go brow glam.
2. Bulletproof Brows
Too Faced Bulletproof Brows, $30, TooFaced.com
According to the site, this product is a powder, gel, setting wax, and pencil all in one. That could be the most multi-tasking brow tool on the market!
3. Instant Attitude Brow Lift
Too Faced Instant Attitude Brow Lift, $20, TooFaced.com
Instead of applying this directly to your brows, you instead highlight your arch for an instantly lifted look. Who knew polished brows could be so easy to achieve?
Although there's no official release date yet, I'm willing to bet the new brow gel will make a great addition to the Too Faced family.
Want more fashion and beauty tips? Check out the video below and subscribe to Bustle on YouTube!
Images: Too Faced (3), Jerrod Blandino/Instagram (1)