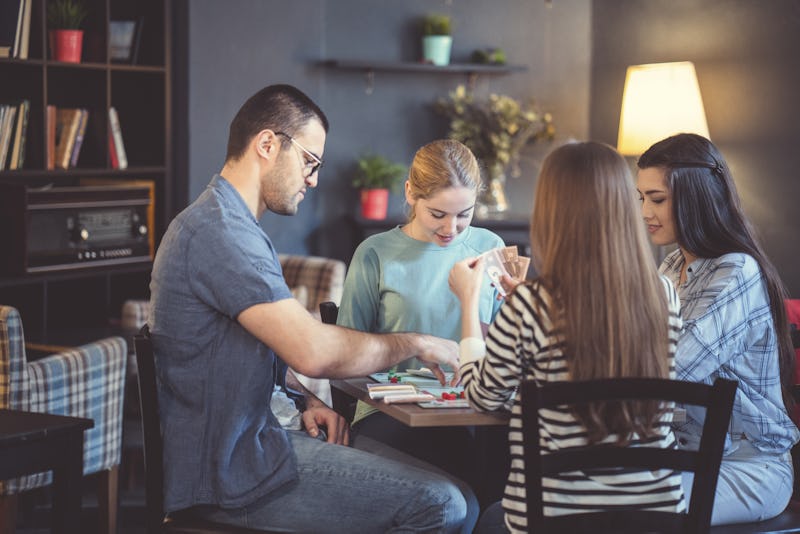 Book nerds aren't exactly known for being the most social people in the world. Find the right games for book lovers, however, and you'll see us spring out of our shells. If you're looking to spice up your book club's next readcation, any of the games on this list would be a perfect choice.
Plenty of Hasbro titles — including Monopoly, Risk, and Clue — have had licensed literary versions available at some point. To save from overwhelming you with these familiar offerings, I've limited their inclusion on this list. Instead, I want to showcase lesser known entertainment here, to give those who haven't been thrilled with traditional board games the chance to find a title that really speaks to them.
Plus, who knows? Maybe one of these 10 games for book lovers will inspire you to create your own bookish board game. Lest you worry that your endeavors will be for naught, remember that, when Jim Butcher fans kickstarted The Dresden Files Cooperative Card Game, the donations came in so quickly that the creators had to come up with a second set of stretch goals. Other cool and crowdfunded games for book nerds include Miskatonic School for Boys and Plot Twist.
The premise here is simple: each player brings a book of her choice, which she'll use in a race against other players to find passages that complete the game's tasks.
This rather difficult take on the classic game tests players' knowledge in the following categories: Beloved Children's Books, Popular Classics, Riveting Non-Fiction, Book Club Favorites, Favorite Authors, and Book Bag Surprises.
Rule the Seven Kingdoms and destroy your friendships in one fell swoop with this bloodbath of a game.
This is the perfect icebreaker for book nerds. Each block is printed with a simple, discussion-provoking question for the group.
This title from Fantasy Flight Games casts players as investigators who must battle against Lovecraftian enemies and save the world.
This free, competitive game pits two players against each other as they take on the roles of the Torrence family and the Overlook Hotel.
If you know books well enough to identify them by their opening lines, you'll be a force to be reckoned with when playing It Was a Dark and Stormy Night.
With a book title and plot summary, players must write fake opening lines in an attempt to bluff their way into the hearts and minds of their competitors.
Figure out who was behind the mysterious disappearance of a Hogwarts student in this Harry Potter-themed board game.
In 90 seconds, players must write a short story using five obscure, undefined words, then defend their usage to their fellow writers.
Image: Fotolia; Giphy